100% Vinyl Rare Groove Night – Club Night in Chingford
May 14, 2022 @ 10:00 pm

-

May 15, 2022 @ 10:00 pm
Event Navigation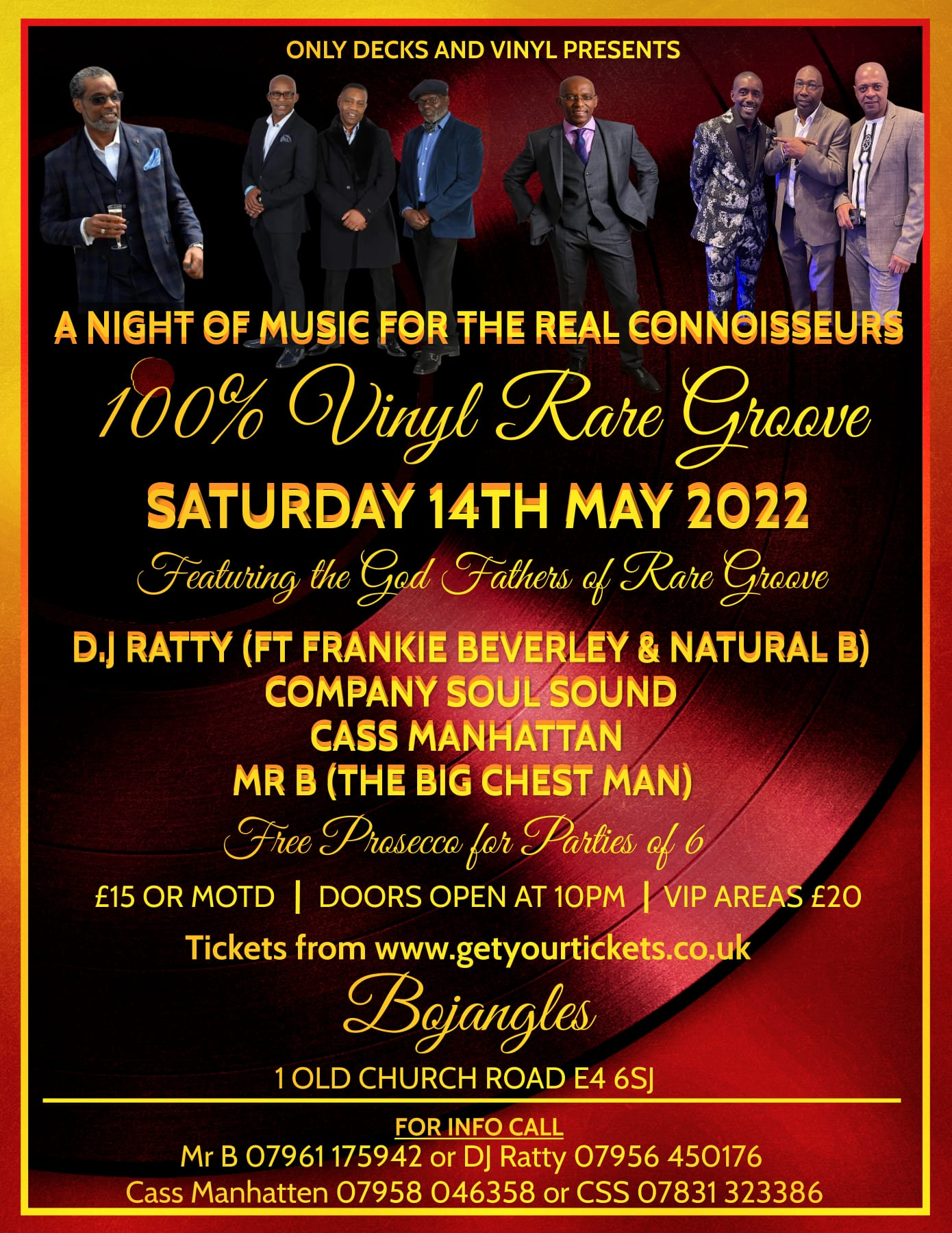 In dedication to all the real connoisseurs of music, Only Decks and Vinyl presents the ultimate night out in Chingford this May!
100% Vinyl Rare Groove Night – Club Night in Chingford
This May at Bojangles in Chingford, Only Decks and Vinyl presents the ultimate night out in town for only £15 per person (VIPs areas for only £20). Explore the intense passions of legendary tunes on Saturday the 14th of May with some fantabulous and mouth-watering Caribbean food at Bojangles in Chingford. Head on over to Bojangles for an unforgettable night of old skool wonder featuring the Godfathers of Rare Groove – DJ Ratty (Feat. Beverley & Natural B), COmpany Soul Sound, Cass Manhattan, Mr B (The Big Chest Man). Indulge in 100% Vinyl rare groove this May and celebrate the exciting and sensual side of life at the ultimate night out in Chingford.
Get your tickets down below, available only in limited quantities, or pay more on the door. And in case you need another reason to head over, get a complimentary bottle of Prosecco on the house when you arrive with a party of 6 or more!
For more information simply call us up on 0208 529 8181 07838 297544
#clubnight #clubbing #clubnightinchingford #clubbinginchingford #chingford #chingfordclubbing #chingfordnights #chingfordnightsout #nightsout #clubbingnight #clubbingnightout #nightsinchingford #dance #music #djs #party #partynightinchingford #chingforddancing #clubbingnight #maynight #mayclubbing #clubbinginmay #danceinmay #clubbinginchingfordinmay #clubsopeninmay #caribbean #caribbeancuisine #caribbeandelicacy #caribbeanfood #caribbeanfooditems #caribbeanmeanu #soulfood #soulmusic #soulsound #streetmusic #club #exclusive #exclusiveentry #chingfordfood #dininginchingford #fun #thankgoditsfriday #tgif #saturdaynight #saturdayfunday #saturday #saturdayparty #saturdaydance #saturdaymusic #saturdaydancing #dancinginchignford #saturdaychingford #saturdaynights #saturdaynightsinchignford #chairmanotb #companysoulsound #company #soul #sound #gal #flex #galflex #djsinchingford #clubnightswithdj #ckubbingdj #dancingdj #party #cocktail #freeflow #happyhour #booze #alcohol #beer #wine #finewine #dining #diningexperience #dinner #dineininchingford #dinnerinchingford #chingfordfood #whiskey #prosecco #freeprosecco #reggae #oldskool #throwback #oldsoul #oldies #vintage #scorpions #starsign #zodiacsign #zodiac #zodiacclubbing
Bojangles is ready to make sure you have an unforgettable night out this May. Grab your friends, your girlfriends, and your boyfriends, and head on over to Bojangles to celebrate the more magical side of your life with some rare groove tunes and some absolutely delectable eats at the ultimate night out in Chingford.