33rd International Conference on Psychiatry & Mental Health
June 25, 2020 @ 8:00 am

-

June 26, 2020 @ 5:00 pm
Event Navigation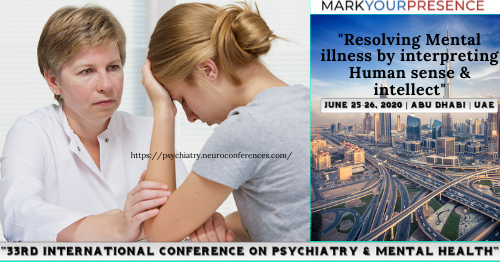 "Update your skills, enhance your knowledge base, and broaden your horizons- all in one place"
Email us: psychiatrymeet@globalconferencemeet.com
Whats-app us: +447723584478
Why Psychiatry Meet 2020?
Psychiatry includes all the assessment, treatment, and prevention of complex brain disorders, such as depression, bipolar disorder, anxiety disorders, schizophrenia, developmental disorders (e.g., autism), and 
neurodegenerative disorders
 (e.g., Alzheimer dementia). Its central mission is to anticipate and reduce the trouble as well as disability caused by these disorders, which account for a significant part of the global illness-related disabilities. Current treatments and the dominant model of mental health care don't adequately address the complex challenges of mental illness & 
psychological disorders
, which is the cause of increasing adult disability globally. Each year, it has been a big challenge for the Psychiatrists & Neurology specialists to manage the increasing mental disabilities worldwide. Implementation of new treatment procedures is mostly needed to reduce the mental pressures & psychological disorders. Looking to the demand & emergency, ME Conferences feels colossal & privileged to welcome global psychiatrists, Doctors, professors, Medical professionals, Neurospecialists, Scientists, academic researchers, scholars & business personal to participate in its upcoming 
"33rd International Conference on Psychiatry & Mental Health"
, which has been scheduled on June 25-26, 2020 in Abu Dhabi, UAE.
Message from Organizing Committee members:
Dear Colleagues,
We are privileged to be invited as the scientific committee members to 
"PSYCHIATRY MEET 2020
", which has been scheduled on June 25-26, 2020 in Abu Dhabi, UAE.
This International meeting is establishing a global platform & fruitful relationship among the worldwide Doctors & researchers to resolve the Mental illness by Interpreting Human sense & intellect.
We are offering a big hand to join with us & innovate the changes needs to be done for a better Mental Health & Psychology.
Overview of Psychiatric disorders?
Psychiatry is the branch of medical science which focuses on the diagnosis, treatment and prevention of mental, emotional and behavioral disorders.
When people suffers from panic attack, frightening illusions, thoughts of suicide, hearing voices, feelings of sadness, hopelessness, or anxiousness causing everyday of their life to feel distorted or out of control, they seek the help of psychiatrists who can reduce their mental illness & fear of being psychologically abused.
How can we reduce Mental Health disorders?
Mental health includes our emotional, psychological, mental health & social well-being. It affects how we think, feel, and act in our lifestyle. It also helps in handling 
stress
, relating to others, and making choices. Mental health is very much important at every stage of life, from childhood and adolescence through adulthood. Over the course of our life, if we experience mental health problems, our thinking, mood, and behavior could be affected. Many factors contribute to mental health problems, including:
Therapists, Psychiatrists, Psychologists, Mental Health professionals, Social workers, Nurse practitioners or Physicians can help oversee mental illness with treatments. Mental illnesses are more dangerous than cancer, diabetes, or heart disease. A WHO report assesses the worldwide cost of mental illness at about $2.5 trillion (66% in aberrant expenses) in 2010, with an anticipated increment to over $6 trillion by 2030.
Targeted Audiences?
Psychologist
Neuropsychologist
Psychiatrist
Mental Health Psychiatrist
Psychiatric Technician
Psychiatric-Mental Health Nurse
Substance Abuse Nurse
Scientists and professors
Psychometrist
Neuroimaging Technician
Students
Diagnostic laboratory professionals
Business Entrepreneurs
Industry professionals
Directors/Managers/CEO's
Presidents & Vice Presidents
Brand Manufacturers/ Marketers of Consumer Products
Marketing, Advertising and Promotion Agency Executives
Participation Benifits?
Psychiatry Meet 2020 has taken the privilege to gather people from various geographical areas with wide range backgrounds, which will bring a new discipline of research & exploration in the field of psychiatry & Neuroscience. Congress assembly will provide a professional networking opportunity & fruitful relationship with the global participants, which will be helpful for many new faces to achieve this moment for improving their career & research field. New commitments & responsibilities will be added to your expertise after getting interacted with the world's renowned speakers & business delegates. Presenting any of your research will make you more confident about the work that you do, and will give you modern perspective about your work as people ask different questions that make you think about your extension of expertise. Meeting new people in a single platform will build your new area of interest, as you can learn interesting facts beyond your expertise.
Keynote talks by the top-notch of the global scientific community
Sterling workshop, special sessions & Exhibitions
Remarkable Awards and Global Recognition to meritorious Researchers & women scientists
Global Networking oppertunities with 50+ Countries experts
Novel Platform to Benefit Your Research & experience
Scientific sessions:
Psychiatry & Mental Health
Forensic and Emergency Psychiatry
Child and Adolescent Psychiatry
Geriatric & Adult Psychiatry
Drug abuse & Addiction
Psychotherapy
Cognitive Behavioral Therapy
Cognition diseases as in various forms of Dementia
Psychopharmacology
Psychosomatic disorders & medicine
Neurodevelopmental disorder
Management and treatment of Psychological Syndrome
Neuronal Functions and Disorders
Sleeping Disorder & Treatment
Stress, Anxiety and Depression Management