A Night of Simply Me – A Live Music Experience with Adelaide MacKenzie in Chingford
August 14, 2021 @ 7:00 pm

-

August 15, 2021 @ 7:00 pm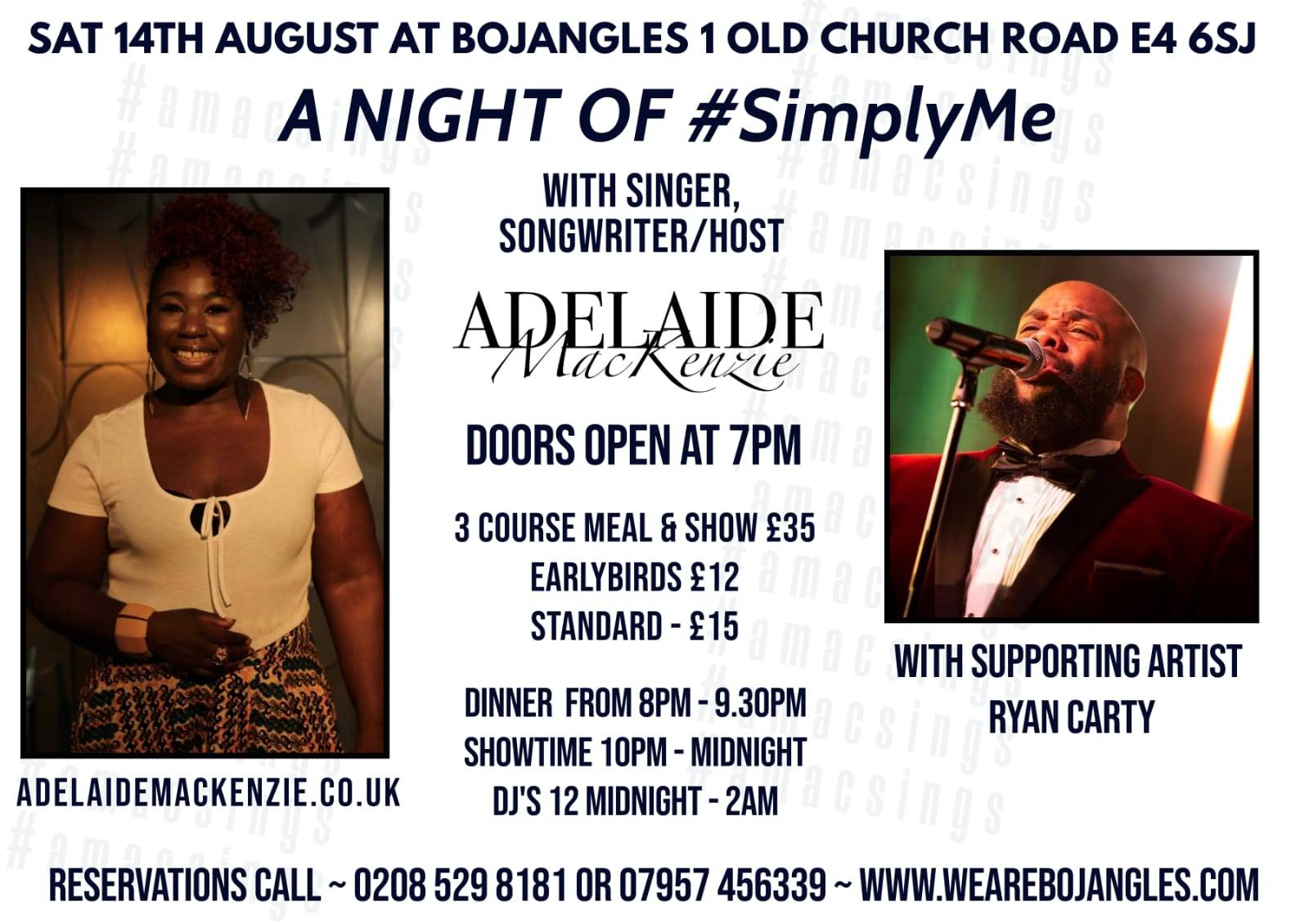 Live, laugh, and love at Bojangles with the lovely Adelaide MacKenzie this August! Life as we know it has changed – and it is time to celebrate the new normal by embracing all the world has to offer. Here's your lucky chance to grab your seat at our table and enjoy one of life's finest aspects – music. This August the 14th Adelaide Mackenzie with Ryan Carty will be at Bojangles to host a night in celebration of life and music.
So if you're looking for a change of pace – Bojangles is your spot! Our Doors open at7PM, and we have for you a collection of mouth-watering meals to get you all pumped up for a spectacular evening of live music.
Tickets:
Early Birds get your tickets down below for only – £12
Standard Tickets – £15
3 Course Meal and Show – £35
Times:
Doors Open – 7PM
Dinner – 8PM to 9.30PM
Showtime – 10PM to Midnight
DJs – Midnight to 2AM
Get your tickets down below or simply call us up on 0208 529 8181 or 07957 456339
#adelaidemackenzie #ryancarty#dinner #livemusic #livesoulmusic #sweetmusic #livebands #livesolo #solo #artist #livemusicandfood #livemusicinchingford #livemusicthursday thursdaysinchingford #pubnightinchingford #livemusicpubnight #pubnightswithlivemusic #dinein #pubs #restaurantsinchingford #dineinrestaurants #foodanddrink #food #drink #dinein #dining #bojangles #foodies #buffet #alacarte #courses #lockdownlifting #postlockdown #lockdownease #opennow #chicken #roast #pudding #vegetarianfriendly #walkin #cuisine #sitat #inperson #indoorseating #seating #music #alldaybreakfast #breakfastallday #morning #evening #lunch #chingford #london #DJs #chicken #kebab #lamb #hotdogs #bumperburgers #wings #party #sundayparty #barbequeparty #dinein #social #meetup #dance #soul #ska #rnb #rhythm #blues #rhythmnblues #music #neosoul #rares #neo #reggae #nineties #90s #pubnight #pub #night #in #chingford #soulfood
Forget your troubles and enjoy the best life has to offer this August at Bojangles in Chingford. Head on over to Chingford for an exclusive live music experience accompanied by our town's finest cuisine.