An Evening of Rare Grooves & Revival – Every Wednesday in Chingford
June 15, 2022 @ 7:30 pm

-

June 16, 2022 @ 12:00 am

|

Recurring Event

(See all)

An event every week that begins at 7:30 pm on Wednesday, repeating until July 14, 2022
Event Navigation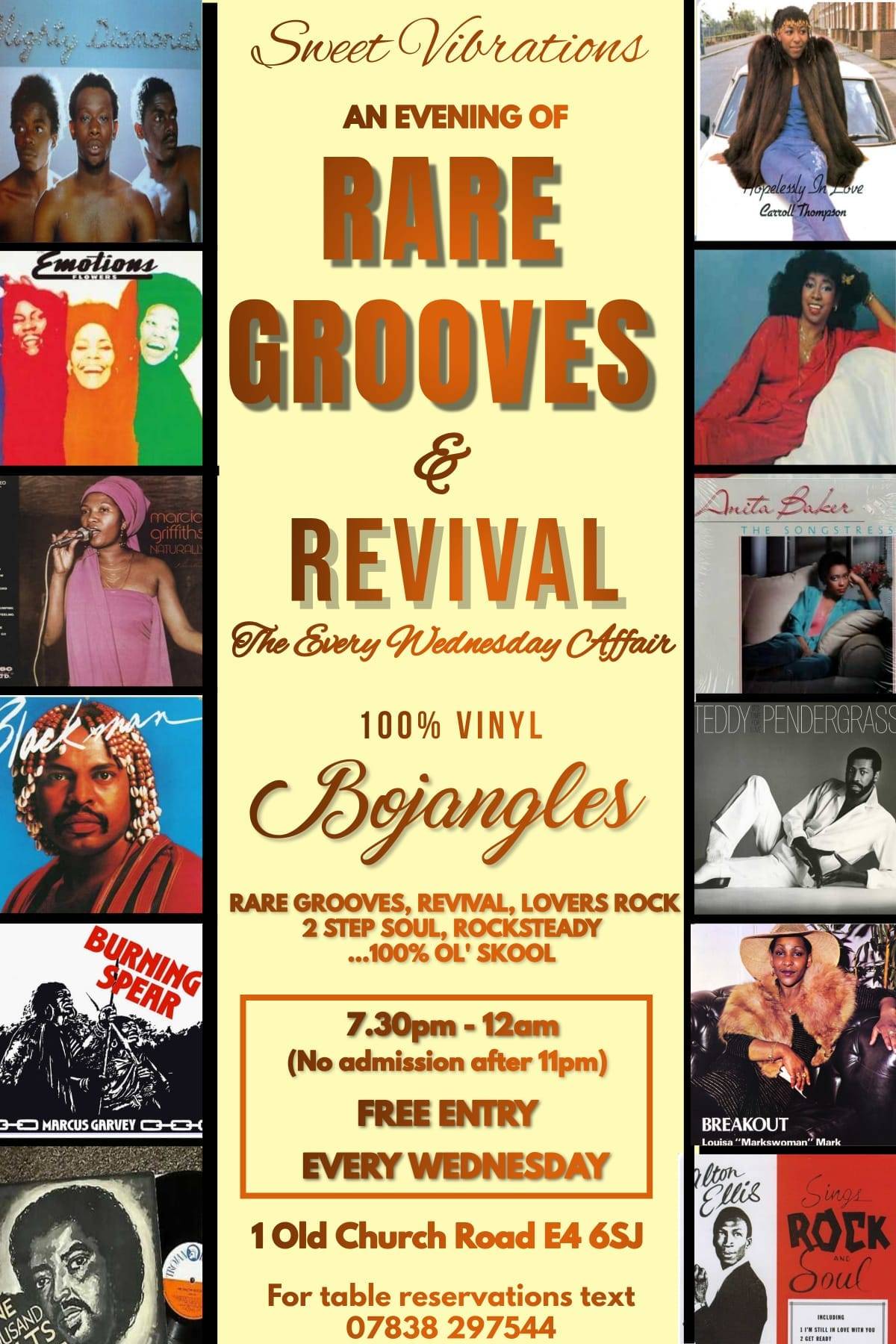 An Evening of Rare Grooves & Revival – Every Wednesday in Chingford
Bojangles presents an evening of Rare Grooves and Revival on vinyl every Wednesday in Chingford!
An Evening of Rare Grooves & Revival – Every Wednesday in Chingford
This May at Bojangles in Chingford, Sweet Vibrations presents the ultimate night out in town for free! Explore the intense passions of legendary tunes every Wednesday starting on the 1st of June with some fantabulous and mouth-watering Caribbean food at Bojangles in Chingford. Head on over to Bojangles for an unforgettable night of old skool, rare grooves, revival, lovers rock, 2 step soul, rocksteady 100% ol' skool. Indulge in 100% Vinyl rare groove this May and celebrate the exciting and sensual side of life at the ultimate night out in Chingford.
Enter Free when our doors open at 7.30PM and we'll be going on until 12AM. (Last entry 11PM) For more information simply call us up on 0208 529 8181 07838 297544
#clubnight #clubbing #clubnightinchingford #clubbinginchingford #chingford #chingfordclubbing #chingfordnights #chingfordnightsout #nightsout #clubbingnight #clubbingnightout #nightsinchingford #dance #music #djs #party #partynightinchingford #chingforddancing #clubbingnight #maynight #mayclubbing #clubbinginmay #danceinmay #clubbinginchingfordinmay #clubsopeninmay #caribbean #caribbeancuisine #caribbeandelicacy #caribbeanfood #caribbeanfooditems #caribbeanmeanu #soulfood #soulmusic #soulsound #streetmusic #club #exclusive #exclusiveentry #chingfordfood #dininginchingford #fun #thankgoditsfriday #tgif #saturdaynight #saturdayfunday #saturday #saturdayparty #saturdaydance #saturdaymusic #saturdaydancing #dancinginchignford #saturdaychingford #saturdaynights #saturdaynightsinchignford #chairmanotb #companysoulsound #company #soul #sound #gal #flex #galflex #djsinchingford #clubnightswithdj #ckubbingdj #dancingdj #party #cocktail #freeflow #happyhour #booze #alcohol #beer #wine #finewine #dining #diningexperience #dinner #dineininchingford #dinnerinchingford #chingfordfood #whiskey #prosecco #freeprosecco #reggae #oldskool #throwback #oldsoul #oldies #vintage #scorpions #starsign #zodiacsign #zodiac #zodiacclubbing
Bojangles is ready to make sure you have an unforgettable night out this June. So grab your friends, your girlfriends, and your boyfriends, and head on over to Bojangles to celebrate the more magical side of your life with some rare groove tunes and some absolutely delectable eats at the ultimate night out in Chingford.