Ask a Political Scientist
June 25, 2020 @ 7:00 pm

-

8:00 pm
Event Navigation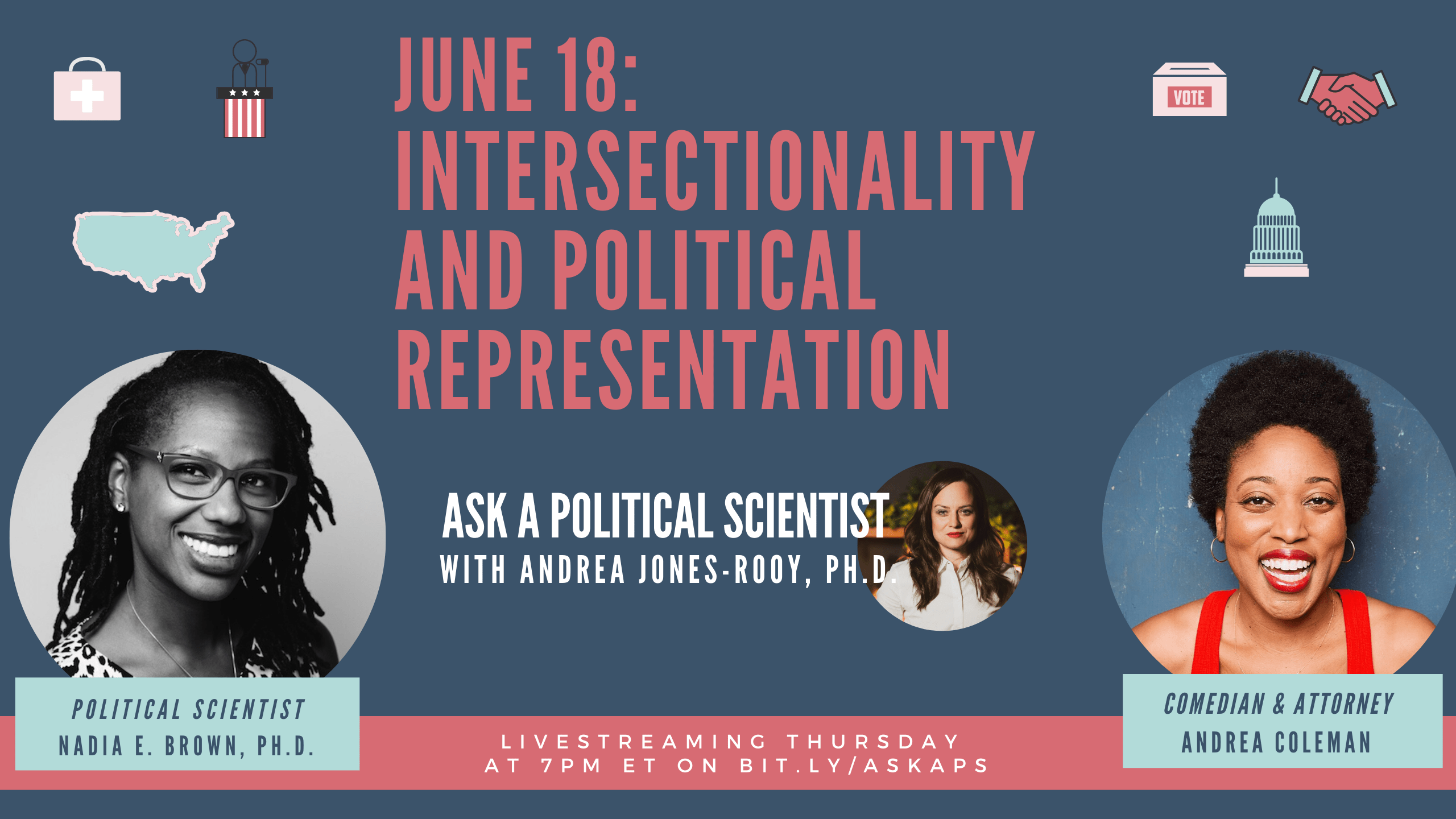 June 18: Intersectionality and political representation
How does identity inform Black women legislators' decision making? How are Black women evaluated when they run for office? How have the political attitudes, voter behavior, and vote choices of Black women changed over the years?
What are the many likely impacts of minority women in politics going forward?
Join us this week for a conversation with Nadia E. Brown, Ph.D., whose research helps us all think about these important issues more clearly. We will also discuss her academic activism, especially regarding intersectionality and #MeToo in the field of political science. We are also joined by comedian and lawyer Andrea Coleman!
Donations made while registering and throughout the show will go to Black Women's PAC Texas!
The show will be livestreaming (and available after) on our YouTube channel here at 7p ET on Thursday, June 18. We'd love if you can let us know you're coming by registering, but please feel free to just hop on directly at 7p as well!
About our guests
Nadia E. Brown, Ph.D. is Associate Professor of Political Science and African American Studies at Purdue University, where she is is also a University Scholar and an affiliated faculty member in Women's, Gender, and Sexuality Studies. She is the author of Sisters in the Statehouse: Black Women and Legislative Decision Making, which was the winner of multiple awards, including the 2015 W.E.B. Du Bois Best Book Award from the National Conference of Black Political Scientists. She is the co-editor of Distinct Identities: Minority Women in US Politics and Body Politics, the editor of Me Too Political Science, and the lead editor of Politics, Groups, and Identities. She has conducted research on intersectional identity and politics, the evaluation of Black women candidates, intersectionality and #MeToo, political rap and Black feminism, and is a founding board member of Women Also Know Stuff.
Andrea Coleman is a standup comedian, writer, actress, and attorney. She is the host of Woke Laws, a show where she judges laws from around the US and decides along with a panel of guest judges whether they are WACK or WOKE. She is an actor on the Upright Citizen's Brigade sketch comedy team Young Douglas, and has appeared on or been featured in the New York Times, TimeOut NY, NPR, WNYC, and SiriusXM. She's also a prolific writer and satirist, and you can find some of her recent essays here.
—-
Upcoming shows:
July 25: State repression and political violence with Christian Davenport, Ph.D. (University of Michigan)
July 2: Fourth of July special: The decline and rise (and future) of democracy with David Stasavage, Ph.D. (NYU)
—-
About Ask a Political Scientist
Every Thursday, join stand-up comedian and political scientist Andrea Jones-Rooy, Ph.D. as she takes on today's big questions through a political science lens. She's got new topics and new guest political scientists and comedians each week, and the floor is always open to questions from you.
Informative and fun (we swear!) and exactly what your Thursdays need. Save the date(s)!