Bass Culture Film Showing + Sisters of Reggae & Peckings DJ Nite
June 8, 2019 @ 7:00 pm

-

June 9, 2019 @ 1:00 am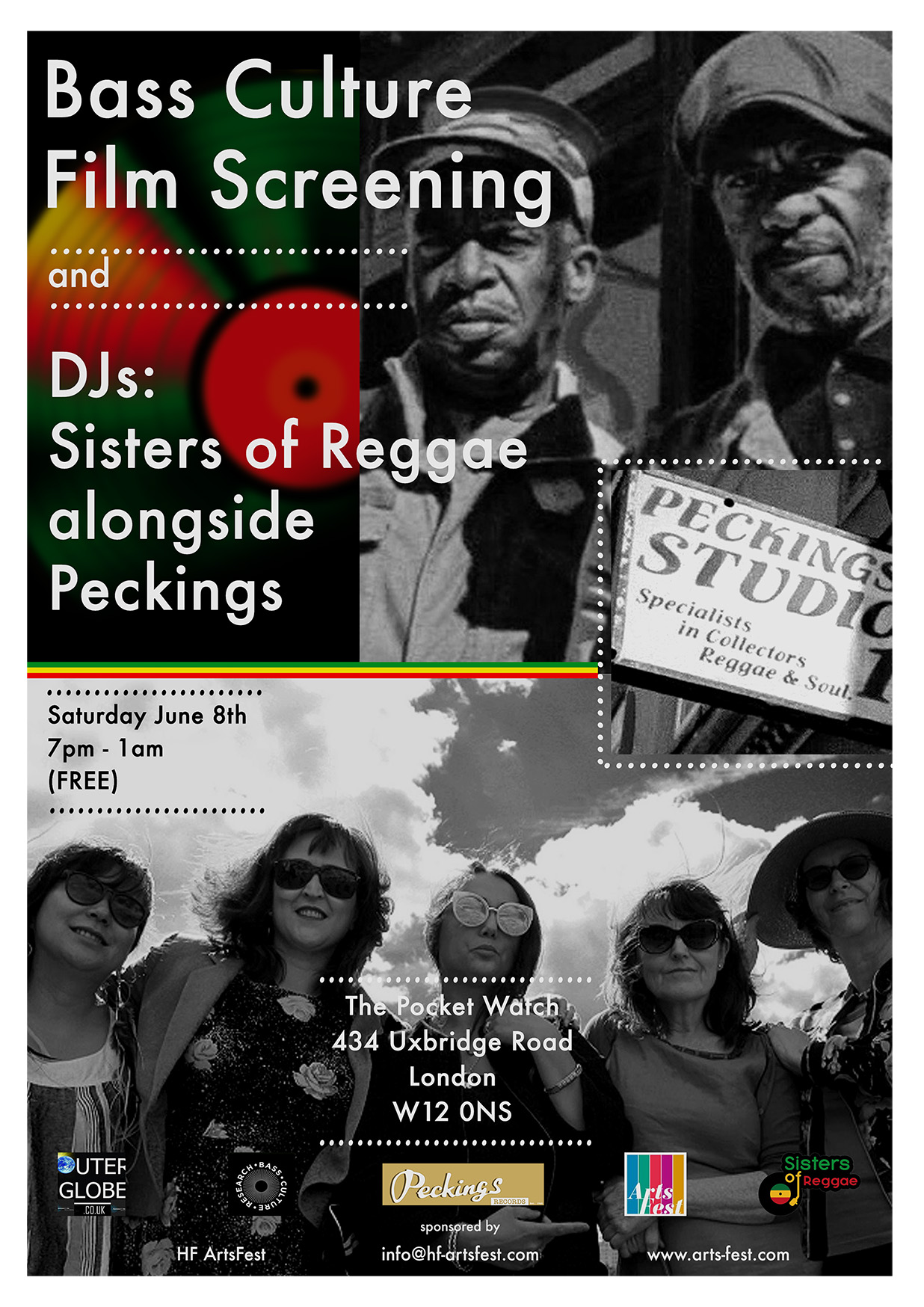 On this special WEST LONDON night as part of HF-artsfest proceedings start with a screening of the BASS CULTURE FILM and go on to a dynamic DJ night with Reggae in all its styles til 1am – and it's all FREE
Arrive Early, Leave Late!!
The Pocket Watch 434 Uxbridge Road, London W12 0NS
nearest station is Shepherds Bush Market on Hammersmith & City and CIrcle Lines – just a very short walk from there.
The Bass Culture film is a brand new documentary featuring the voices of four generations of African-Caribbean and black British cultural producers – musicians, songwriters, DJs, sound system crews, and industry professionals.
Through key voices central to five decades of new British genres such as UK Roots reggae, UK Dub, Pop reggae, Brit Ska, Jungle, Drum And Bass, Trip-Hop, UK Garage, 2 Step, Dub Step Grime, and a host of other UK sub genres – the film explores the impact of Jamaican music on popular British culture over the last 50 years, which in turn continues to influence global popular culture.
The Bass Culture film was commissioned by local resident and researcher Mykaell Riley, as part of Bass Culture, his AHRC research project mapping the impact of Jamaican music on Britain over the last half century.
The film is produced by Fully Focused Productions, a youth led media organisation that uses the power of film to raise awareness, challenge perceptions and transform lives. The production brings together film industry professionals with young people from some of the most disadvantaged backgrounds in London.
Following the screening, stay around for a fun Saturday evening with Reggae DJs! Sisters of Reggae- all female vintage vinyl – meets Peckings the pioneers in a DJ encounter like no other..
.DJs:
Chris Peckings Price & Duke from Peckings
Miss Feelgood & Debbie Golt from Sisters of Reggae
For more information about Sisters of Reggae see the page Sisters of Reggae Briefly: "Founded in 2016 by Lucky Cat Zoë, Sisters of Reggae are 5 record collectors and selectors playing Rocksteady to Revival, Jamaican Oldies, Ska, Roots, Rockers, Dub and Early Digital Reggae.
Lucky Cat, Debbie Golt, Miss Feelgood, Naoko The Rock and Sweetie have supported some of the biggest names in Reggae. These include U-Roy, Marla Brown, Soom T, David Rodigan, Bitty McLean, Christopher Ellis, The Hempolics, Channel One, Aba Shanti I, Max Romeo, Dawn Penn, Sister Nancy, Dubkasm, Axis Sound System and many more. "
For more info about Peckings see Peckings studio1 Peckings Record Shop . Duke and Chris's father George 'Peckings' Price was the first person to bring Jamaican recorded music into UK and set up his iconic shop on Askew Road in 1974. He died in 1994 and Chris and Duke carry on the business of the shop and in 2002 founded their award winning Peckings Record Label. Artists include Bitty Maclean from the outset and more recently Lady Lexx and Aleighcia Scott
DJs:
Chris Peckings Price & Duke from Peckings
Miss Feelgood & Debbie Golt from Sisters of Reggae
Come one Come all! Arrive early depart late!