Black British History From 1948
July 2, 2020 @ 7:00 pm

-

10:00 pm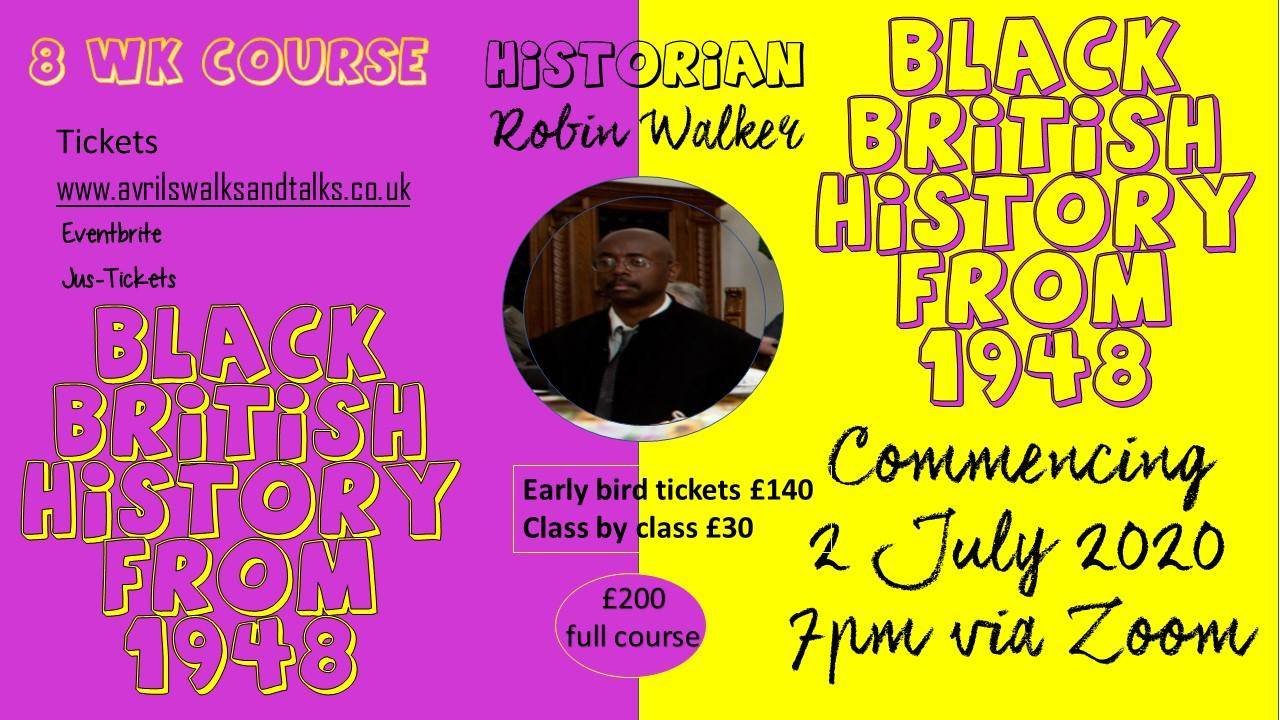 Want to learn about Black people's history in the UK? This course will give you the basics as well as an indepth look at their history.
This event will be via Zoom. Codes will be sent nearer the time.
This short 8 week course will give you a good grounding in understanding how the Black people of the UK have contributed to British society.
Using film, music and talk, Robin Walker will explain the history of Black people in the UK since the arrival of the ship Empire Windrush in 1948.
Robin Walker 'The Black History Man' will lead a powerful short course on Black British History. All the sessions are inspiring multimedia presentations. The course traces Black British History from 1948 till now.
Come and learn about:
* How Black Britons waged political and cultural struggles to win acceptance in Britain
* How Black Britons influenced White working-class youth culture 5 times over the 70 years (Mods, Skinheads, Punks, 2 Tone heads and Chavs)
* How Black Britons entered the Mainstream (as Intellectuals, Boxers, Athletes, Footballers, Authors, Actors, Fine Artists, and Politicians)
There are eight classes:
1. The MV Empire Windrush and the Calypso Years
2. Claudia Jones, the Birth of Carnival and Blacks in the NHS
3. The Black British Civil Rights Struggles during the Ska and Rocksteady Years
4. Enoch Powell, Skinhead Culture and the Reggae Years
5. The 1981 Annus Horribilis and the Lovers Rock and 2 Tone Years
6. How Black Britons entered the Mainstream (as Intellectuals, Boxers and Athletes) and the Birth of Black History Month
7. How Black Britons entered the Mainstream (in Football and Literature) during the Soul and Jungle Years
8. How Black Britons entered the Mainstream (in Drama, Fine Art, Textiles and Politics) during the Garage and Grime Years