Bojangles invites you to their Grand Reopening Party – Free at Last!
July 23, 2021 @ 9:00 pm

-

July 24, 2021 @ 9:00 pm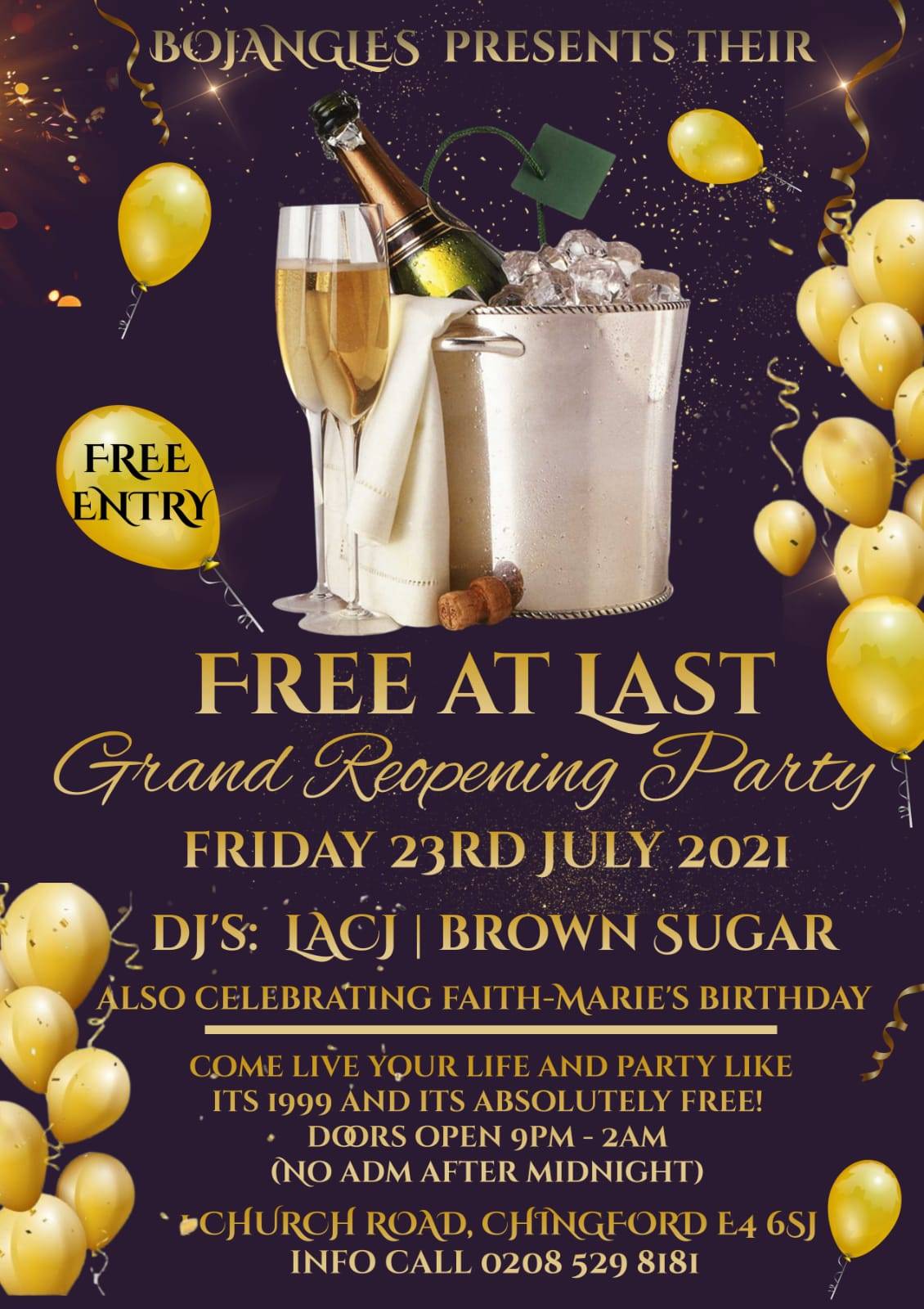 On Friday the 23rd Bojangles opens its doors to all you party goers – come and live your life and party like it's 1999 for the first time since lockdown lifting! Bojangles guarantees an unforgettable night out in Chingford featuring DJs LA CJ and Brown Sugar.
Doors open at 9PM (Last entry at 12Midnight)
Entry Absolutely FREE
For more info call us up on 0208 529 8181
#dinein #Fridays #tgif #thankgoditsfriday #Friday #weekend #weekendnights #weekendnightsout #restaurantsinchingford #dineinrestaurants #foodanddrink #food #drink #drinks #cocktails #mocktails #beer #tgif #happyhour #dining #bojangles #foodies #buffet #alacarte #courses #lockdownlifting #postlockdown #lockdownease #opennow #dance #soul #ska #rnb #rhythm #blues #rhythmnblues #music #vegetarianfriendly #walkin #cuisine #sitat #inperson #indoorseating #seating #music #alldaybreakfast #breakfastallday #morning #evening #lunch #chingford #london #DJs #chicken #kebab #lamb #hotdogs #bumperburgers #wings #party #sundayparty #barbequeparty #dinein #social #meetup #postlockdown #mostygee #equationroadshow #Fatz #DJs #house #party #dancing #socialmeetup #nightclub #nightsout #pubnight #pubnights #pubnight #pub #night #in #chingford
Enjoy the lockdown liftings with Chingford's absolute best at Bojangles this Friday! Head on over and enter free for some amazing music, great ambience, and dance your Friday night away with the best crowd in London!