Brilliant and Black: Celebrating Black History Month
October 1, 2020 @ 1:00 pm

-

3:00 pm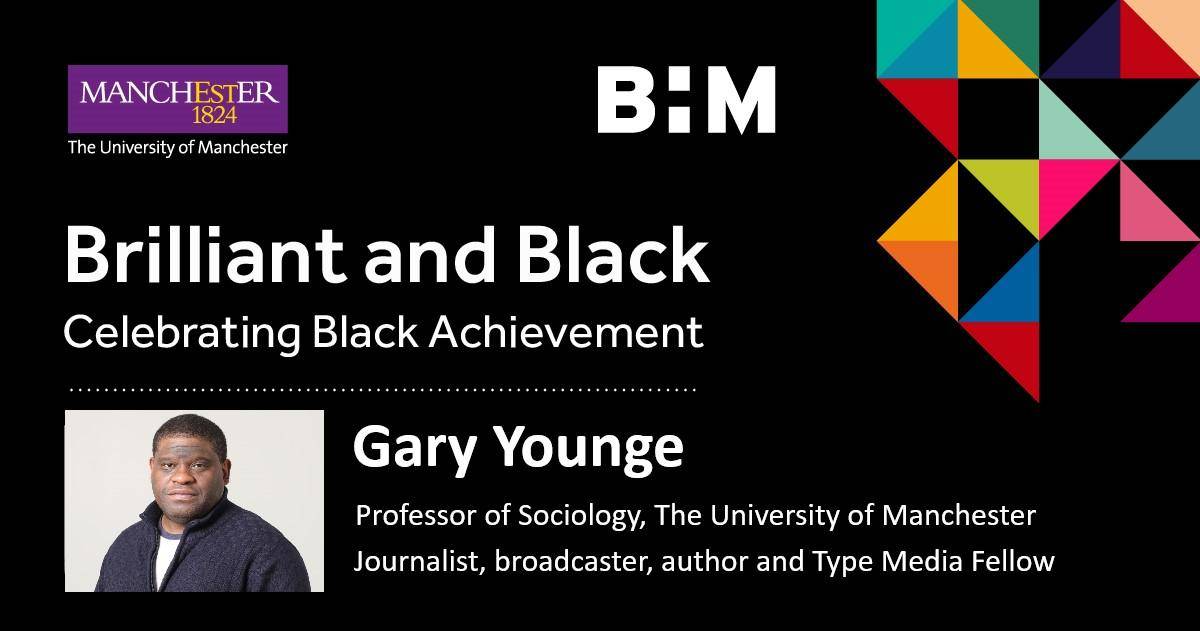 In Celebration of BHM 2020 The University of Manchester is proud to present: "Brilliant and Black" with Professor Gary Younge
In Celebration of BHM 2020 The University of Manchester is proud to present: "Brilliant and Black" with Professor Gary Younge
The month of October has been celebrated as Black History Month (BHM) in the UK since 1987. This national celebration aims to recognise and celebrate Black British achievement, and foster general knowledge and understanding of Black history.
This year we are honoured to welcome Professor of Sociology, award-winning author, broadcaster and columnist Gary Younge, to deliver this year's keynote presentation 'The Fire This Time' – a perspective on race inequality and the current Black Lives Matter (BLM) movement.
Following the keynote address, Gary will be joined by Professor Nalin Thakkar – Vice-President for Social Responsibility at University of Manchester and Naa Acquah – alumna and former General Secretary of University of Manchester Students Union.
This event would normally be held on campus but given the current COVID-19 pandemic, it will this year be delivered virtually via Zoom (details received upon Eventbrite registration) and live streamed via YouTube (https://www.youtube.com/user/universitymanchester) and Facebook (https://www.facebook.com/TheUniversityOfManchester/). The event is open to all staff, students and members of the general public.
Please register for this event.
Programme:
13:00-13:02 – Opening by Nalin Thakkar
13:02-13:05 – Message from Prof Dame Nancy Rothwell
13:05-13:15 – Opening statements by Nalin Thakkar
13:20-14:00 – Keynote by Gary Younge: Title "The Fire This Time"
14:00-14:15 – Questions for Gary Younge
14:15-14:55 – Panel discussion. Panellists: Gary Younge, Nalin Thakkar and Naa Acquah
14:55-15:00 – Closing Remarks by Nalin Thakkar
About Gary Younge
Gary lived in Hertfordshire with his Barbadian parents until going to Sudan to teach English in a UN Eritrean refugee school when he was 17. Then, after studying French and Russian at Edinburgh's Heriot Watt University and journalism at London's City University, he started working at The Guardian in 1993.
After several years of reporting from all over Europe, Africa, the US and the Caribbean – including a stint at The Washington Post – Gary was appointed The Guardian's US correspondent in 2003, before becoming their editor-at-large in 2015.
He has won several prizes for his journalism, including the David Nyhan Prize for political journalism from Harvard's Shorenstein Centre, and he was named as 2018's Feature Writer of the Year by both Amnesty UK and the Society of Editors for his series on knife crime.
He has written five books – Another Day in the Death of America, A Chronicle of Ten Short Lives ; The Speech – The Story Behind Martin Luther King's Dream ; Who Are We?, And Should it Matter in the 21st Century ; Stranger in a Strange Land – Travels in the Disunited States and No Place Like Home – A Black Briton's Journey Through the Deep South.
His books have received considerable acclaim, with several of his titles either winning or being shortlisted for major literary awards – in 2017, Another Day in the Death of America won the J. Anthony Lukas Book Prize from Columbia Journalism School and Nieman Foundation. Gary has also made several radio and television documentaries, on subjects ranging from gay marriage to Brexit.
Gary joined The University of Manchester as a Professor of Sociology in 2019.
About Nalin Thakkar
Nalin is Vice-President for Social Responsibility and Professor of Molecular Pathology at The University of Manchester, and Consultant Histopathologist at the Manchester University NHS Foundation Trust (MFT). He served as an Associate Vice-President for ten years with responsibility for oversight of non-financial risk and compliance, and research governance and integrity. In his NHS role, he leads the head and neck adult histopathology service for a large NHS Trust with a regional head and neck oncology centre.
Nalin served as a non-executive director (ministerial appointment) of the Health Research Authority (HRA) from its establishment in 2015 as a non-departmental public body to 2018. The HRA is one of the key regulators overseeing health and social care research with a remit to protect and promote the interests of patients and the public in health and social care research. Nalin is currently a non-executive director of the Walton Centre NHS Foundation Trust, the only specialist neurology and neurosurgery NHS Trust in the UK. In 2017 he was listed in the top 50 most influential BAME leaders in the public sector.
Nalin has served on the Royal College of Pathologists' Ethics Committee and as a National Advisor to the HRA on genetic and genomic research and the use of human tissues in research. Prior to this, he was a National Research Ethics Advisor to the National Research Ethics Service.