British History, Black Music, Racism & The Music Industry 1507-2020
July 31, 2021 @ 6:00 pm

-

9:00 pm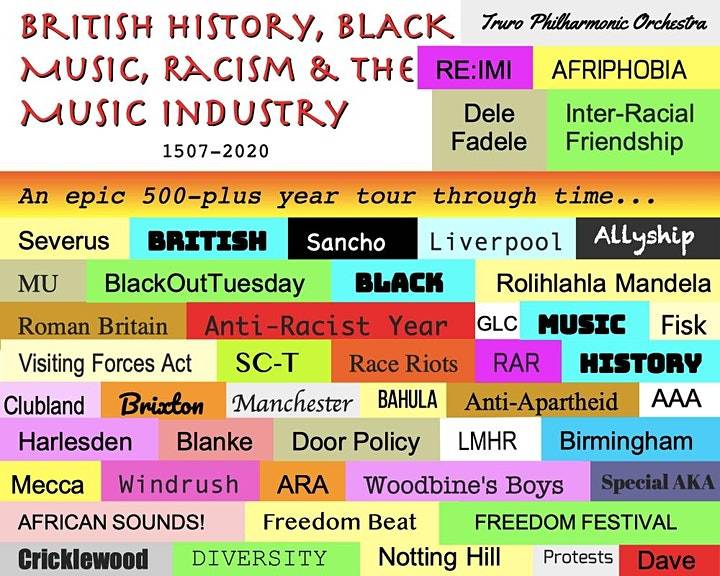 Final version of video covering an epic 500-plus year tour of British black music and Africans' engagement with racism.
"Allyship includes understanding the history of the people and their history with racism. Forget the US, get a UK context." RE:IMI (Race Equality: In Music Industry)
UPDATE: At last, the final version of this epic mashup video and a new title name.
This family-friendly Zoom meeting is inclusive and open to anyone – from music fans, musicians, history and cultural studies students and educators, to music industry practitioners – interested in the history of black music and Africans in Britain, and the interaction of racism. This video provides a comprehensive background. Also, the image above touches on some of the areas/topics covered.
Programme
6-8pm video & remarks
8-9pm Q&A/Discussion
Music industry and history consultant Kwaku presents a video-assisted presentation mapping out a complex and surprising 500+ year history of the interaction between black music and African musicians, and racism in Britain. Based mainly on documented facts with anecdotal and assumptive asides, it covers from the wicked consequences, the surprising, the resilience, the conquering, the I-didn't-know-that to the fancy-that, and lots more in between! An unmissable learning forum with space for you to have your say.
This event closes British Black Music Month 2021. Early bird £5 extended to July 23 2021: https://BBM.eventbrite.com
Related Events