Business, Entrepreneurship & Innovation in the Midlands Networking Seminar
March 13, 2020 @ 6:00 pm

-

9:30 pm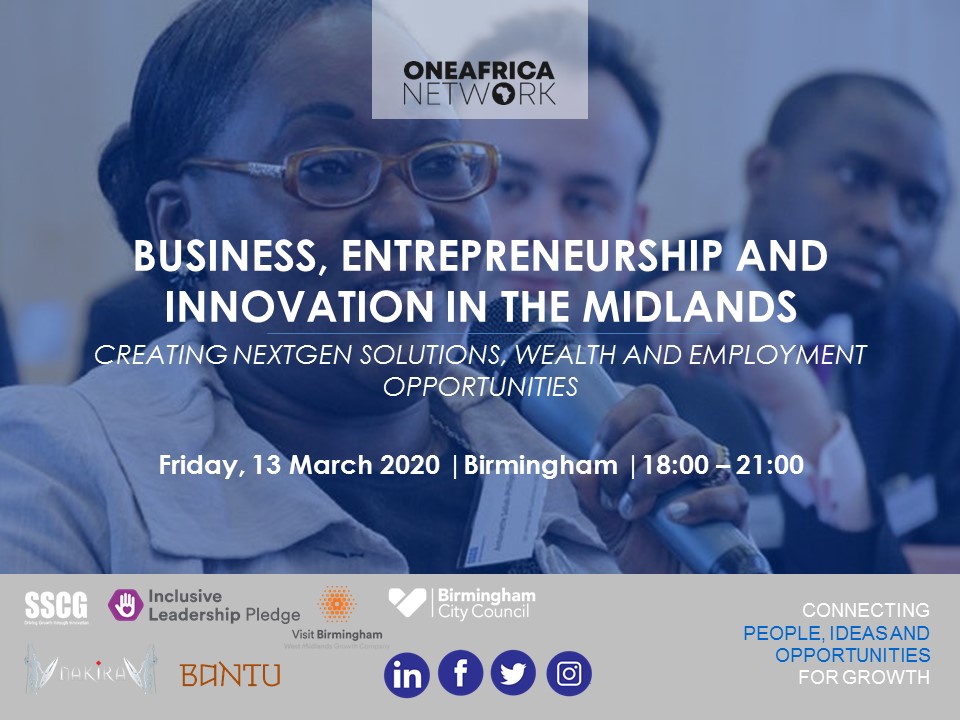 Entrepreneurial opportunities can represent an important channel for economic and social participation and upward mobility, by allowing disadvantaged or marginalised groups, including young people, women, refugees, migrants, ethnic minorities and the disabled, to create their own opportunities to participate in the economy. While not all SMEs are innovative, new and small firms are often the driving force behind the sort of radical innovations that are important for economic growth, since they can work outside of dominant paradigms, exploit technological or commercial opportunities that have been neglected by established companies or enable the commercialisation of knowledge that would otherwise remain un-commercialised in universities and research organisations.
Join us at SSCG One Africa Network Panel Discussion Series where we will discuss opportunities and innovative idea to accelerate the success of African entrepreneurs, businesses, innovations and professionals to become the next engines of growth.
ONE AFRICA NETWORK – CONNECTING PEOPLE, IDEAS AND OPPORTUNITIES FOR GROWTH AND PROSPERITY
SPONSORSHIP
SSCG team works closely with sponsors to integrate them into event programmes to ensure that they maximise exposure and engagements with delegates to advances each sponsor's goals.
For sponsorship opportunities, please contact Ruth Adams, Head for Corporate and Business at Ruth.Adams@sscg-group.com
Follow and tweet us @OneAfricaNetwork using the hashtags #OneAfricaNetwork and #SSCGConsulting