CARIBBEAN UNITED- ESY KENNENGA LIVE
December 3, 2017 @ 7:00 pm

-

11:30 pm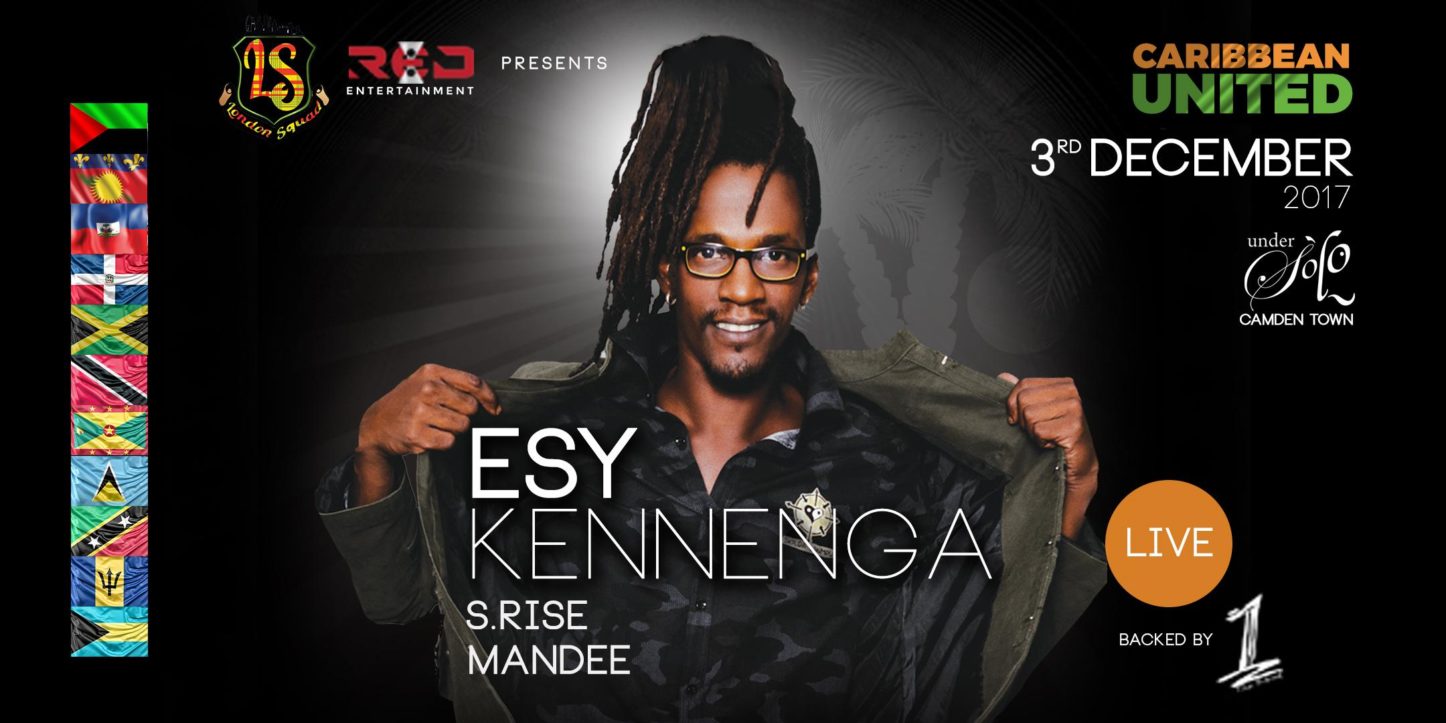 LondonSquad
and Red Entertainment present 
CARIBBEAN UNITED – ESY KENNNENGA LIVE in London
Sunday 3rd of December 2017 @7pm
For the first time in LONDON!!!
ESY KENNENGA, S.RISE and MANDEE, will give you an unique Caribbean experience. Come and enjoy some amazing live performances by 3 talented artists from the West Indies all backed up by a One the Band! 
Get your tickets now to avoid disappointment!!!!
Limited £12 Early bird ticket at: 
https://www.eventbrite.co.uk/e/caribbean-united-esy-kennenga-live-tickets-38889632939?aff=es2
Music: ♫ ♪♫ ♪♫ ♪♫ ♪♫ ♪♫ ♪♫ ♪♫ ♪♫ ♪♫ ♪♫ ♪♫ ♪♫ ♪♫ ♪♫ ♪
Acoustic, Reggae, Dancehall
 Venue: Under Solo, 22 Inverness St, London NW1 7HJ
Time 7pm – midnight
ESY KENNENGA is a French Caribbean singer, songwriter and musician taking his inspiration from Dancehall, Zouk or Reggae. ESY KENNENGA is well known for his unique style and ability to bring his own twist to the reggae and dancehall scene.
For the first time on the UK scene, ESY KENNEGA will introduce his new album- Carnet de Voyage d'un SOLDA LANMOU. Be the first to listen to his brand new track alongside his hit songs!
S.RISE is a singer and songwriter from Guadeloupe. His stage name is a reflection of his conscious lyricism and lifestyle.  S.RISE writes from a perspective of life experiences and blessings. His powerful and distinctive voice combined with an energetic and vibrant performance has been known to thrust the crowd into frenzy.
S.RISE has been working silently on his new EP- STRONG. He will perform his new songs live for your pleasure!
MANDEE is an international singer/songwriter based in the UK. She has a catalogue of incredible songs. MANDEE is also well-known for her remarkable covers.
As the only woman voice of the show, MANDEE will bring you into her universe by showcasing all the different kind of music that her voice can cover!
We hired the finest MC and DJ in town: Stevens aka Dundee and DJ SHAKIT from Get Mad Entertainment
Get your tickets now:
https://www.eventbrite.co.uk/e/caribbean-united-esy-kennenga-live-tickets-38889632939?aff=es2
More at the door
 Over 18+. NO PHOTO ID NO ENTRY.
 If you have any query, do not hesitate to contact us: 07508 057546 or email us @ redentlimited@gmail.com