COVID-19 – Impact and Future Opportunities for the Creative Industries
May 20, 2020 @ 6:00 pm

-

7:30 pm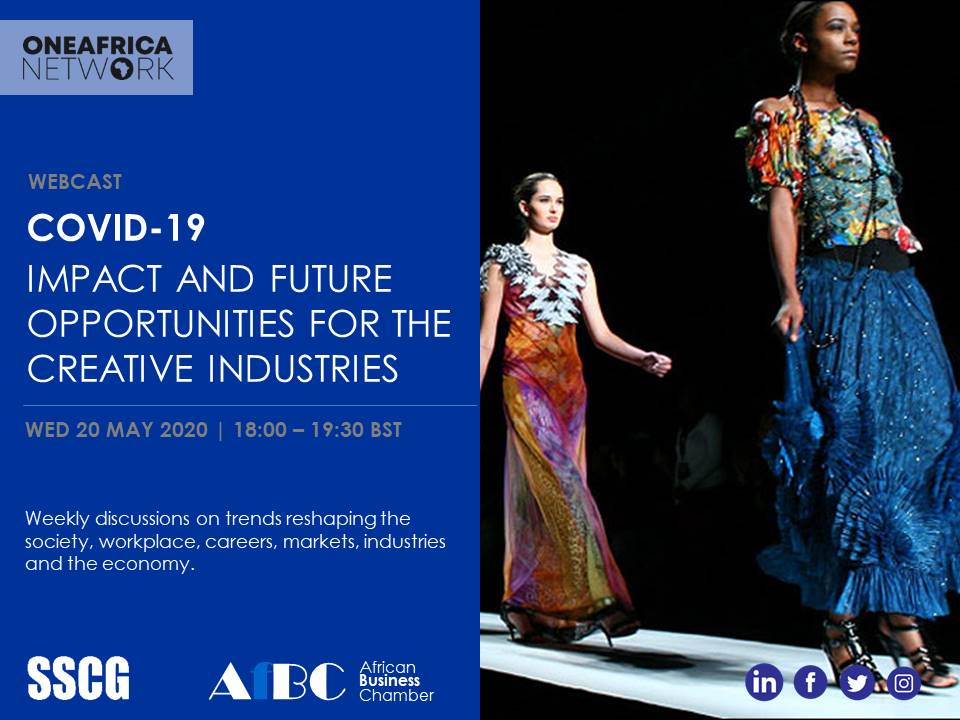 The coronavirus (COVID-19) outbreak is first and foremost a human tragedy, affecting millions of people and communities. It is also having a growing impact on the global economy, people livelihoods and many businesses. Along with many other industries, the crisis has shaken global sectors of economy with major impact and the creative sectors are among the most affected by the current crisis leaving an unprecedented situation .
Join One Africa Network (OAN) Webcast live discussion webcast event on COVID-19 Impact and Future Opportunities for the Creative Industries on Wednesday 20 May 2020 at 18:00 BST to hear and learn from our panel speakers as they share perspectives, winning strategies and future potential new sources of value and opportunities to help you overcome and see through the current crisis, prepare for recovery and grwoth.
TOPICS:
Impact and disruptions on the creative economy

Key imperative models and strategies for the sector's survival and recovery

Managing social damage and health concerns post COVID-19: Mental health and well-being through cultural content

How digitalisation and technologies will reshape the creative economy: Augmented reality (AR), virtual reality (VR), artificial intelligence (AI), Blockchain

Creativity and innovation in the age of COVID-19: New opportunities and challenges
ABOUT ONE AFRICA NETWORK
The leading network for African entrepreneurs, investors, businesses, leaders and professionals in the UK. Committed to advancing entrepreneurship, innovation, excellence, inclusiveness and sustainable economic growth.
One Africa Network is hosting a new series of virtual events, as we continue on our mission of informing, inspiring, and connecting audiences around the world during these uncertain times.
We remain committed to bringing you objective, solutions-based discussions and opportunities for connection. Follow our discussions and tweet us @OneAfricaNetwork using the hashtags #OneAfricaNetwork
Visit www.oneafrica-network.com for more details