Creative Industry, Sports and Digital Businesses in the Midlands
January 31, 2020 @ 6:00 pm

-

9:30 pm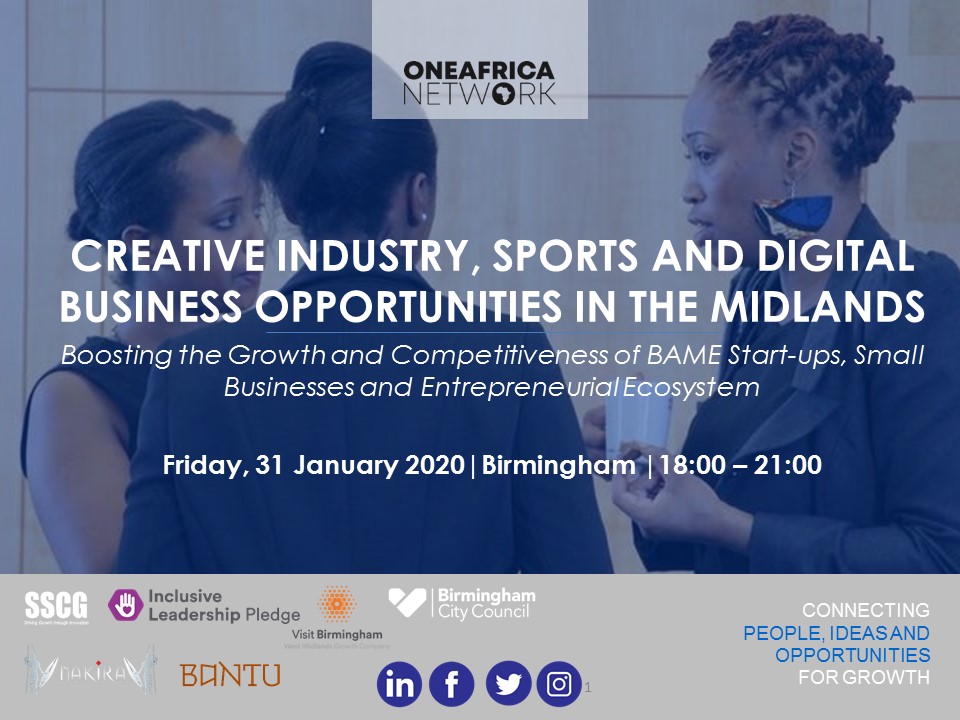 Boosting the Growth and Competitiveness of BAME Start-ups, Small Businesses and Entrepreneurial Ecosystem
About this Event
The creative economy is one of the most dynamic sectors with a powerful transformative force for socioeconomic development and creating employment opportunities. African creative businesses, products and services in the UK are reshaping economic landscape creating and unlocking new growth areas for competitiveness. They interface between economy, culture, technology, and social aspects. To succeed in the current dynamic market place, entrepreneurs, business leaders and professionals must rely in addition to other aspects on continuous creativity and innovation, market knowledge, skills, technologies, networking and the ability to seize new opportunities.
Join us at 
SSCG One Africa Network (OAN)
 Business Networking Panel Discussion Series where we will discuss opportunities and innovative ideas to harness the success in key industries such as heritage, visual and performance arts, media and functional creations (Fashion, designs, architecture, creative R&D, Digital services).
ONE AFRICA NETWORK – CONNECTING PEOPLE, IDEAS AND OPPORTUNITIES FOR GROWTH AND PROSPERITY
SPONSORSHIP
SSCG team works closely with sponsors to integrate them into event programmes to ensure that they maximise exposure and engagements with delegates to advances each sponsor's goals.
For sponsorship opportunities, please contact Ruth Adams, Head for Corporate and Business at Ruth.Adams@sscg-group.com
Follow and tweet us @OneAfricaNetwork using the hashtags #OneAfricaNetwork and #SSCGConsulting