David "Ram Jam" Rodigan
December 23, 2017 @ 10:00 pm

-

December 24, 2017 @ 3:00 am
Event Navigation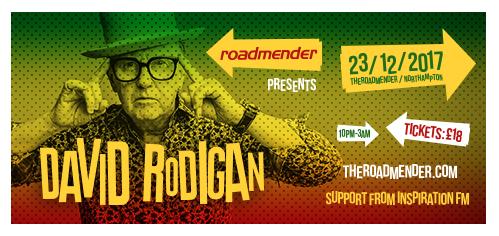 For over 30 years David Rodigan has been the top dog in the ganja-scented, bass heavy-atmosphere of Britain's reggae dance-halls. The key to his success has been an unsinkable passion for reggae music, which first took a hold of him
as a schoolboy when he heard ska music in the early '60s.
Rodigan began his reggae broadcasting career in 1978 on BBC Radio London. He moved to Capital Radio in 1979 and remained there for eleven years broadcasting his legendary 'Roots Rockers' show every Saturday night. His credibility was ensured when he began clashing with Jamaica's champion
DJ, Barry G on JBC Radio in Jamaica. He then went on to clash with all the top Jamaican sound systems in the West Indies, the USA and England.
In 1984 he joined BFBS (British Forces Broadcasting Service) where he broadcast his weekly reggae show for 25 years until 2009. In 1990 he joined the newly legalised Kiss 100 where he presented a variety of daytime shows for 10 years. He is still with Kiss 100 and his Reggae show can be heard every Sunday night at 11pm.
In 2006 he was inducted into the Sony Radio Academy Hall Of Fame. He also won the Sony Radio Academy Gold Award for 'Best Specialist Music Programme' in 2009 for his Sunday night Kiss Show 'Rodigan's Reggae'.
He plays his unique collection of customised dub plates and classic recordings extensively across Europe, especially in Italy and Germany, and in North America and the West Indies, to loyal reggae
fans worldwide.