E Double D Birthday Party
November 25, 2017 @ 9:00 pm

-

November 26, 2017 @ 2:00 am
Event Navigation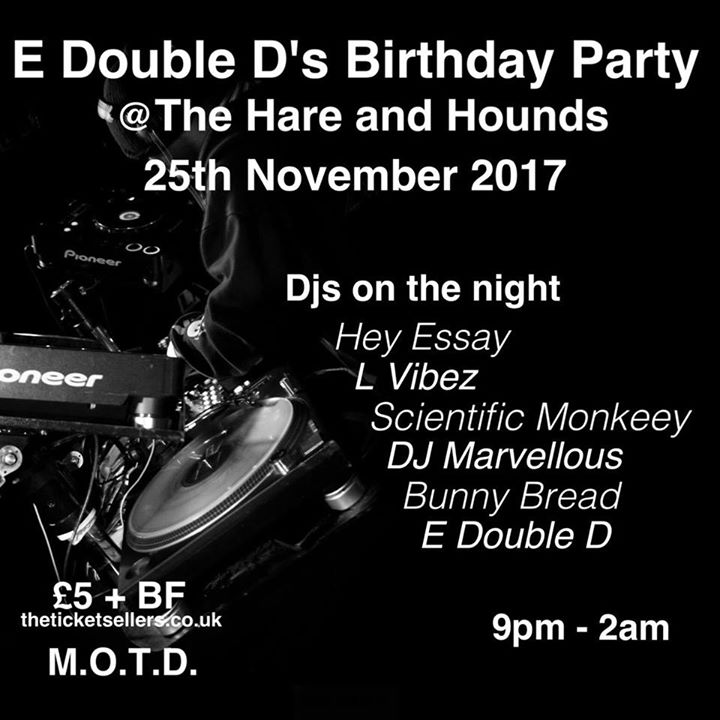 Right people! I have taken into account those of you asking for the follow up event after the Anniversary Party I held early on in the year. I have decided to do part two, hosting my Birthday Party in November and put together the Dream Squad.
This starts with Hey Essay.
This Dj/Promoter has put on a propular event called Got Soul in London for over 5 years. If it was not for this guy giving me a break I don't think there would be a place where I could play the music I love.
Ms L Vibez
This Lady has gone from strength to strength. She has accomplished so much in her DJ Career, totally smashing the last party, so I can't wait to see what she will deliver in November.
DJ Marvellous
This lady was brought to my attention by Scientific Monkeey. Her radio shows are pure fire and makes me dig for my tunes. I am so glad she will be coming to Dj
Scientific Monkeey
This guy is in my Top 5 of DJs I would go to listen to. His sets always makes me pull the ugly face when the tune drops. I will have my pen and paper ready.
Bunny Bread
A legend who is a part of the World Famous Jazzrefreshed and Uprock Crew. This talented individual is a director, turntablist and a style icon. His dj sets are unique and get's you dancing. I can't wait to see what this DJ comes up with on the night. Also in my Top 5 :O).
Expect to here
Stuff you may not know but will dance the hell to.