Fit2Jam
March 2, 2018 @ 8:00 am

-

March 4, 2018 @ 5:00 pm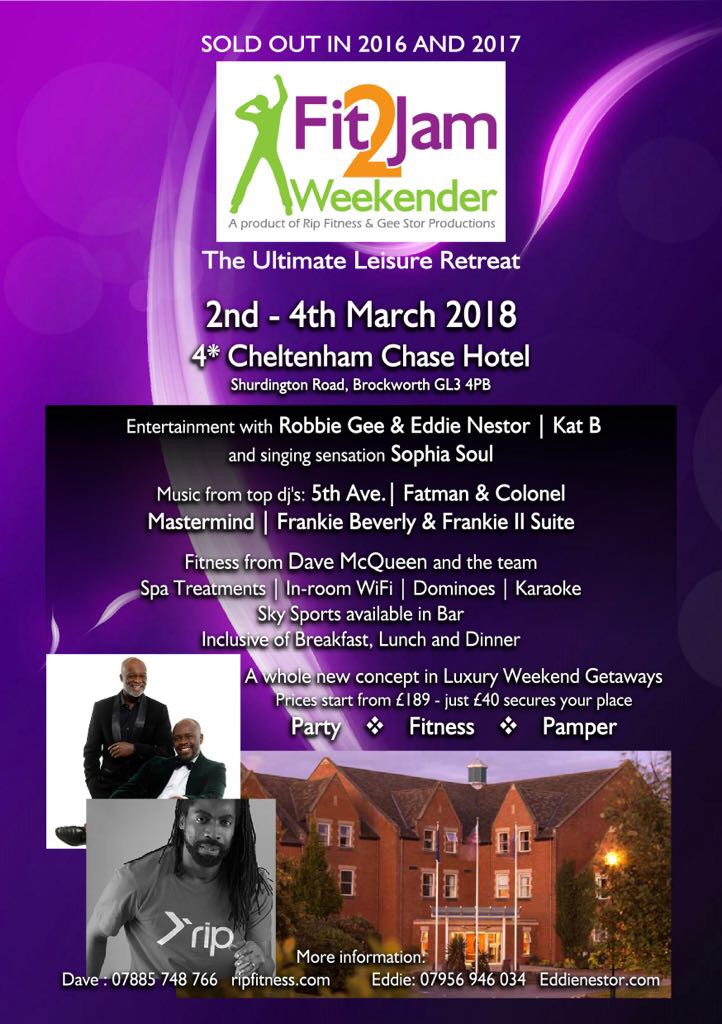 The Ulimate Leisure Retreat
at the Cheltenham Chase Hotel
Party All your favourite hits over two nights with:
Fatman & Colonel, 5th Ave, Franky II Suite & Frankie Beverly and Mastermind
3 days of fabulous fitness for all levels:
Combat, Soca Jam, Zumba, Bashment Dance, Morning Runs, Aquarobics, Pilates & Yoga With Dave McQueen, Fitzroy Gaynes, Faye Edwards, Patrizia Zamparo, Marie Bartlett & Andrea Stewart.
Included in package:
Music * Entertainment * Raving * Dominoes * Karaoke * Spa treatment * Fitness classes * Free wi-fi * Full board * Top Dj's * Silver service dinner * Themed parties * Pool/jaccuzi/gym/sauna/steam room
Prices are fully inclusive of all meals (including Saturday silver service dinner and dance)
Bookings are subject to availability. Breakfast, lunch and dinner are included. Deposits are £40 per room, with the remaining balance due 6 weeks prior to the event. Deposits are non-refundable in the event of a cancellation.