Ghetto Heaven Weekender 2018
February 9, 2018 @ 6:00 pm

-

February 11, 2018 @ 6:00 pm
Event Navigation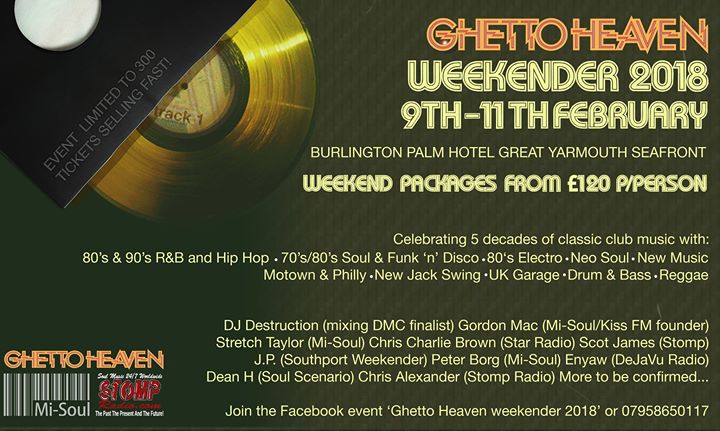 Welcome to the Ghetto Heaven Weekender event page.
My vision was to do a good value, small and personal, almost private event for you all, full of great soulful club music right across the board, not just soul.
GHETTO HEAVEN WEEKENDER 9/10/11 February 2018.
Burlington Palm Hotel, Great Yarmouth Seafront.
"A celebration of 4 decades of club music"
Prices start at a bargain £120 per person for the whole weekend which includes accommodation, based on sharing a double room or a twin room for 2nights/3days, which includes hotel, bed, breakfast, wristband for all entertainment & use of all hotel facilities including Great Yarmouth's only indoor swimming pool & sauna. All rooms have an ensuite bath or shower room and toilet. This offer is on a first come, first served basis. Other packages are available for single rooms and luxury rooms subject to availabilty, see below.
Full price information:
Double Room sharing or Twin Room sharing for 2 people is just £120 p/person for the whole weekend includes breakfast etc.
Triple Room sharing for 3 people is £120 p/person for the whole weekend includes breakfast etc.
Single Room for 1 person is £150 p/person for the whole weekend includes breakfast etc.
OR if a single person wants a Double Room, these are available for £170 p/person for the whole weekend includes breakfast etc.
Luxury Rooms are an extra £50 p/person on top of the normal price for a Double Room for the weekend.
You can reserve your hotel/place with a £50 deposit per person payable by online banking. Alternatively, you can pay for the whole weekend in full at the time of booking should you wish. Balance payable by 31st July 2017.
NOTE: We cannot confirm your booking or hold any rooms until your deposit has been received, to make it fair for other people that want to book.
PLEASE NOTE: All 70 onsite rooms at the Burlington Palm Hotel have now been reserved.
BUT DON'T PANIC, THE EVENT IS NOT SOLD OUT, as we also have the nearby Marine Lodge Hotel, just 2 minutes walk away which we are now continuing to take bookings for, and we have negotiated exactly the same deal for you.
FOR THOSE WANTING A BIT OF LUXURY…. we have some Luxury Rooms now available to book at the Marine Lodge Hotel – these rooms have an luxury upgrade surcharge of £50 p/person for the weekend, full details on request – THE LUXURY ROOMS HAVE NOW SOLD OUT, SORRY.
Hotel facilities: swimming pool & sauna (at onsite hotel), free parking, free wifi.
If you want dinner at the hotel and don't wish to venture outside, it is available for only £15/20 for 2/3 courses payable seperately while you are there – alternatively you can eat where you wish and the town has many eateries both cheap or more upmarket.
We have assembled 10 of the UK's most knowledgable & technically skilled DJ's playing the whole spectrum of club classics over 2 rooms of music.
Music policy: R&B, hip hop, electro, soul, funk, classic house, neo soul, reggae, soulful house, Motown, UK garage, drum&bass & new music.
GHETTO HEAVEN WEEKENDER DJ LINE UP:
DJ DESTRUCTION (DMC mixing championship finalist)
GORDON MAC (Mi-Soul Radio/Kiss FM founder)
STRETCH TAYLOR (MiSoul Radio)
CHRIS CHARLIE BROWN (Star Radio)
PETER BORG (MiSoul Radio)
SCOTT JAMES (Stomp Radio founder)
J.P. (Southport)
ENYAW (DejaVu Radio)
DEAN H (Soul Scenerio)
CHRIS ALEXANDER (Stomp Radio)
MAX FERNANDEZ
DJ COXY
PLUS A RECORD STALL & THE 'WHAT IS HIP' T-SHIRT STALL.
N.B. All details and DJs are confirmed, but are subject to change.
Note: Deposits are non-refundable.
Bookings are coming in fast, so don't delay, if you snooze you will lose.
Thank you for all your support.
Related Events