Hackney Christmas Party 2019
December 14, 2019 @ 7:00 pm

-

December 15, 2019 @ 2:00 am
Event Navigation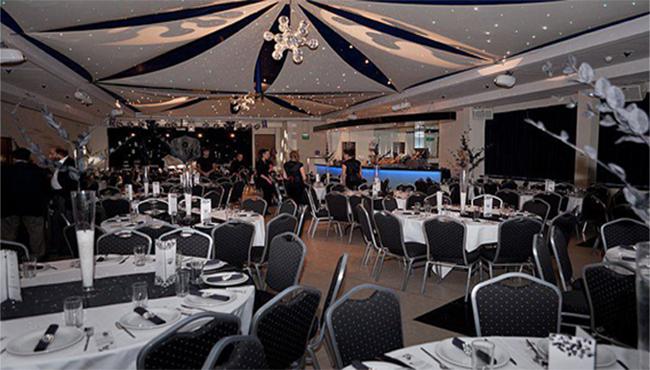 The infamous Hackney Christmas Party is now in its 16th year.  Started and still presented by Simon Precilla as a means to truly represent colleagues in an unofficial capacity, news of the great value and atmospheric events spread far beyond its origins and the various events have entertained in the region of 20,000 patrons!  Originally taking place in the Ocean music venue (now the Picture House Cinema) after the said venues' closure,  the Hackney Christmas Party went on to grace various venues in Hackney including  both prestigious Stoke Newington and Hackney Town Halls.  2018 marks the events's return to the Starlight Suite which hosted the last two events and the intimate setting has earned rave reviews.  In our humble opinion there are very few christmas parties in the UK that offer so much for so little. New caterers enter the fray this year in the shape of award winning Wedding specialists Palm Tree Catering.  Throw in Simon's generous five complimentary drinks included in all ticket options, not to mention a PA from Reggae Star Peter Hunnigale (dinner only)  music from resident Djs plus special guests Special Touch.  
Doors 7pm for dinner dance and show 
19.30pm entrees complimentary Rum Punch
Dinner 20.00
Desset 21.00
Show 21.30
Dance 22.00
Close 2am
Menu 2 Course Dinner !!! ( mains and dessert)
Christmas dinner
Roast Chicken
Curry Mutton
Fish in Garlic
Vegetable Curry
Roast Potatoes
White rice
Plantain
Brussell Sprouts and Mixed veg
Mixed salad
Coleslaw
Dessert pick one of two 
Red velvet cake 
Cheese cake
Dinner is served buffet style.  Once all guests have eaten guests will be offered to sample any untried dishes subject to availability.  Tables seat 8-10 and are not set until 7 days before the event so guests don't have to purchase together to sit together. Simply email the promoter to advise which guest you would like to be seated with. 
Option 1: Dinner, Dance & Show (DDS) from £40-45 
Option 2: Dance only (DO) £15-£22.50
Option 3: VIP + DDS / VIP + DO £70 / £40 incl bf (exclusive seated area, higher end drinks, waitresses in your section).
Music Policy will reflect the promoter's Caribbean / British heritage. Expect RnB, Soul, Reggae, Jungle, Soca, Lovers Rock, Rare grooves, House and club classics with a snippet of pop.
Resident DJs 10pm – 12.30am.  Special guest Special Touch 12.30am – close.
Over 25s (ID required), Dress code applies (no caps jeans or trainers – ticket holders not in appropriate attire will face significant delays in gaining access which will be at the discretion of the promoter.
If you manage to finish your stash of complimentary drinks you may purchase more drinks token from the front desk which is situated near the doors upstairs.
Pre order your own bottle of prosecco of spirits from the prmoter in advance (£5 surcharge to return bottle).
Info and off line tickets call Simon 07825 588 867 ( Mon- Fri 8am-9am, 1-2pm & 5-10pm). Simon@soulgigs.com