Harnessing the Power of the Black Voluntary Sector
June 2, 2020 @ 4:00 pm

-

6:00 pm
Event Navigation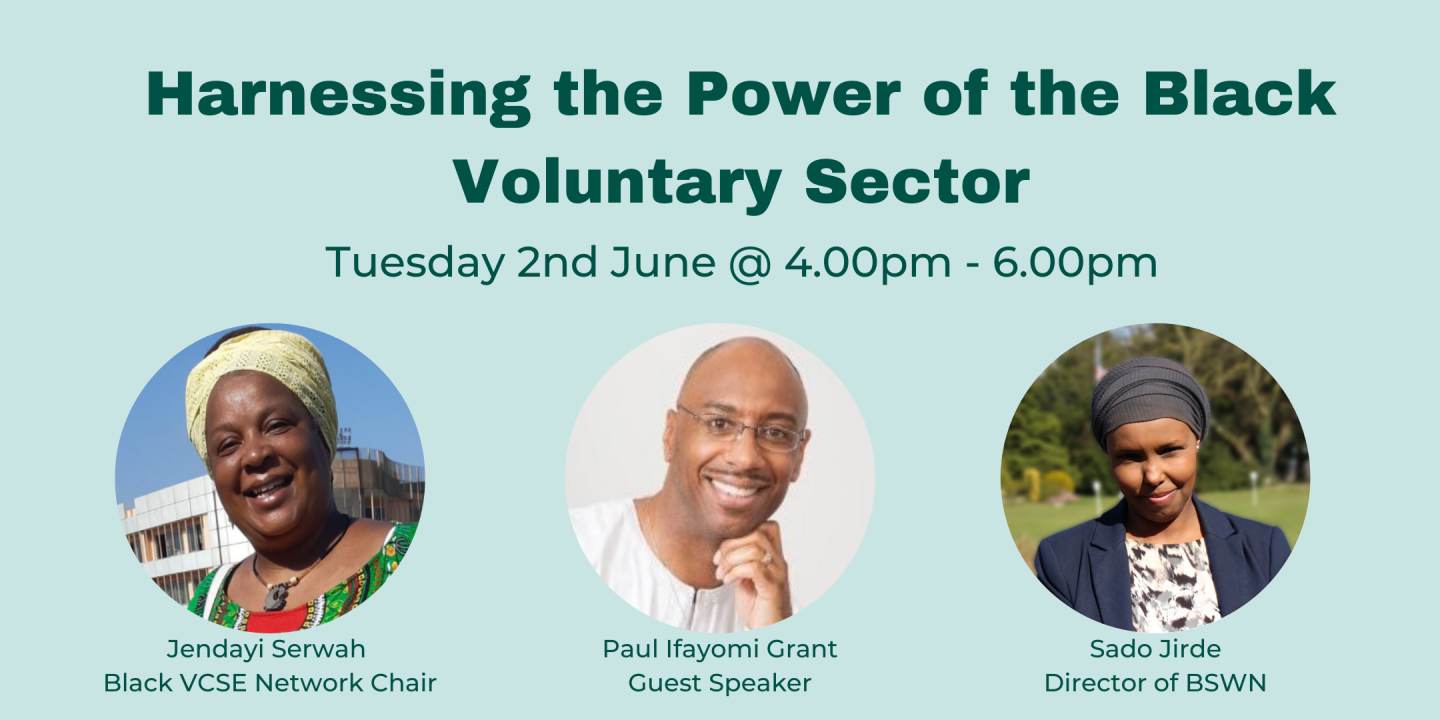 Join BSWN and colleagues for a webinar for Black & Asian VCSE organisations, the third event in our series of virtual sessions to support your community organisation. This webinar will focus on: 
4.00 Welcome & Introductions by Chair Jendayi Serwah 
4.15 COVID-19 updates and other BSWN announcements by Sado Jirde, Director of BSWN
4.30 Presentation by Paul Ifayomi Grant – 'Harnessing the Power of the Black Voluntary Sector'
5.00 Q&A
5.20 Way forward proposals
5.30 Community Announcements/Info share 
5.45 Close of event
Please register your attendance on this page in order to receive the link to the Zoom call.
For useful information regarding Covid-19 resources and funding, please see our website HERE. 
If you have any queries about the session, please don't hesitate to get in touch with our team on blackswnetwork@gmail.com. 
We look forward to you joining us on the day, 
The BSWN Team 
---
About Paul Ifayomi Grant
Ifayomi has had a portfolio career since 2006. He has been the Responsible Individual and Director of an Independent Fostering Agency, Fostering Dimensions Ltd, since 2012. He sits as a Chair/Lay member on fitness to practice tribunals/committees for five regulators: Health & Care Professions Tribunal Service; Farriers Registration Council; General Osteopathic Council; Bar Standards Board; and Social Work England. Ifayomi is a Non-Executive Director of Cafcass (Children and Families Court Advisory Support Service). He acts as the 'Independent Visitor' for a Children's Home in Nottingham and was recently appointed as a member of the Nursing and Midwifery Council's Test Of Competence Assurance Advisory Group.
Ifayomi has been involved in setting up a number of community organisations including Nubian Link, Afrikan Business Development Fund (ABDF Ltd) and Nottingham Black Families in Education (NBFE). 
Ifayomi also writes the Navig8or newsletter which provides commentary on issues affecting African people in the UK and abroad, with a particular focus on macro-economics and community economic development. He has run workshops and seminars across the UK for the past 17 years.   
About BSWN 
BSWN is a Black-led infrastructure organisation that delivers race equality work through undertaking robust, Black-led research into the social and economic issues that affect Black, Asian and Minority Ethnic communities; the development of voice and influence mechanisms that locate these communities in an equal dialogue with decision-makers; the brokering and development of relationships and collaborations that deliver real race equality work on the ground and in the corridors of power; and the development of mechanisms and projects that facilitate Black, Asian and Minority Ethnic communities utilising their own agency in social and economic development.
Notice of Consent 
There will be photography, audio, and video recording at all BSWN events. By entering the event premises, you consent to interview(s), photography, audio recording, video recording and its/their release, publication, exhibition, or reproduction to be used for news, promotional purposes, inclusion on websites, social media, or any other purpose by BSWN and our partners. If you have any queries, please contact us on blackswnetwork@gmail.com. 
By registering for a ticket, you opt into the BSWN newsletter and give permission to be contacted regarding our future programme of events, programmes and opportunities. If you would like to be removed from this mailing list, please email us on blackswnetwork@gmail.com.