Hip Hop's IMPACT on Black History LECTURE FEATURING: KRS-One
October 11, 2017 @ 6:00 pm

-

10:00 pm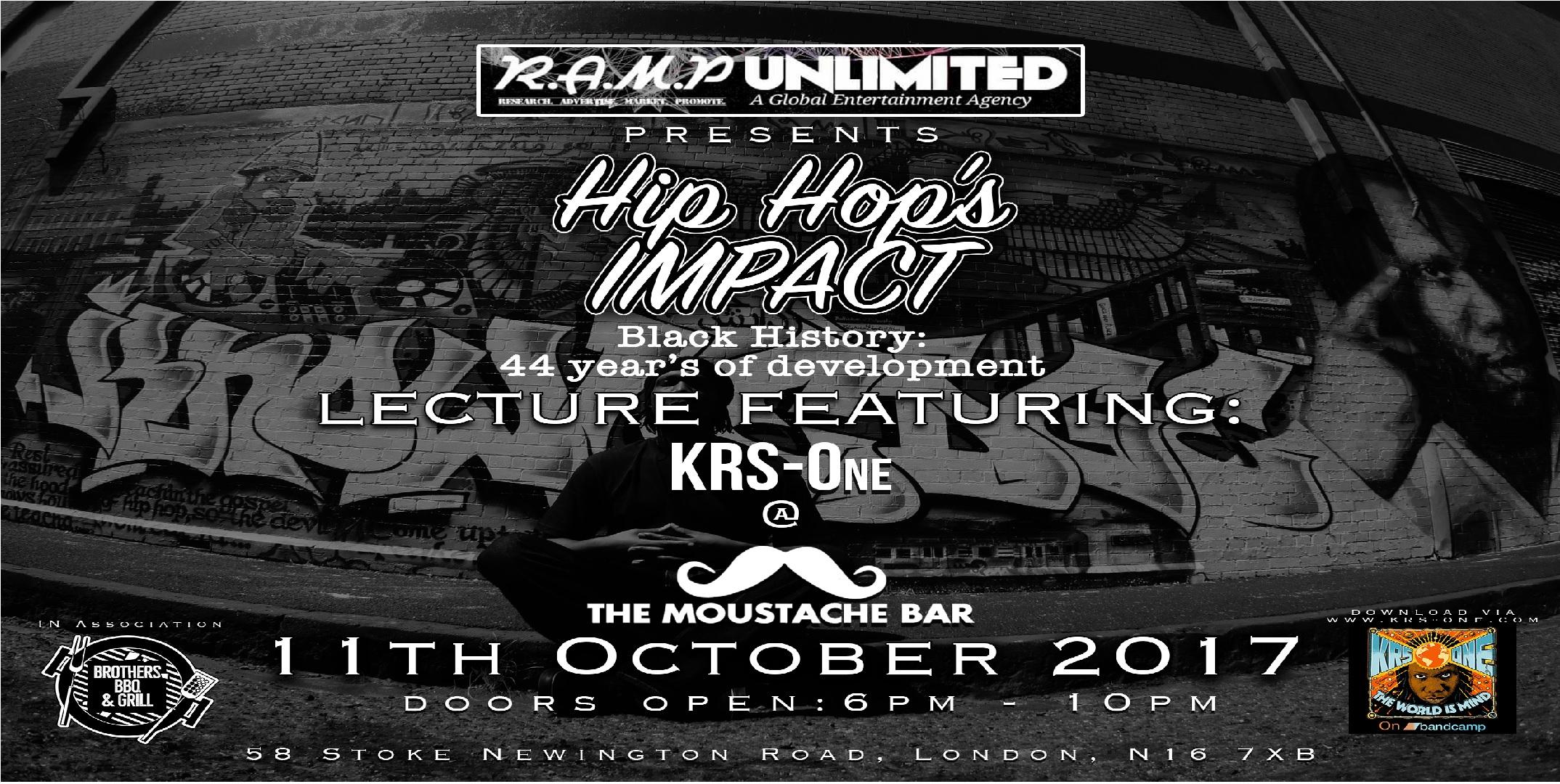 R.A.M.P Unlimited PRESENTS: "Hip Hop's IMPACT" lecture!
On Black History in Hip Hop culture.
At the "Moustache Bar" 58 Stoke Newington Road London, United Kingdom N16 7XB
This event is for the MCs, Poets, Lyricist, Producer's, DJ's, Philosophers, students and Hip Hop heads! We will have the legendary Hip Hop ICON, teacher and EMECEE. KRS-One! Speaking on, Black History in Hip Hop  culture.
We will have, food, drinks, music by special GUEST DJ "MixMaster" that will be playing. Hip Hop classics, Soul and Reggae music. And special GUEST, Radio DJ and host, that plays on Itch.fm, Wild1Radio, Def Star Radio & Westside Radio! "Drez" from "HipHopBackInTheDay"! 
At the end of the night to end the event off. We will have a CYPHER with live beats being played on the spot, by "SkratchNinja". So if you a MC or EMCEE. Come threw and show the community what you got!
For more information on the event and to get a ticket. You can visit, 
www.rampunlimited.com
, faceook.rampunlimited or Instagram/rampunlimited.
Doors open at: 6pm to 10pm on, October 11th, 2017.
General Admission: 20 GBD
Comes with: 15% food voucher from "BrothersBBQ". www.brothersbbq.co.uk
As well as a, 20% off discount for one of the R.A.M.P Unlimited Packages. 
Exclusive Admission 40 GBD 
Comes with: "The Introduction To Hip Hop" DVD HARD COPY!
This is the only place you can get it at. KRS-One merch is not sold in any stores, so if you want yourself a EXCLUSIVE copy of "The Introduction To Hip Hop" here is your chance!
Tickets are gonna be sold for a limited time ONLY. So get yours while you can!
Follow us at, @rampunlimited,
R.A.M.P Unlimited
We practice, what we preach.