How To Move To Africa And Live Good Luton Sun 1st March 3pm
March 1, 2020 @ 3:00 pm

-

5:00 pm
Event Navigation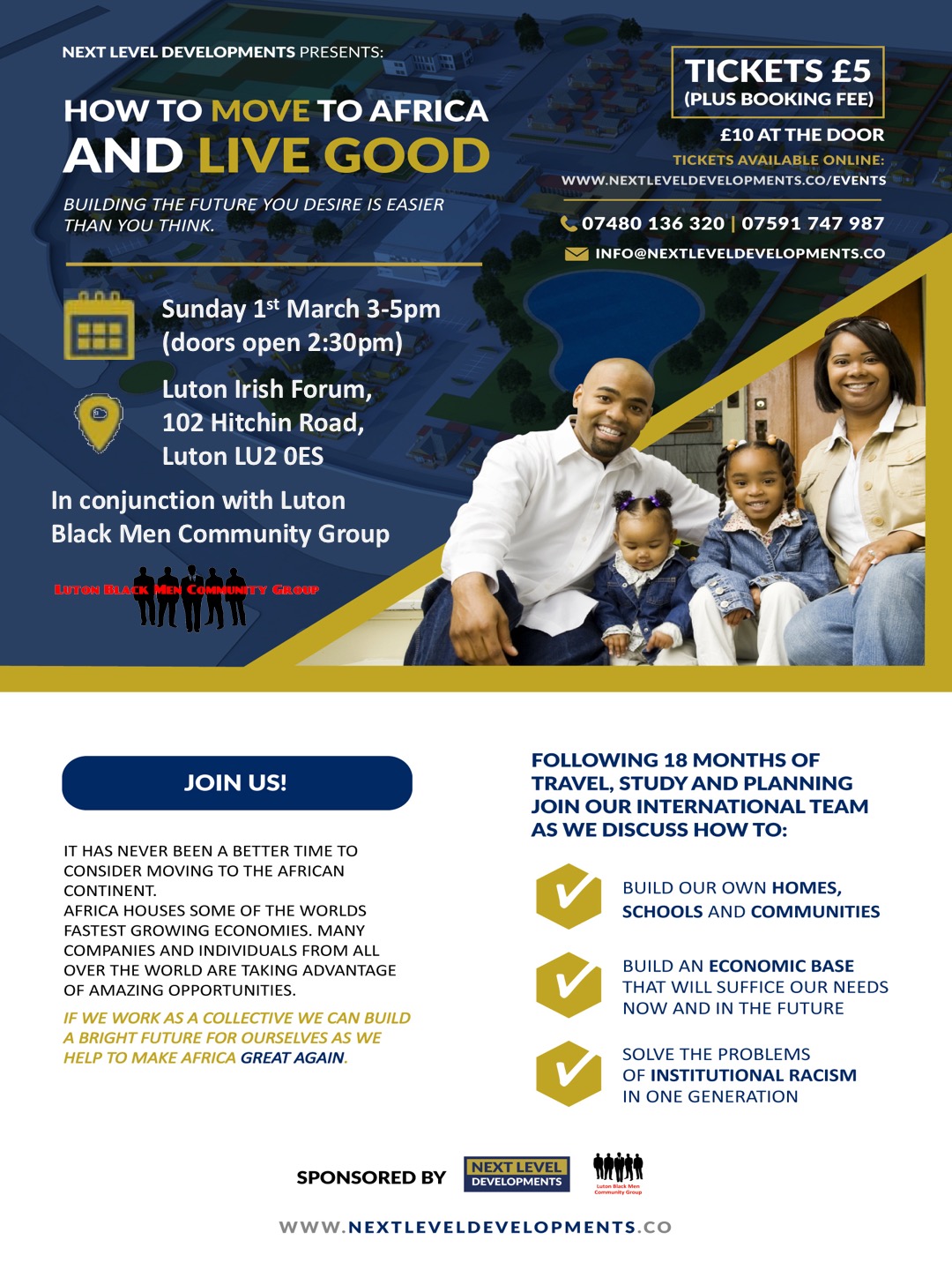 How to move to Africa and live good Luton
Next Level Developments in conjunction with Luton Black Men Community Group
Sunday 1st March 3-5pm (doors open 2:30pm)
Luton Irish Forum, 102 Hitchin Road, Luton LU2 0ES
Next Level Developments enabling African diasporans to emigrate to Africa to integrate and empower
Justin Muhammad is a project manger at Next Level Developments . Providing solutions to help build communities abroad for people wishing to emigrate to Africa and the Caribbean. Recently returning from Zambia, Jamaica and the Gambia, acquiring real estate for the development of housing and businesses
Building the future you desire is easier than you think
It has never been a better time to consider moving to the African continent. Africa houses some of the worlds fastest growing economies. Many companies and individuals from all over the world are taking advantage of the amazing opportunities.
If we work together as a collective, we can build a brighter future for ourselves as we help to make Africa great again.
Following 2 years of travel, study and planning, join our international team as we discuss how to:
Solve the problems of institutional racism in one generation.
Build an economic base that will suffice our needs for now and in the future.
Build our own homes , schools and communities
07591747987 info@nextleveldevelopments.co
In conjunction with Luton Black Men Community Group 07591 747987
How To Move To Africa And Live Good Luton Sun 1st March 3pm