When logged in you can personalise your front page with information important to you, if logged out you can subscribe to your favourite categories by email. Welcome to Blacknet.
Is the Black Woman God? Lecture by Dr. Runoko Rashidi
January 20, 2018 @ 6:30 pm

-

10:00 pm
Event Navigation
Organiser:
Black Conscious Coventry
Event: Is the Black Woman God? Lecture by Dr. Runoko Rashidi
Start Date: 20 Jan 2018 6:30 pm
End Date: 20 Jan 2018 10:00 pm
Venue: Coventry West Indian Club

All the way from The United States of America, Black Conscious Coventry (BCC) presents: International Keynote speaker Dr. Runoko Rashidi 'Is the Black Woman God?'.
Dr. Runoko Rashidi will be delivering a lecture entitled 'Black Women in History; Majesty, Grace & Power.' which will look at African women as the mothers of humanity, and examines the role of African women as shapers of classical civilizations in Africa and around the world. This lecture will look at the African woman as God and Goddess, Black Madonna and Holy icon. It looks at the African woman as mother and wife, queen and educator, warrior and diplomat. This lecture will look at images of Black women around the world and highlight the lives and journeys of numerous African-American women from Sojourner Truth to Fannie Lou Hamer.
This is not a religious event, this event hosted by BCC will focus on the significant contribution Black Women have made in history and contemporary culture and aims to bring a balance that we are not taught in schools. The Black Woman is the seed of humanity that we all grew from. This is an evolutional
and anthropological fact that the whole of the 
diaspora needs to nourish their self-esteem with so they can live up to their true potential laid down by the ancestors.
BCC are determined to bring the very best intellectuals who have a hunger to inspire us to be conscious and think more critically. We hope you join us to experience the incredible work that is going on in the Black Community. This will be 
coruscating,
electric and intellectually enlightening.
This will be a SELL OUT event so advance purchase is recommended.
For a short period only tickets will be £5 and £10 there after. 
More on the door subject to availability.
If you are interested in Exhibiting  or performing spoken word relating to the topic please contact BCC for more details.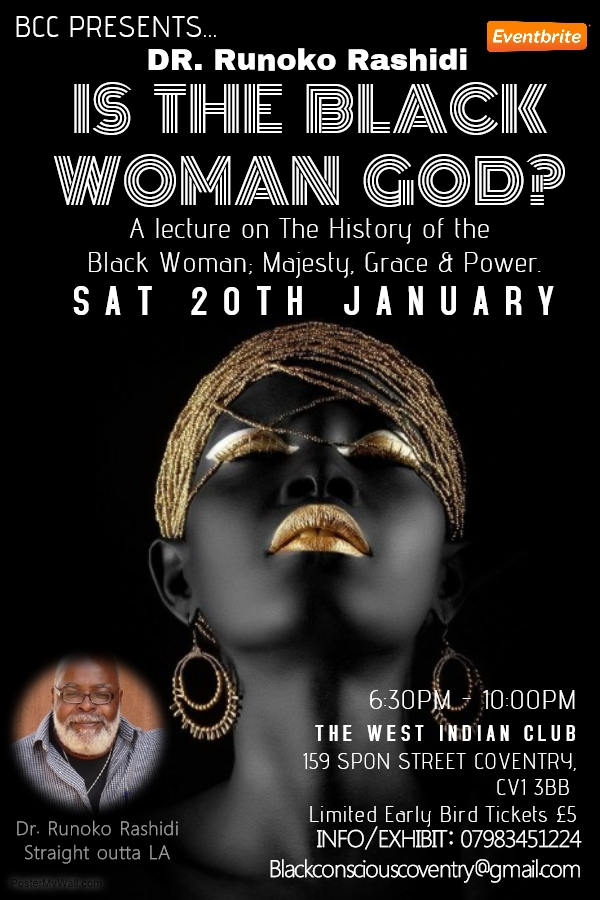 Thanks for visiting, you can use the button below to quickly share with your friends, family or colleagues
Related Events