Late Valentine's Day Celebration in Chingford
February 19, 2022 @ 9:00 pm

-

February 20, 2022 @ 3:00 am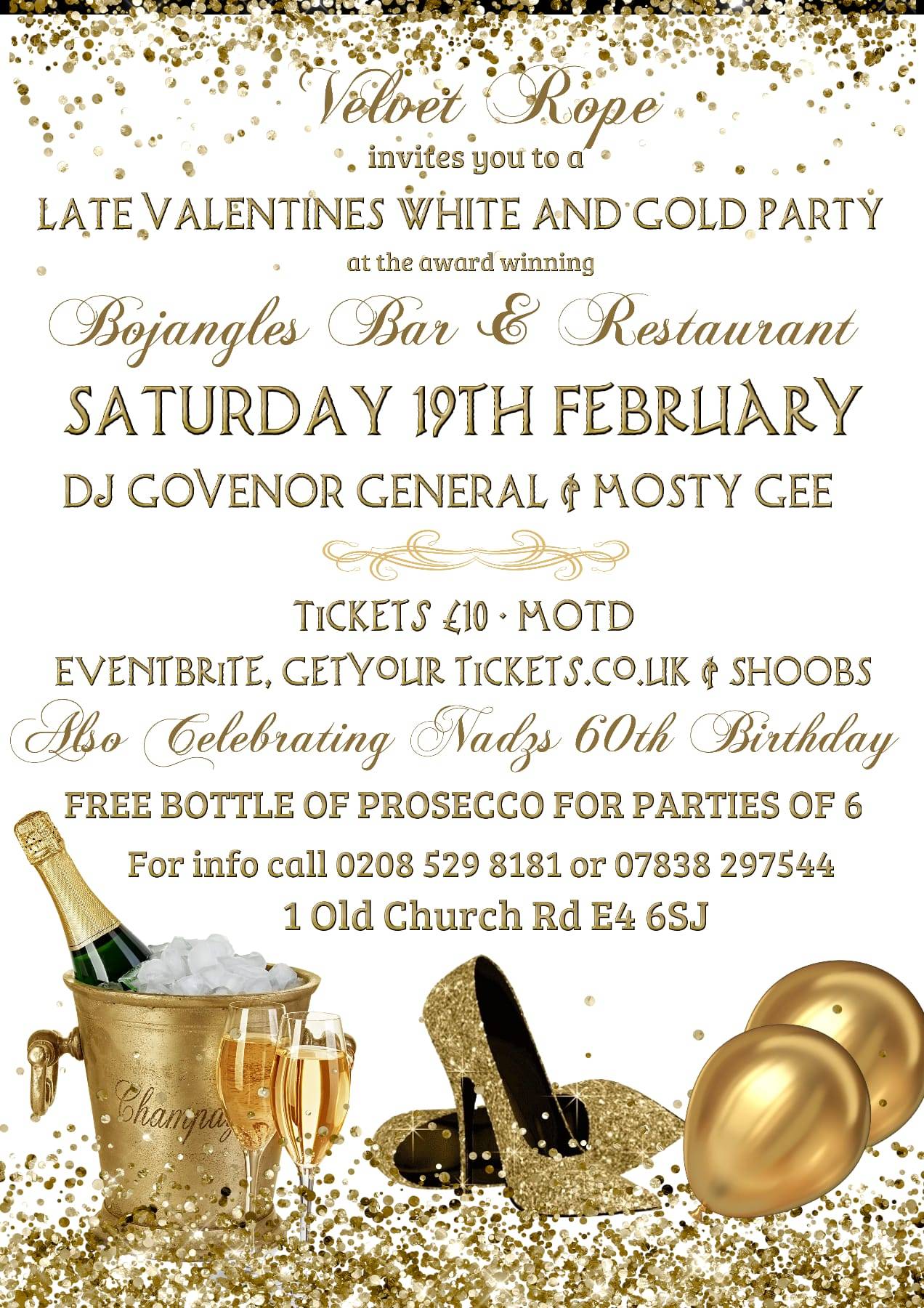 Celebrate Valentine's at Chingford's finest bar and restaurant this February at Bojangles.
Late Valentine's Celebration Party in Chingford
This February Velvet Rope invites you to a Late Valentine's White and Gold Party (also celebrating Nadz' 60th Birthday ) at the Award winning Bojangles Bar & Restaurant on Saturday the 19th of February.
Celebrate this Valentine's at the award winning Bojangles Bar & Restaurant with DJs Governor General and Mosty Gee. Head on over to Chingford for a fun filled night of good music, great food, and even better company this February. Ladies & Gentlemen, this is your invitation to ask your valentine sweethearts to the best party in town starting at 9PM and going on until 3AM.
Get your tickets down below for only £10 per person, available only in limited quantities, or pay more on the door on the 19th of February. And in case you need another reason to head over, get a complimentary bottle of Prosecco on the house when you arrive with a party of 6 or more!
For more information simply call us up on 0208 529 8181 07838 297544
#valentines #latevalentines #valentinesday #bemyvalentine #beyourvalentine #sweethearts #lover #love #feb #valentine #valentinesday #valentinescelebration #valentinesparty #valentineparty #valentinesdayparty #valentinesnight #winter #coldevenign #winternight #winterclubbing #clubbinginwinter #coldnightsout #clubnight #clubbing #clubnightinchingford #clubbinginchingford #chingford #chingfordclubbing #chingfordnights #chingfordnightsout #nightsout #clubbingnight #clubbingnightout #nightsinchingford #dance #music #djs #party #partynightinchingford #chingforddancing #clubbingnight #octobernight #octoberclubbing #clubbinginoctober #danceinoctober #clubbinginchingfordinoctober #clubsopeninoctober #caribbean #caribbeancuisine #caribbeandelicacy #caribbeanfood #caribbeanfooditems #caribbeanmeanu #soulfood #soulmusic #soulsound #streetmusic #club #exclusive #exclusiveentry #chingfordfood #dininginchingford #fun #thankgoditsfriday #tgif #saturdaynight #saturdayfunday #saturday #saturdayparty #saturdaydance #saturdaymusic #saturdaydancing #dancinginchignford #saturdaychingford #saturdaynights #saturdaynightsinchignford #chairmanotb #companysoulsound #company #soul #sound #gal #flex #galflex #djsinchingford #clubnightswithdj #ckubbingdj #dancingdj #party #cocktail #freeflow #happyhour #booze #alcohol #beer #wine #finewine #dining #diningexperience #dinner #dineininchingford #dinnerinchingford #chingfordfood #whiskey #prosecco #freeprosecco
Bojangles is ready to make sure you have an unforgettable Valentine's this February. Grab your friends, your girlfriends, and your boyfriends, and head on over to Bojangles to celebrate the sweeter side of life with some old skool tunes and some absolutely delectable eats at the ultimate Valentine's Celebration Party in Chingford.