Let's Take You To Jamaica- The Breakfast (Included ) Party
April 14, 2019 @ 1:00 pm

-

9:00 pm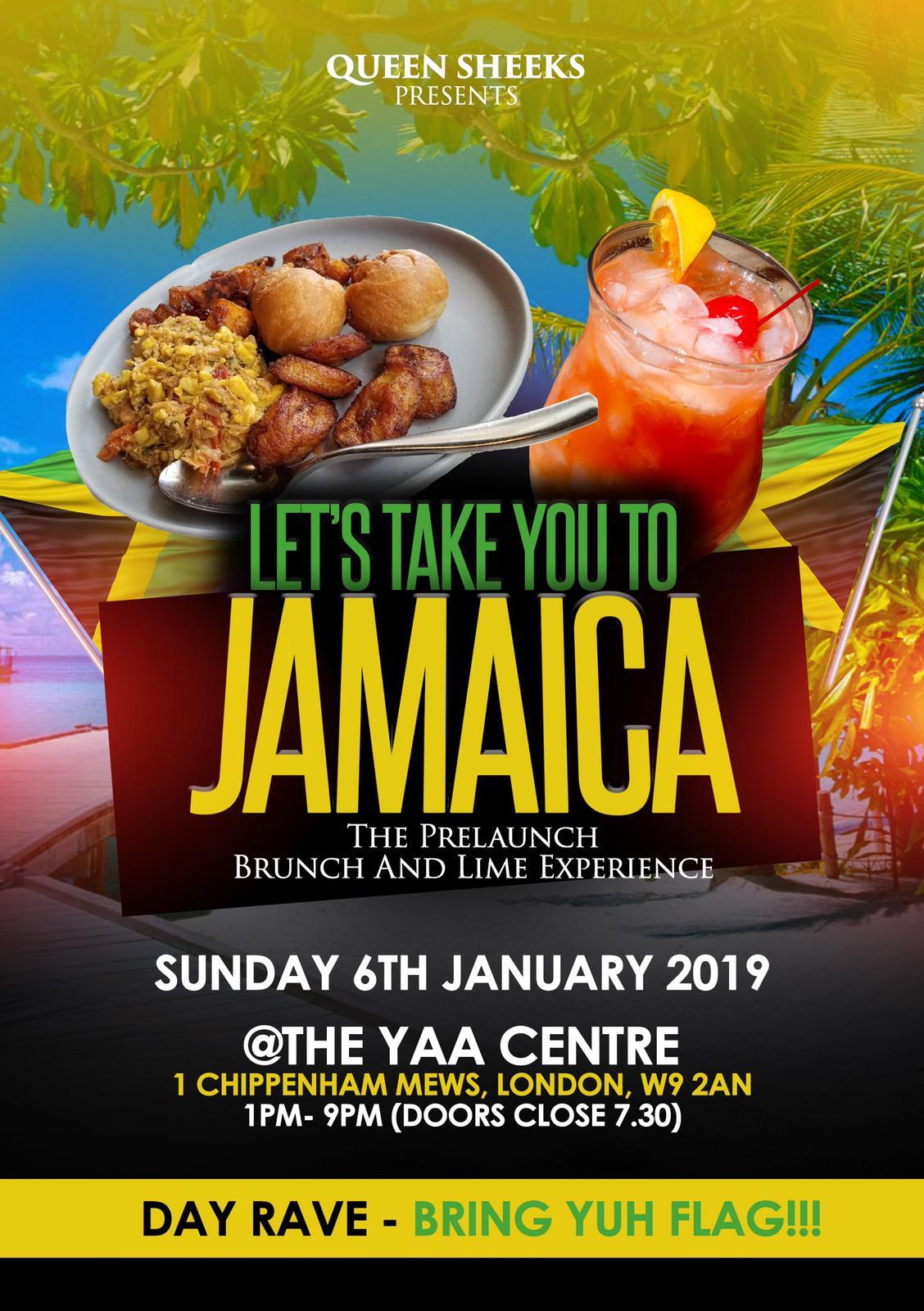 Queen Sheeks Present…. Let's Take You To Jamaica The Prelaunch Brunch And Lime Experience With A Jamaican Twist 
Breakfast(Included) Party 
SO IF YOU LOVE THE CARIBBEAN AND JAMAICA THIS THE EVENT FOR YOU!!!
2Hour Bottomless Rum Punch…… get your outfit ready, From 1 to 9pm, we are going to Spread and Celebrate all things Caribbean and Jamaica from the food to the music with our DAY RAVE- BRING YUH FLAG- COME AND GET ON BAD!!!! 
WHAT WE HAVE LINE UP JUST FOR YOU?
From 1 to 3pm only, enjoy the Breakfast brunch buffet with all favorutie Jamaican and English Breakfast with our the fantastic range of food item from , Ackee & saltfish, fry dumpling , plantains Also eggs, bacon, beans, avocado and many more…. So come and join us and create your dream breakfast while listening to caribbean music, Also have our 2 hour bottomless drinks a mix of prosseco, rum punch and softy drinks .
All the above included with the brunch and party tickets only!!!
And to make it even better, this what we have arranged for you from 3pm :
Bottomless rum punch
Bottomless fruit punch
Bar full for you to drink dry 'who say Wray & Nephew with Ting'!!!
 Jamaican snack
VIBES SKY HIGH!!!!!
Special Live Performance-From @triniboijooce singing song like MAWD, Las Wuk, GO DOWN and many more Also @differentclique perfomancing to some of the biggest dancehall song can you keep up!!!
PERFOMANCE START AT 6PM WITH TRINIBOI JOOCE THEN AFTER DIFFERENT CLIQUE!!!
The best music, and DJs
MUSIC
100%  Bashment, Soca And Reggae
So Bring Yuh Flag And Come And Get On Bad!!!
The vibes will be mad HIGH!!!
On deck to please you:Get Ready To Add #vibes And #RumPunch To Your #Breakfast With  DJ SCOOBY OFFICAL & FRIENDS 
For more, please email us at froshika@yahoo.co.uk
ADMISSIONS 
-Door open at 1PM for brunch ticket holder and 3PM for party holder only. 
-Door Close at 6PM 
-ID required. No ID No Entry.
-Management reserves the right to refuse entry. In this instance, tickets remain non-refundable
#LetsTakeYouToJamaica #QueenSheeks #Soca #Winter #Dancehall #RUMPUNCH #SocaKingdom #DayRave #Caribbean #Music #Lime #Vibes #Bashmtent #Soca #Bottomless #Breakfast #CarnvialVibes #Jamaica
Date has changed due to unexpected circumstances 
Sorry for the inconvenience .  Love Queen Sheeks 
Related Events