Look: The Other Windrush Stories!
June 30, 2018 @ 1:00 pm

-

4:30 pm
Event Navigation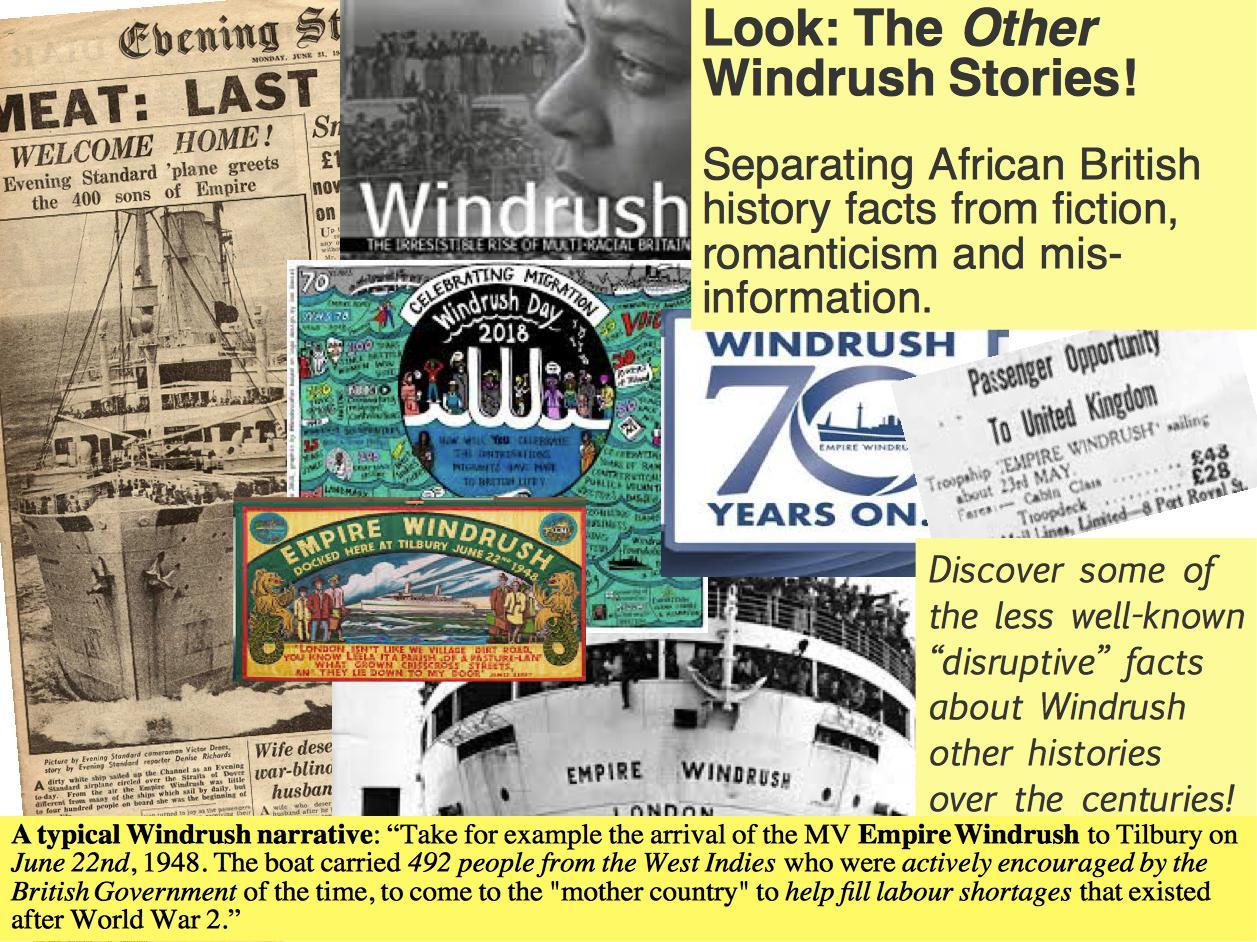 How much do you really know about the true facts about the Windrush narrative and other African British histories?
Be prepared to discover historical facts which have been obfuscated by myths!
There are lots to commemorate in 2018:
30 years since the introduction of African History Month UK, 30 years since the launch of African Jubilee Year, 50 years since the 1968 Race Relations Act, 55 years since the Bristol Bus Boycott, 60 years since the launch of the West Indian Gazette, 60 years since the Notting Hill Race Riots, and 70 years since the Empire Windrush brought a large number of people from the Caribbean … all very important histories worthy of commemoration. 
However, this event aims to question whether we can continue these commemorations by re-telling the same histories that don't quite match up with the facts, myths, conflations, or leaving out or glossing over necessary, but less well-known aspects of the various narratives.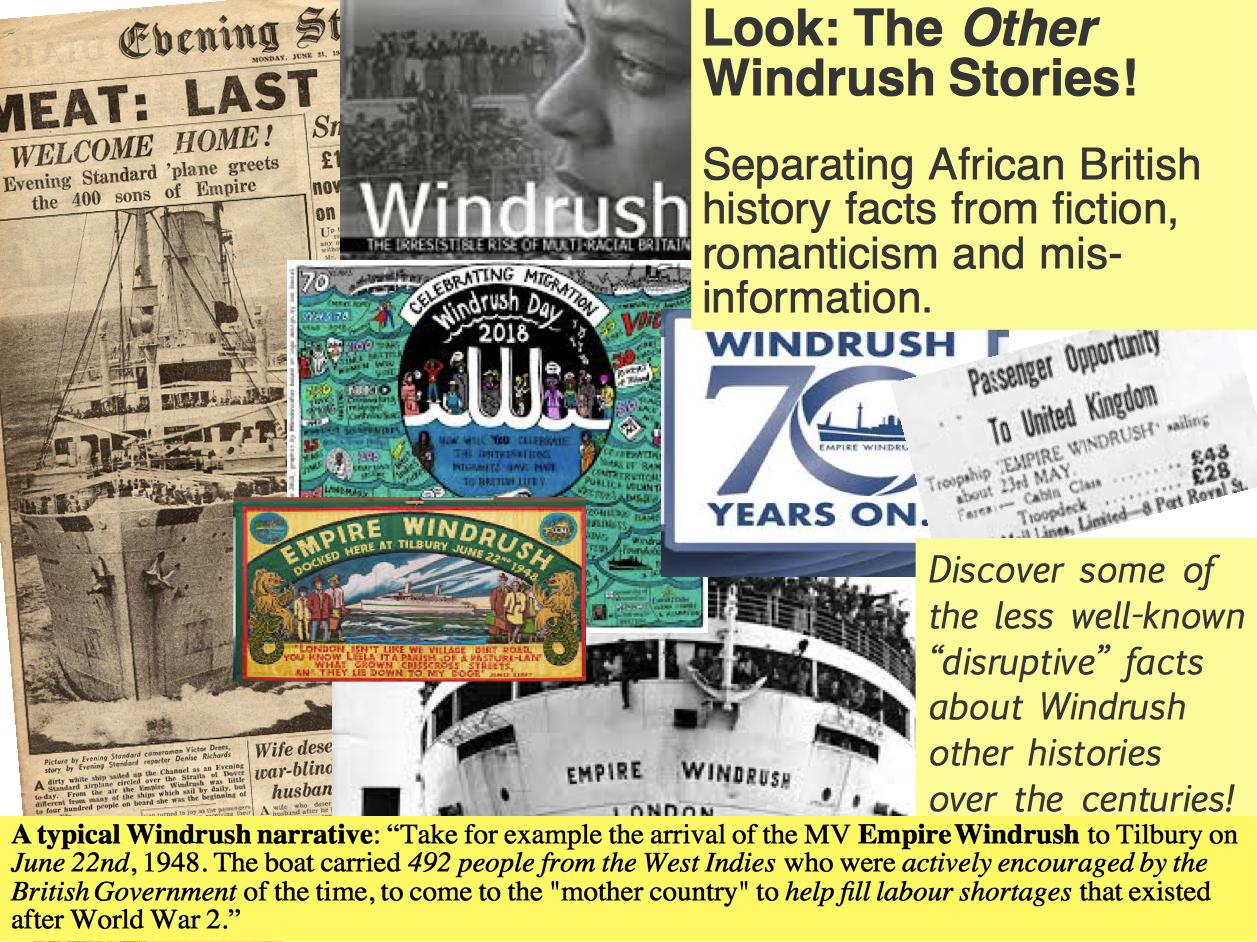 History consultant Kwaku will re-run elements of his 'African British History: Highlighting Some Myths & Little Known Facts' presentation.
Kwaku will also dip into his soon to be published book 'Look How Far We've Come: Disrupting African British History Narratives?' (2018); to reveal and debunk a number of often-repeated African British history myths and mis-information, plus some fascinating little known, did-you-know type facts.
Expect a fun and challenging, family-friendly learning environment. Hear some of the "other"* histories and perspectives of the Windrush Generation – you're guaranteed to gain new insights into various African British histories over the centuries!
*The "other" provides facts and perspectives that challenge or counter orthodoxy or prevalent history narratives.
Part of the Look How Far We've Come…? 1968 Race Reltions Act @ 50, and African Jubilee Year 1987-88 @ 30 commemorations.
Books and DVD on sale.
Can you spot the myths and conflation within these Windrush narratives?
On the misty morning of June 22nd 1948, a former German cruise boat, the Empire Windrush, steamed up the Thames to the Tilbury Dock…
The former German troopship had set sail from Kingston with the first wave of West Indian guest workers answering a British government advertisement offering cheap transport to the mother country to help fill the pressing postwar labour shortage…On 22 June, 1948, the Empire Windrush landed 492 Jamaicans…
The passage cost £28, 10 shillings…
The ship, MV Empire Windrush, arrived at Tilbury Docks in Essex, officially carrying 492 Caribbean passengers from Kingston, Jamaica, who had made the decision to travel after having been promised a better and more prosperous life in the UK… 
The Empire Windrush arrived at Tilbury on 22 June 1948, carrying 493 passengers from Jamaica wishing to start a new life in the United Kingdom. The passengers (including one stowaway) were the first large group of West Indian immigrants to the UK after the Second World War. In 1948 the British government passed the Nationality Act, which gave British citizenship to people who lived in Commonwealth countries and allowed them the right to settle in Britain…
Jamaica was still reeling from the 1944 Atlantic hurricane season when they were invited to Britain in order to fill gaps in the labour market caused by the devastation of World War Two…
Organised in association with Africans For JC Values