Macka B & The Roots Ragga Band
December 8, 2017 @ 7:00 pm

-

December 9, 2017 @ 3:00 am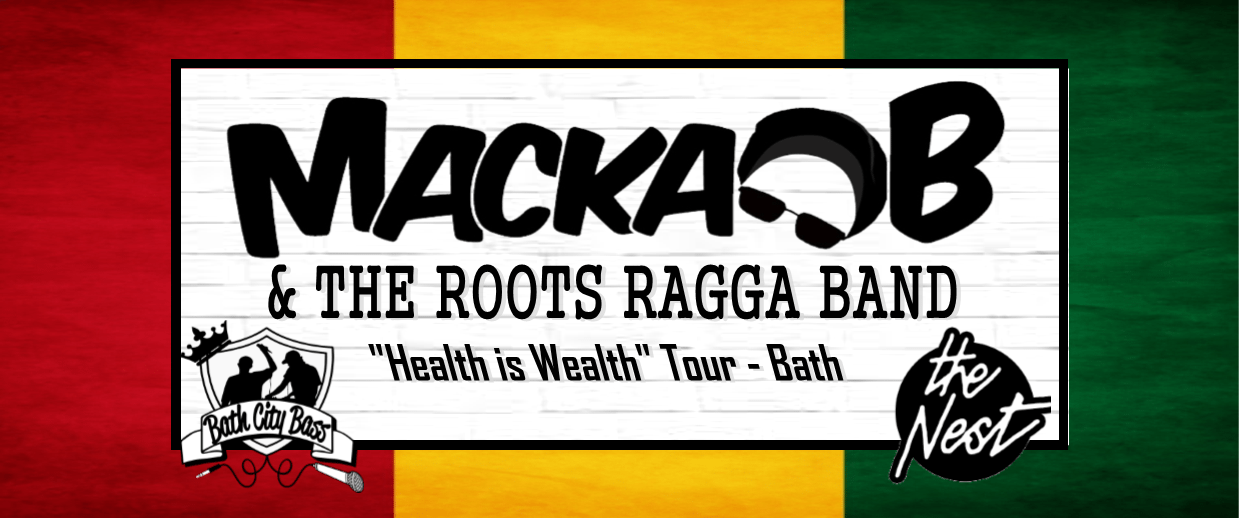 ♛ Macka B & The Roots Ragga Band ♛
'Health is Wealth' Tour, Bath
Being big lovers of Reggae here at Bath City Bass we wanted to keep the momentum going after booking Channel One Sound back in May this year. This time around we're bringing a full live show to an intimate venue for a very special evening of Reggae to the City of Bath on Friday December the 8th.
This event will run from 8pm – 11:30pm due to live music laws and will be followed by an afterparty until 3am showcasing the best local Dj's & brands playing tight selections of Reggae, Dub, Soundsyetm Culture & Jungle.
Line up (8pm -11:30pm)
✪ MACKA B & THE ROOTS RAGGA BAND ✪
'Health is Wealth' Tour
https://www.mackab.com/
https://www.facebook.com/OfficialMackaB/
https://www.youtube.com/OfficialMackab
✪ THE MAITREE EXPRESS ✪
https://www.facebook.com/themaitreeexpress/
http://www.themaitreeexpress.com/
https://soundcloud.com/the-maitree-express
———————————–
+ Afterparty (11:30 – 3am)
– LINE UP –
BIGGLES SOUND
SLACK (Drop records)
VINT-1 (Bath City Bass)
** Macka B Biography **
Macka B's words, sound and lyrical power were forged in UK sound system culture. Inspired by H.I.M. Ras Tafari and pioneer DJ's such URoy, IRoy & Big Youth Macka developed a gift for lyrical flow which caught the ears of Fashion records who bought him to London to record his first record 'Bible Reader'
A link up with Mad Professor led him to a string of hit albums and singles for the Ariwa Sounds label and an extensive tour schedule increasing Macka's international profile while delivering a crossover chart in Hawaii with 'Bob'.
Over the years Macka has collaborated with a veritable who's who of talent including Horace Andy, Freddie Mcgregor, Steel Pulse, Luciano and Gregory Isaccs while sharing the stage with a whole heap of legendary reggae icons.
In 2015 Macka B released the album 'Never Played A 45' which featured 'Medical Marijuana Card' the animated video of which amassed over 600,000 YouTube views.
Now teaming up with Greensleeves Records Macka B delivers 'Health Is Wealth' a highly anticipated album including the viral hit, 'Cucumba'. The video has amassed over 43 million views so far on UNILAD's Facebook page.
https://www.facebook.com/UNILADSound/videos/428506530826328
Cucumba' has also received Breakfast show support in the UK by Nick Grimshaw on BBC Radio One as well as in New York and Los Angeles. This has resulted in guest spots on BBC Radio 4, BBC Radio 5, BBC World Service & BBC Radio London, plus UK national press in the Daily Mail Newspaper.
Macka B is a true global messenger for reggae music utilising social media for his 'Medical Mondays' & 'Wha Me Eat Wednesdays' as well as taking his live show across five continents to perform sell out shows in Jamaica, Hawaii, Japan, China, Philippines, Vietnam, Thailand, Germany, France, Belgium, Italy, Spain, Poland, Slovenia, Croatia, Serbia, South Africa, Senegal, Sierra Leone, New Zealand and Australia.
We cannot wait to welcome him to Bath on his "Health is Wealth" Tour showcasing his new album.
Support comes from Bath based band The Maitree Express who will be playing their only show for the rest of the year before recording their 2nd studio album at Christmas. The Maitree Express play an original take on soulful reggae, ska, dub, hip hop and drum & bass infused music with a twist.
Doors open from 8pm. Live music from 9pm -11:30pm.
Tickets £12/15 advance from Skiddle.com  
Notes:
This is a limited capacity event, only 220 tickets will be on sale for the live music.
The afterparty will run from 11:30pm – 3am of which all Macka B tickets are valid for. Tickets for just the afterparty can be purchased on the door for £5.
Thanks for your support x