Marcia Griffiths – The Empress of Reggae
March 5, 2020 @ 7:00 pm

-

March 6, 2020 @ 11:30 pm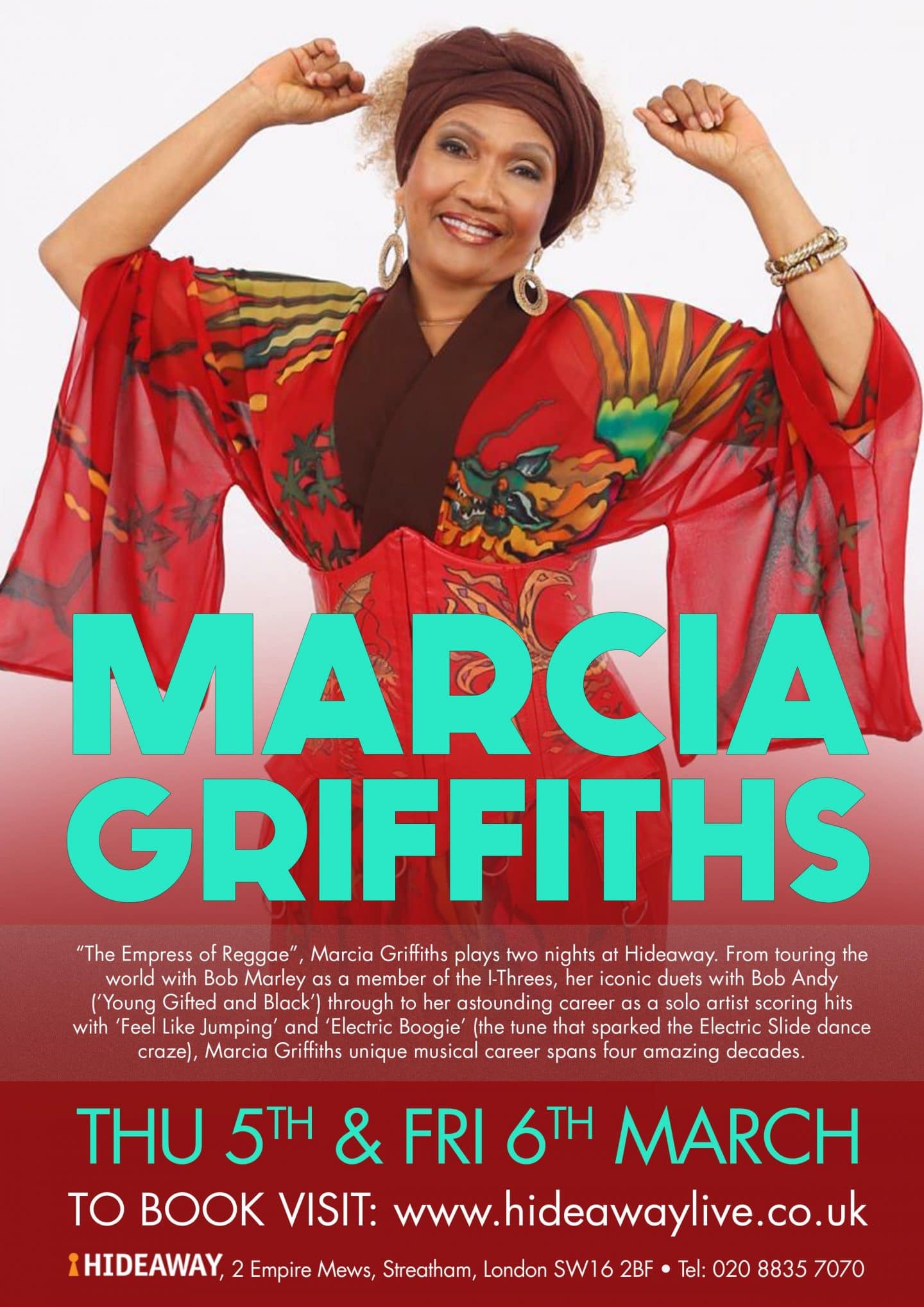 "The Empress of Reggae", Marcia Griffiths plays two nights at Hideaway!
 From touring the world with Bob Marley as a member of the I-Threes, her iconic duets with Bob Andy ('Young Gifted and Black') through to her astounding career as a solo artist scoring hits with 'Feel Like Jumping' and 'Electric Boogie' (the tune that sparked the Electric Slide dance craze), Marcia Griffiths unique musical career spans four amazing decades.
She truly is "the Jamaican girl with the musical pearl"!
Marcia started singing professionally as a vocalist in 1964, for Byron Lee and the Dragonaires band. Her recording years started soon after at Coxsone Dodd – Studio One where she recorded her first hit "Feel Like Jumping."
It was while recording at Studio One that Marcia teamed up with Bob Andy on 'Really Together," the first of many duets that the two would record. "Luckily for me, Bob Andy was always a strong and wise person", says Marcia. "He was there for me in the early days and that gave me confidence". The pair then moved to the Harry J Label, hitting the UK and International charts with 'Young Gifted and Black' and 'The Pied Piper', recording two albums of the same titles.
Following that duet success, she went solo again on the High Note label with Reggae's sole established female producer Sonia Pottinger, hitting with several songs including her own original 'Stepping Out of Babylon.' and releasing two albums 'Naturally' and 'Stepping'. When asked to express her opinion on female reggae vocalists, Marcia said "It's been a rough, tough job standing up as a woman in this business, that's why my album before 'Land of Love' I chose to call 'Indomitable', which means not easily discouraged or defeated. My views on women in reggae are positive – most of the new or upcoming female singers in reggae started out singing my songs before doing their own originals. I feel very good about that – to know that I have influenced my people positively."
Ten years after entering the music business, Marcia united with Judy Mowatt and Rita Marley to form the I-Threes as an important part of the Bob Marley entourage. "Words are not enough to express my experience with the I-Threes and Bob Marley and the Wailers", says Marcia. "What a blessing to be so privileged to have shared this experience".