New Years Eve – The Midnight Affair Masquerade Ball 2017
December 31, 2017 @ 6:30 pm

-

January 1, 2018 @ 3:00 am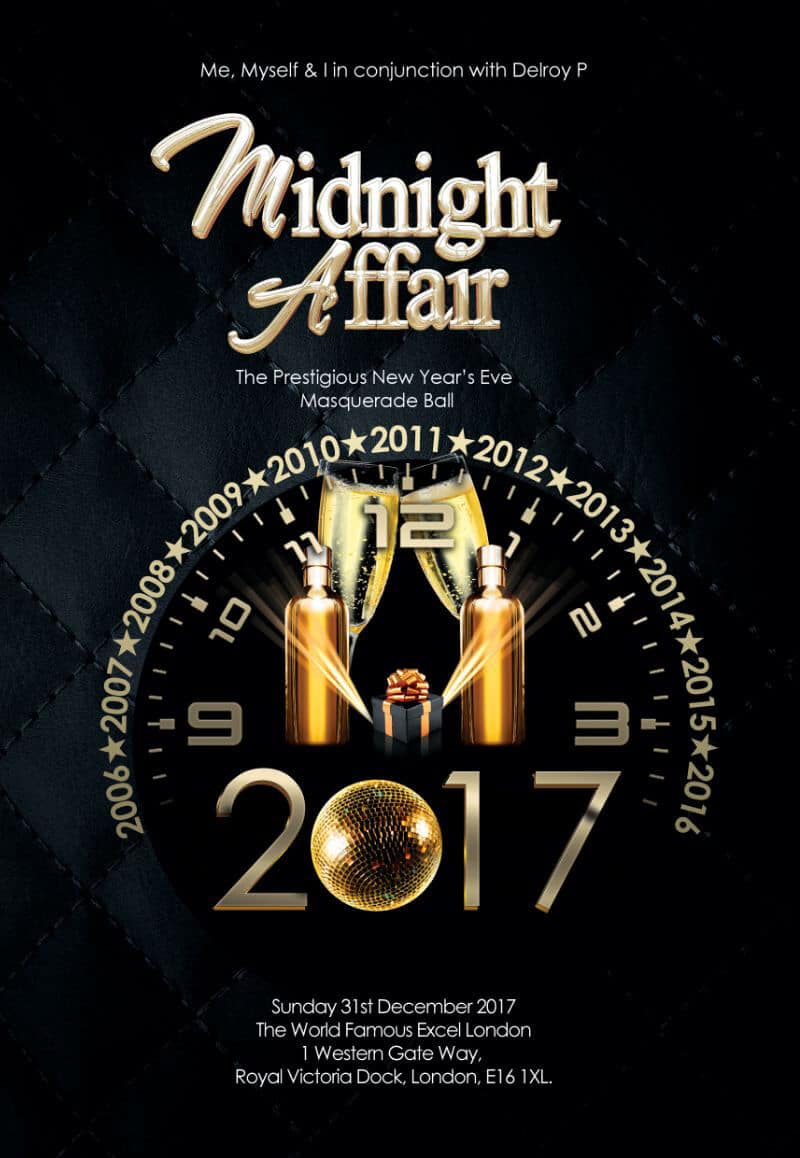 What we have planned you will be amazed as  we are pulling out all the stops to give you a fabulous 5 star event for what is expected to be the biggest new year's eve event on Sunday 31st December 2017.
There's free parking for over 3,000 cars. Drinks will  be affordable to everyone's pockets. We a party till 06:00am

ONE NIGHT….. ONE FANTASTIC EXPERIENCE
This year we are at the world famous ExCel London
Even though this is not our usual environment, we are taking not shortcuts we're rolling out all the stops to still give you a 5 star event.
This year your hotel stay will be at the 4 star Novotel Hotel ExCel London (Inclusive of gym & sauna). and the 3 star Ibis Hotel ExCel London. Both hotels are 2 minutes work to ExCel London.
The Grand Banquet
The drinks reception will be infused with some smooth sounds from our Saxophonist Paul West. You will also enjoy a sumptuous 3 course Silver Service meal served with a complimentary glass of wine or soft drink followed by tea, coffee and petite fours.
The Great Show
We have a belly full of laughter from the two forefathers of comedy Jefferson & Whitfield comedy from the dark destroyer Kane Brown and a live PA by Lorenzo Hall of the investigators, we ensure you will have a night of fun and entertainment at the highest calibre. not forgetting our own game show by our hosts the dynamic duo Brian Joseph & Delroy P.
The Big Party
Here it is! We have assembled the cream of the crop of musical entertainment in two rooms.
In the New Skool Room (1990 – to present)
Special Touch, 5th Avenue, Delroy P, Fatman & Colonel, Hyper Esq, Studio Express.
In the old skool room(1970's and 1980's)
Studio One, Robo (The Bonifde One) Ranks, JB Crew, Daddy Ernie, Equation Roadshow, Frankie 11 Suite & Franky Beverley.
Package 1 @ 4 star Novotell Hotel Excel London:
Accommodation, Dinner, Cabaret Show & Dance £195 per adult, based on a minimum of 2 adults sharing.
Package 1 @ 3 star Ibis Hotel Excel London:
Accommodation, Dinner, Cabaret Show & Dance £175 per adult, based on a minimum of 2 adults sharing.
Both hotels are a 2 minute walk to Excel London venue
Children under 12 yrs stay for FREE with 2 full paying adults, with a nominal fee of £45 for evening meal and breakfast.
Children aged 13-16yrs old £90 each. Children 17yrs and above full adult price.
There are limited family rooms at the Novotel Hotel only which will accommmodate 2 adults and up to 2 children only.
A deposit of £50pp is required to secure your booking and should be paid no later than Thurs 30th November 2017. Full payent is required no later than Friday 8th December 2017.
FOR ACCOMMODATION BOOKING CALL SANDRA ON 07958 709 170
Package 2: Dinner, Cabaret Show & Dance £75pp
(Includes a drink reception and commences at 6:30pm)
Package 3: Cabaret Show & Dance £45
(Entry from 8.30pm, show commences 9.00pm)
Package 4: Dance only
Limited tickets at £15pp, thereafter £20pp & £25pp. MOTD
(Entry from 10.00pm)
This year's theme is a masquerade ball, when the cabaret show ends at 10pm it will be time to begin the fun and everyone hides their true identity by wearing a mask, the perfect climax into 2018
Packages 2,3, and 4 can also be purchase securely online at
www.etickets.to/buy/?e=15540
For accommodation packages call Sandra on 07958 709 170
All other tickets available from the organisers
Brian 07950 412 035 & delroy p 07956 987 537
And any of the DJ's above.
#newyearseve #newyearseve2017 #midnightaffair #specialtouch #5thavenue #delroyp #fatmanColonel #hyperesq studioexpress #studioone #roboranks #jbcrew #daddyernie #equationroadshow #frankie11suite & #frankybeverley #lorenzohall #jeffersonandwhitfield #kanebrown #brianjoseph & #delroyp
Related Events