OAN Diversity and Inclusion in Business Forum 2020
November 5, 2020 @ 6:00 pm

-

9:30 pm
Event Navigation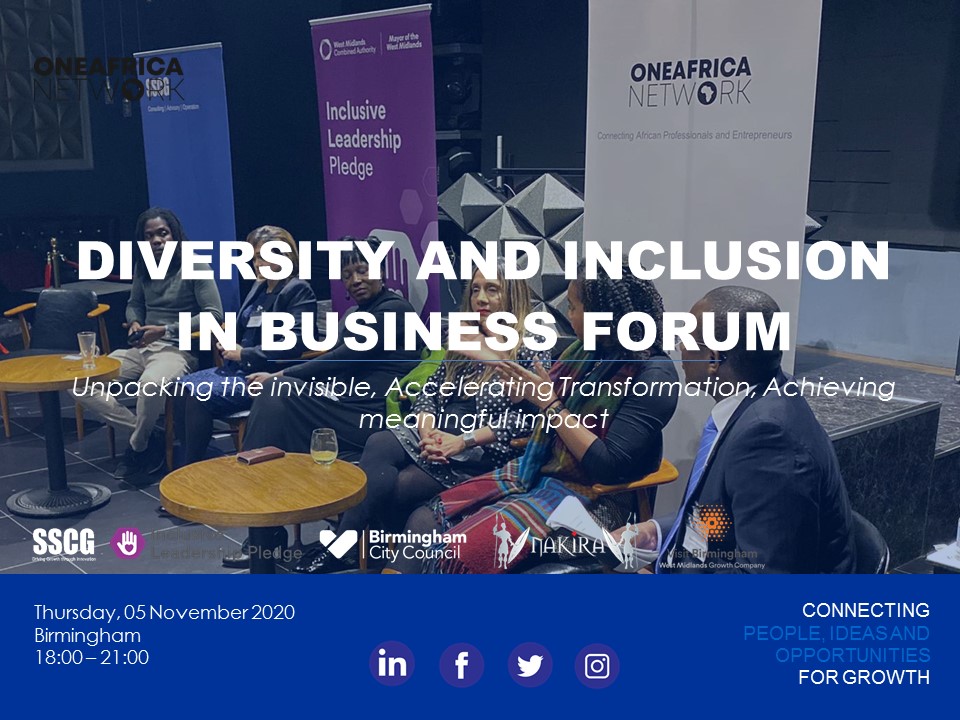 Unpacking the invisible, Accelerating Transformation, Achieving meaningful impact
About this Event
Diversity and Inclusion (D&I) remains two of the most important ethical governance issues for businesses today. Yet progress on diversification initiatives has been slow. Various transformation initiatives continues to fail short in achieving right changes and impact year on year. Businesses are still uncertain about how they can most effectively use diversity and inclusion to support their growth and value-creation goals. Harnessing meaningful diverse and inclusive workplace culture and people – to create products and serve an increasingly diverse consumer base and markets, foster the right decisions, empower people based on ability and equal access to opportunities – are vital to the success, performance and profitability of every business and organisation today. Businesses should increasingly begin to regard diversity and inclusion as a source of competitive advantage and specifically as a key enabler of growth.
Join us in Birmingham, UK for critical conversations on key issues on Diversity and Inclusion in business, including:
Putting D&I delivery initiatives at the source: Time to end diversish and inclusish
Closing ethnic minority pay gap disparities: Can we make it illegal?
Outlook on D&I in public and healthcare services: Inclusive access and service delivery
Ethnic and cultural diversity on executive teams: Fostering inclusive and culturally diverse leadership on the front
Bridging the opportunity gaps: Tackling recruitment, talent and career growth complexities
Harnessing diverse workplace culture that foster and leverage best thinking and ability
Shaping everyday right decisions: Challenging stereotypes, un/conscious and implicit bias
Intercultural communication: Understanding cross-cultural complexity, identities and variations
Changing policies and strategies within: Putting D&I on corporate agenda
Driving D&I in finance and banking: Inclusive finance and gender lensing
Developing products and services of the future: Diversity in innovation and design thinking
Delivering sustainable growth: Achieving superior performance and profitability through diversity
Using Big Data and analytics to make a difference, deliver impactful actions and reporting
Shaping the future: Using education effectively to further diversity and inclusion
One Africa Network – We Connect People, Ideas and Opportunities for Growth
The evening networking forum hosted by SSCG Consulting, the OAN Diversity and Inclusion in Business Forum will bring together businesses, professionals, entrepreneurs, academic and political leaders to discuss the future of diversity and inclusions, foster thought provoking and forward-looking conversations and actions that will deliver meaningful transformation and impact while spotlighting champions who are leading the way.
ONE AFRICA NETWORK – CONNECTING PEOPLE, IDEAS AND OPPORTUNITIES FOR GROWTH AND PROSPERITY
SPONSORSHIP
SSCG team works closely with sponsors to integrate them into event programmes to ensure that they maximise exposure and engagements with delegates to advances each sponsor's goals.
For sponsorship opportunities, please contact Ruth Adams, Head for Corporate and Business at Ruth.Adams@sscg-group.com
Follow and tweet us @OneAfricaNetwork using the hashtags #OneAfricaNetwork and #SSCGConsulting