OAN Webcast: COVID-19 Crisis – Impact on STEM Industries and People
May 22, 2020 @ 6:00 pm

-

7:30 pm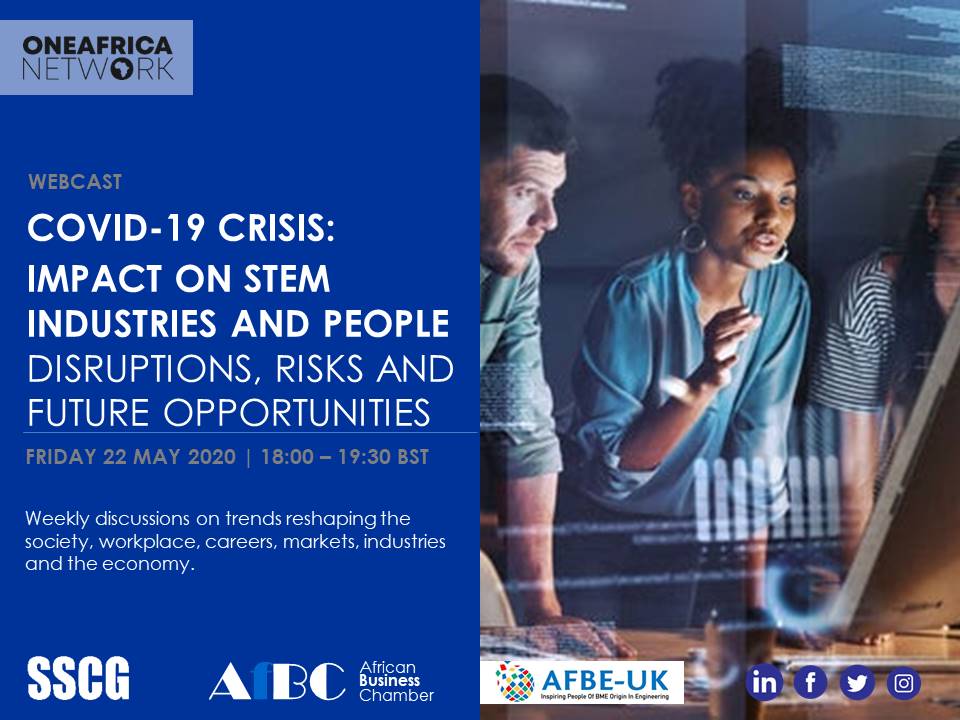 The coronavirus (COVID-19) will cause devastating ripple effects and significant disruptions to industries, businesses and employment landscape worldwide. Healthcare, Pharma and tech industries are now critical sectors of economy than ever. The fallout from the outbreak will have major affect on Science, Technology, Engineering and Mathematics (STEM) Industries on the foreseeable future when economies cover ranging from acceleration in digitalisation, automation, supply chain, manufacturing, digital and remote economy.
Join One Africa Network (OAN) Webcast live discussion event on COVID-19 Crisis – Impact on STEM Industries and People – Disruptions, Risks and Future Opportunities on Friday 22 May 2020 at 18:00 BST to learn and hear from our panel of experts as they share their perspectives and thoughts.
Our virtual webcast will bring together leaders, businesses, professionals, industry experts, entrepreneurs and influencers to discuss the most important topics in business, finance and society today. Connect and hear from other professionals across the industries and regions on their experience and best practices in managing business as usual, home working, social distancing and health disruptions. Gain insights, market updates and better understanding on some of the positives and opportunities arising from current rapidly evolving global economy, key priorities and where to direct the right focus.
TOPICS:
COVID-19 Impact: Key disruptions on the industries, work and value chains

Shifting and evolving STEM Industry landscape: Future skills

Implications of accelerated digitalisation, automation and remote economy

Enhancing Diversity and Inclusion (D&I): Getting more minorities in the STEM industries, accelerating career growth

Predictions of the shape of future industries: Opportunities, risks and challenges
ABOUT ONE AFRICA NETWORK
One Africa Network will be hosting a new series of virtual events, as we continue on our mission of informing, inspiring, and connecting audiences around the world during these uncertain times.
We remain committed to bringing you objective, solutions-based discussions and opportunities for connection. Follow our discussions and tweet us @OneAfricaNetwork using the hashtags #OneAfricaNetwork