When logged in you can personalise your front page with information important to you, if logged out you can subscribe to your favourite categories by email. Welcome to Blacknet.
Prostate Cancer – First Steps
July 14, 2018 @ 10:30 am

-

3:30 pm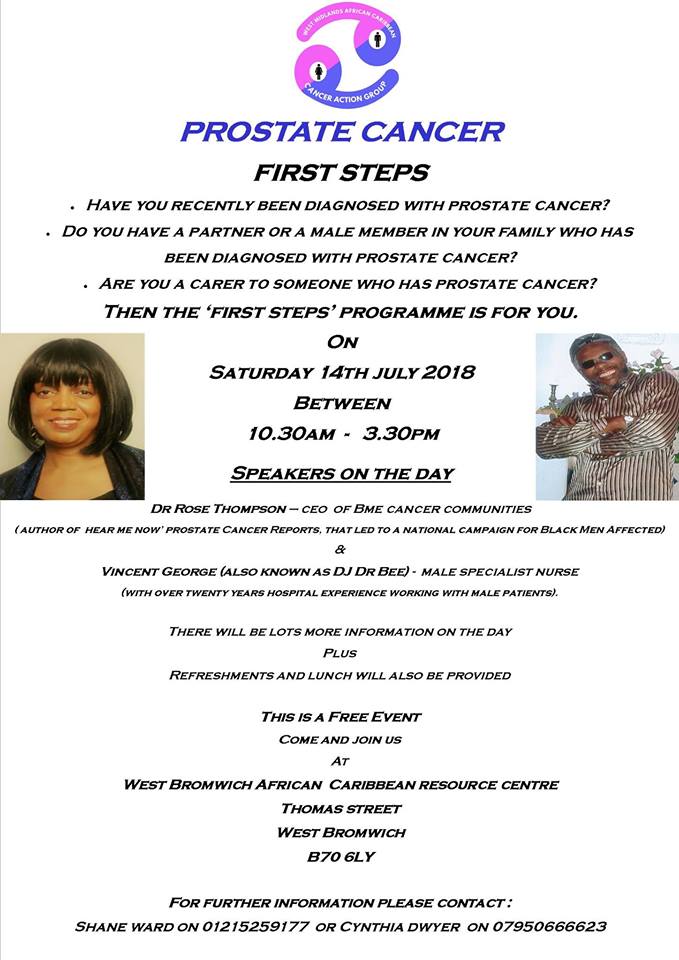 Have you or anyone you know been diagnosed with prostate cancer?
If so
Then the 'FIRS STEPS' management program will benefit you!
If you have been diagnosed with prostate cancer or you are caring for someone with it, this program will help you to manage the situation and will outline options available to you, it will also give you an opportunity to meet other people who have been affected by it, or who are working with others who have been affected to help them manage or overcome any problems they may be facing.

On Saturday the 14th of  July 2018 you are invited to attend this free management program, on the day you will also have two invited speakers  Dr Rose Thomson who is the CEO of BME Cancer communities, and Vincent George who is a male specialist nurse, this is all being held at the West Bromwich African Caribbean Centre, West Bromwich, Birmingham, B70 6LY. There will be a lot more information available on the day
Refreshment and lunch will be provided.
 
For further information please contact:
Shane Ward on 0121 5259177 or Cynthia Dwyer on 07950666623

Thanks for visiting, you can use the button below to quickly share with your friends, family or colleagues