RAY CARLESS WINDRUSH CELEBRATION JAZZ & SKA SUNDAYS ft SKA HORNS & JAHLA'S SKA-TIVITY DANCE W/SHOPS
November 25, 2018 @ 3:00 pm

-

11:00 pm
Event Navigation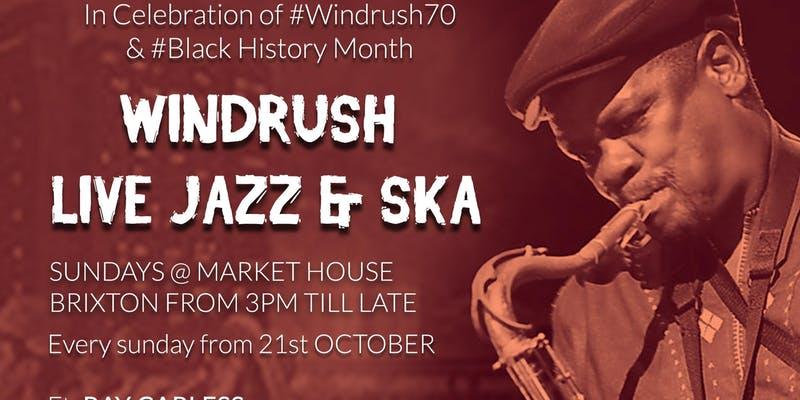 Our  windrush Jazz Ska & Reggae Sunday sessions deliver a unique opportunity for you to get totally immersed in the music of our Jamaican fore-parents.
Ray Carless and Club Skaaville Allstars will be entertaining you with tantalising, Windrush Celebration, Jazz, Ska, Reggae and Jazz in his unique authentic style.
All you need to do is show up at Market House Brixton (with your dancing feet firmly attached) and contribute a generous donation.
The recent Windrush Jazz & Ska Sunday celebration events have been the subject of great public demand we've turned the even into a permanent Sunday fixture.
We've also decided to continue the live music sessions and at the same time maximise your enjoyment by adding a couple of new features.
1. #WINDRUSHJAZZ ska bluebeat and reggae workshop for horn players.
2. #WINDRUSHJAZZ ska bluebeat and reggae dance workshop courtesy of dance teacher JAHLA.
You will be entertained each and every Sunday by the Jamaican sax man aka RAY CARLESS & CLUB CLUB SKAAVILLE ALLSTARS.
Come and bear witness to Ray's intriguing Windrush generation related narratives and dialogues that have been strategically woven into the compelling and varied repertoire of vintage classic Jamaican music.
Check out a recently recorded video of HOT MILK @ Market House:
Ray and his talented group of Caribbean musicians will be revisiting the 50's & 60's era to play the unique sounds that were created by original Jamaican music legends like Don Drummond, Ernest Ranglin, Skatalites and Tommy McCook etc.
Over the course of recent Sundays, our Black History Month doubleheaders have been going down so nice that 'We Did It Thrice' and we're approaching our fifth event.
You might want to come and take part in one of our two new features, here's the new schedule:
Event Schedule:
3pm….Doors open
3.30-4.30 Ska Music Workshop for Intermediate Horn players.
4.30-5.00 DJ JOY (Omega Radio)
5.00-6.00 Windrush Jazz Ska & Reggae live on stage ft Ray & Club Skaaville All stars playing and storytelling & reminiscing, audience participation welcome.
6.00-7.00 DJ JOY (Omega Radio)
7.00-8.00 JAHLA'S SKA-TIVITY, a dance workshop followed by the final live set of WINDRUSH JAZZ SKA & REGGAE from RAY CARLESS & CLUB SKAAVILLE ALLSTARS.
8.00 till late DJ JOY (Omega Radio)
Secure your place now to enjoy tantalising authentic Ska, Soul, Reggae Rock Steady, Blue Beat, Jazz, Funk, R&B & Afrobeat.
Admission: Donations….. Register for tickets here @ Eventbrite.
The great musicians that make up the Club Skaaville Allstars band include guitarist Cameron Pierre who also plays with Courtney Pine's band, Felix 'Lix Ruiz' (piano), Michael McKenzie (drums) and Mikey Bailey (bass).
This is normally an instrumental band setting but look out for specially invited guest vocalists passing by during the course of the afternoon, top singers like reggae crooner Michael Arkk & Delroy Pinnock.
Ray Carless believes that he first caught wind of proper authentic Jamaican ska, bluebeat, rocksteady and reggae while he was still swimming around inside his mummy's heavily pregnant tummy.
You may want to take that with a pinch of salt, but just make sure you're wearing your most comfortable dancing shoes. Expect to get exposed to a massively large dose of proper real Caribbean vibes.
Sunday @ Market House Brixton