Reimagining America: Future of The Black Economy
June 4, 2020 @ 4:00 pm

-

5:30 pm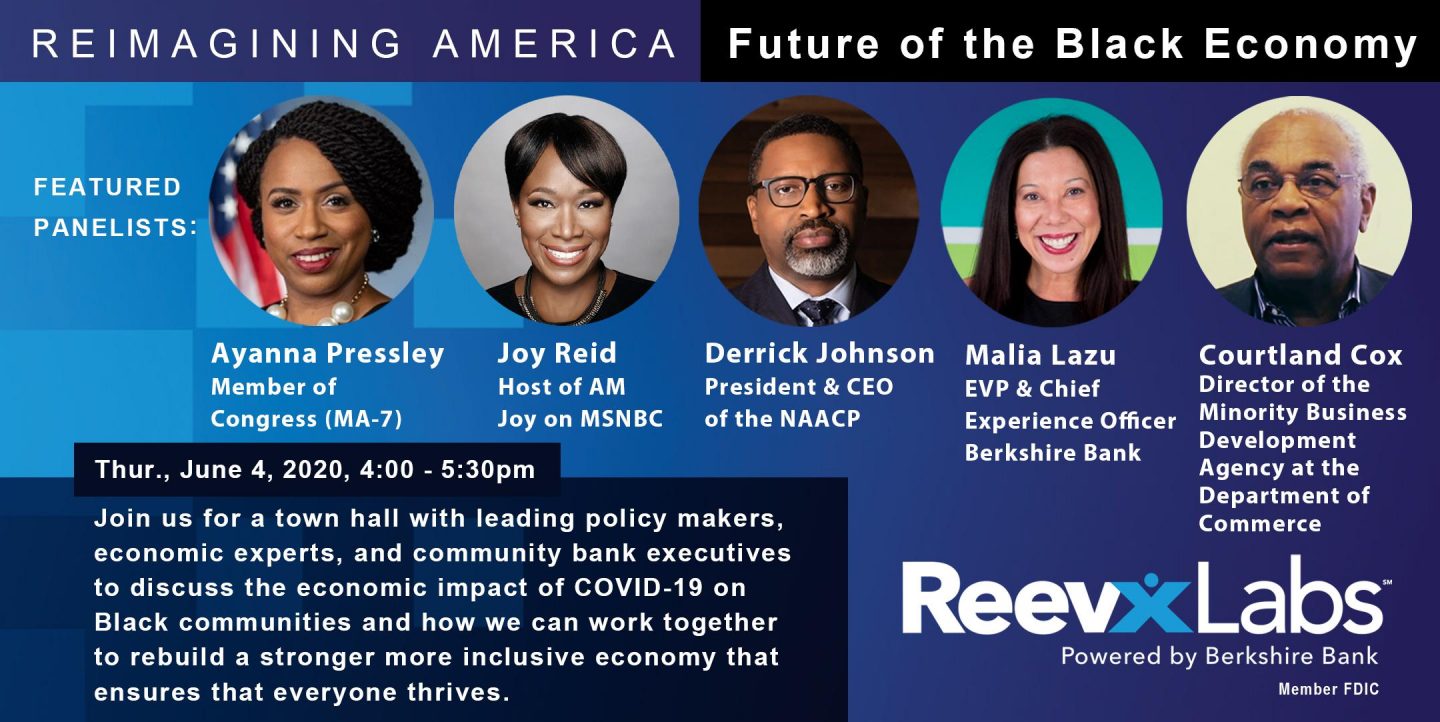 Join us on June 4, 2020 for Reimagining America: Future of the Black Economy

A robust online panel discussion with leading economic experts, Members of Congress, Community Bank Executives, and more as we tackle the current crises and reimagine what a more equitable economic system could do to increase Black wealth and strengthen the community's standing overall.
Panelists Include:
Congresswoman Ayanna Pressley, MA-7

Joy Reid, Host of AM Joy on MSNBC

Derrick Johnson, President & CEO of NAACP

Malia Lazu, EVP & Chief Experience Officer at Berkshire Bank

Courtland Cox, Former Director of the Minority Business Development Agency at the Department of Commerce
More details to come upon RSVP.  
---
The coronavirus, which was initially viewed as a public health crisis, has quickly morphed into an economic catastrophe for Black Americans. With over 22 million people across the nation applying for unemployment and our GDP contracted at 4.8% in the first quarter, the economy will be devastated for generations. We will need far more economic action beyond the current stimulus packages to help our economy rebound, shore up Black businesses, and ignite Black wealth creation.
For decades, Black families and businesses have been historically discriminated against by big banks. They have been denied loans, moved into redlined communities, and plagued with other obstacles to accessing capital.   Right now, we are watching history repeat itself with the inequitable distribution of the Paycheck Protection Program that was designed to help small businesses weather the Covid-19 storm but resulted in big banks gaming the system to siphon off millions of dollars for white-owned businesses they have pre-existing relationships with.
Community Banks can be the answer. They have the ability to create more socially responsible pipelines for the expansion of capital by partnering with CDFIs and Black-owned banks to directly support minority enterprises. Helping to secure these banks in the midst of the Covid-19 pandemic will ultimately strengthen the communities they serve and the nation as a whole.