Rock Against Racism Victoria Park Carnival 40th Anniversary Special Event
April 29, 2018 @ 11:00 am

-

4:00 pm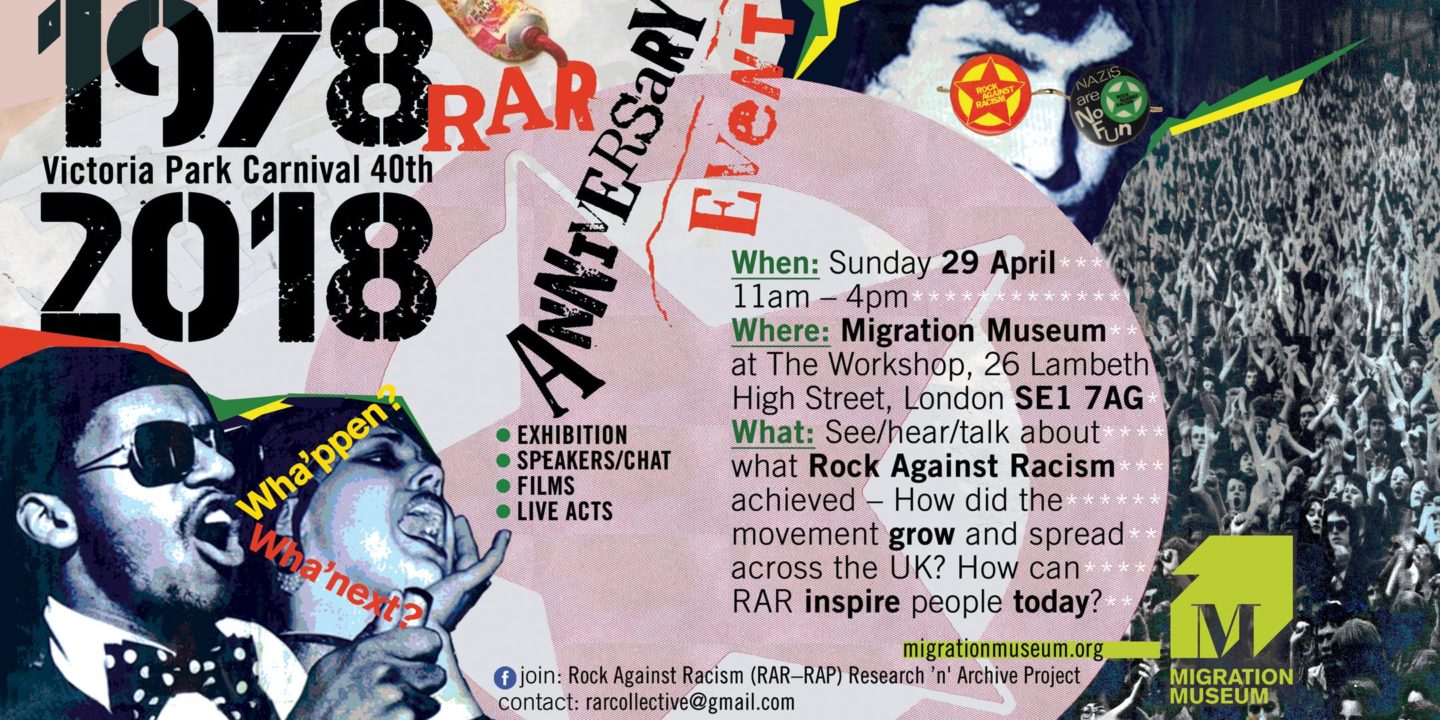 A Celebration of Rock Against Racism and the 40th Anniversary of the Victoria Park Carnival
*Exhibition    *Speakers/Chat    *Films    *Live Acts
– See/hear/talk about what Rock Against Racism achieved
– How did the movement grow and spread across the UK?
– How can RAR inspire people today?
On Sunday 30 April 1978, 80,000 people gathered in Trafalgar Square, and danced their way through the East End to Victoria Park in Hackney for the first big Rock Against Racism Carnival Against the Nazis. Rock Against Racism (RAR) had emerged in reaction to an alarming rise in racist attacks on the streets, and support for the neo-Nazi National Front at the ballot box. Mainstays of the UK pop scene such as Eric Clapton and David Bowie – white musicians capitalising on black music – made statements that further inflamed racial tension. A letter to the music press, written by Red Saunders and signed by a group of fans, voicing their horror at such hypocrisy, quickly gained widespread support. The first RAR gig took place in 1976, with black and white musicians performing together, and soon people were organising their own local RAR gigs and clubs throughout the country. The RAR magazine, Temporary Hoarding, justly famed for its provocative articles, memorable photos and groundbreaking design, joined the dots between radical politics and culture. Musicians and fans, armed only with imagination, courage and tenacity, gave birth to a movement which inspired a generation.
Fabulous posters, photographs, copies of the RAR fanzine Temporary Hoarding, letters from supporters, leaflets, badges, stickers and other Rock Against Racism artefacts are currently displayed in a major exhibition, No Turning Back, at the Migration Museum in London. This exhibition closes on Sunday 29 April 2018, which is by coincidence (almost exactly) the 40th anniversary of the Victoria Park carnival.
At a time when immigration and migrants are again under attack and racism is surfacing in various ugly forms across Europe, please come along to our special anniversary event to look at the exhibition, see and hear what RAR achieved, discuss how the movement grew and spread across the UK, consider RAR's legacy, and talk about the forces of cultural resistance today.