SOULar Powered | One Hundred Thousand Kingdoms
August 29, 2020 @ 10:00 am

-

12:00 pm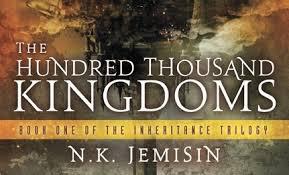 Join SOULar Powered Afrofuturism Slow-Reading Group as we discuss One Hundred Thousand Kingdoms by NK Jemisin.
About the event
Started in 2014 by Njeri Damali Sojourner-Campbell, SOULar Powered Reading Group (SPRG), is a community that primarily consists of queer Black readers and readers of varying colours, genders, and sexualities from around the word that celebrate Afrofuturism, Africanfuturism, Afromystism, and science fiction featuring Black people written by Black people.
Conversations are as casual as meeting a dear friend for coffee, as intellectual as your PHd thesis, and as intentional as your Buddha instructor in deep meditation (says Isis Asare, a non-coffee drinking, non-PHd holding, non-Buddhist ?.)
Join the book club via zoom ready to discuss the book, Black diaspora culture, and the intersection of scifi and politics.
About One Hundred Thousand Kingdoms by Nicky Drayden
Yeine Darr is an outcast from the barbarian north. But when her mother dies under mysterious circumstances, she is summoned to the majestic city of Sky, seat of the ruling Arameri family. There, to her shock, Yeine is named an heiress to the king. But the throne of the Hundred Thousand Kingdoms is not easily won, and Yeine is thrust into a vicious power struggle with a pair of cousins she never knew she had. As she fights for her life, she draws ever closer to the secrets of her mother's death and her family's bloody history.
With the fate of the world hanging in the balance, Yeine will learn how perilous it can be when love and hate — and gods and mortals — are bound inseparably.
Praise for The Hundred Thousand Kingdoms
"…N. K. Jemisin has created a smart, passionate heroine and an extraordinary world. Marvelous work from a marvelous storyteller!" -Carol Berg
"…the provocative and exciting debut novel by a writer whose work I hope to be reading for a long time to come." -Kate Elliott