The 2nd Queens Conference
May 25, 2019 @ 11:30 am

-

5:30 pm
Event Navigation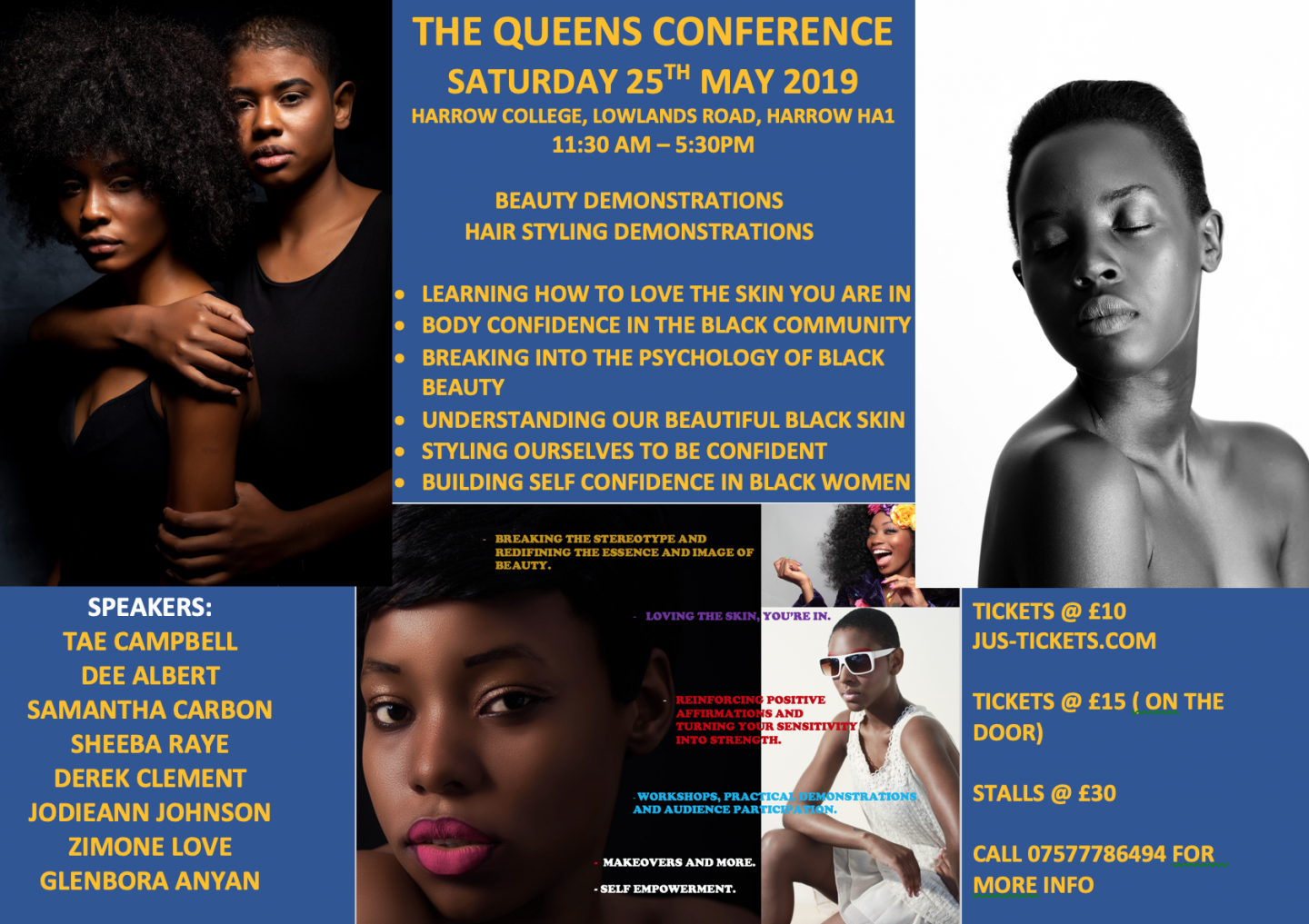 BODY CONFIDENCE AND LOVING THE SKIN YOU ARE IN!!!!
– REVEALING YOUR BEAUTY
– EMBRACING THE WAY YOU LOOK
– EXPLORING THE PSYCHOLOGY OF BEAUTY STANDARDS
– ORGANIC CARE FOR BLACK SKIN, HEALTH & MORE!
– LOOKING GOOD ON A BUDGET
– REVEALING THE BEST YOU.
The Queens Conference is an event dedicated to giving black women and women of colour a chance to not only voice their opinion; but to gain strength and in turn be strengthened. We provide a safe circle for women and the event helps women network extensively, support one another, educate and be educated.
Our mission is to create individual and community change through focusing on the positive reinforcement of black women and youth.
The Psychology of Black Beauty
Black women are particularly vulnerable to the effects of European standards of beauty, because these standards emphasize skin colours and hair types that exclude many black women, especially those of darker skin. The Queens Conference seeks to explore the effects of the inevitable internalisation of European beauty standards through family, the media, and society, and the related outcomes of this internalisation on self-perception, self confidence and mental health.
How do we as black women, break negative cycles regarding our beauty, ignore western beauty standards and reset our mind from harmful historical rejection and the current hybridisation of our image?
How do we set aside the damaging mindset of the past and present and step into the now and the future with real image and body confidence that is unwaveringly focused on our features?
or body shape, our mindset and our own perception of self, without having to compare or include the options and mindset of others?
Body Confidence in Black Women
The hugely popular body positivity movement, which has always been apart of black culture (because we have celebrated our natural curves for centuries), is now dominated by white women and when you do see WOC they are racially ambiguous.
When was the last time you saw a plus-size model who didn't have an hourglass or pear shape and she had a deep dark complexion? Black women are often criticized for promoting obesity or being lazy, leaving us feeling ashamed of our natural bodies. (
https://hellobeautiful.com/3009432/black-women-body-positivity-movement/
)
Whether its's our high cheekbones, our soft and luscious full lips, our shining youthful skin, our naturally full or rounded buttocks, our intense eyes, our natural hourglass shape, our image and form has been over sexualised and under appreciated due to the Western fetishisation of our image and form.
How do we take back our image, form and its perception and how do we use this to empower ourselves, our families and our community?
This conference aims to explore Black beauty and teach ourselves how to love and appreciate our unique look and love the skin and body we are in. Our aim for the Queens Conference is to:
1. Respect and dignify every black woman and every body shape by connecting individuals with positive reinforcement, organisations, resources in a comfortable and accessible environment.
2. Empower each women how to break negative self-talk, how to identify bad habits, how to move past body sensitivity, how to cultivate positive affirmations in order to lead a healthy, confidence, positive and more fulfilled life.
Ananse Arts seeks to support a thriving and vibrant Black community, focusing on how to develop our self esteem, provide outlets of confidence and importances on our uniqueness. We place a high value on what it's members feel, see, react to and behave, rather than how they look.
SPEAKERS INCLUDE:
– TAE CAMPBELL – MY LOVE HOLISTIC THERAPY
– CHARLENE MARTIN – SHEEBA RAYE
– ZIMONE LOVE – ZL BEAUTY
– SAMANTHA CARBON – SILENT ECHOES
– DEE ALBERT – SILENT ECHOES
– JODIEANN JOHNSON – CO FOUNDER – GAGE CIC & CURVE MODEL
– DEREK CLEMENT – HAIRDRESSER, TEACHER AND BUSINESS OWNER
– GLENBORA ANYAN – FASHION STYLIST & FOUNDER OF AFRICANNI
PERFORMANCES BY:
– SKYE THE POET
– SIMONE MILLWOOD
The Conference is designed to give attendees a safe space in which to celebrate themselves, to relax and to be able to speak freely without judgement or backlash.
The day will present an array of speakers, entertainment and attendees who have the opportunity to speak with guests and organisers of the event. There will be exhibitors selling the best products and services.
In addition to the Lunches We will be providing teas and Coffee's for £1 and a selection of cultural and English snacks for the event.
Tickets @ £10 (
Jus-tickets.com
)
Tickets on the Door @ £15
Stalls @ £30
Meal packages @ £4 – £10