The Business Growth Conference
November 18, 2017 @ 10:00 am

-

4:00 pm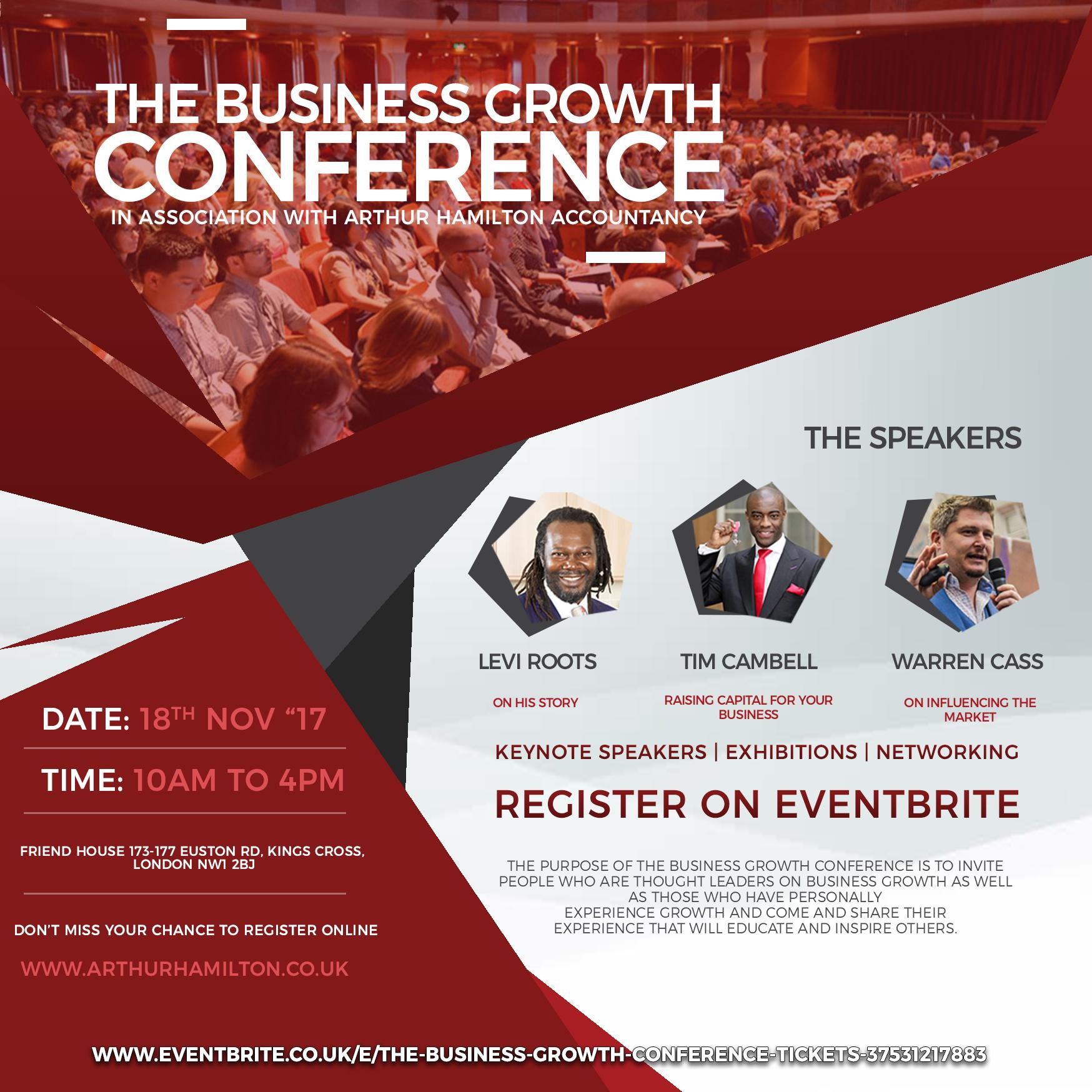 Guest speakers
Tim Campbell
Tim Campbell was the winner of the first series of the British version of The Apprentice in which he won a £100,000-a-year job working for #businessman Sir Alan Sugar. He founded the #BrightIdeas, an organisation which invests in entrepreneurs to start business ventures, by giving them greater access to start-up finance, real business mentors and professional services advisers.
He is the co-author of one of Amazon's Top 10 business books for 2010, 'What's Your Bright Idea?'. He has also  had the privilege of working with the likes of BT, Lloyds Banking Group, Everything Everywhere (T-Mobile & Orange), Oxford Said Business School, Ernst & Young, Deutsche Bank, Accenture, IoD, NHS and Barclays to name a few.
Chika Russell
A mother who turned down a £30,000 investment from Dragons' Den panelist Peter Jones has gone on to forge a burgeoning food business on her own.
Chika Russell, a 'mean cook' from London, managed to tame the #business magnate with her line of Nigerian-inspired healthy snacks when she appeared on the hit BBC2 show last year.
However, she later decided to go it alone because she wanted more of a 'challenge' and it appears her risky decision is now paying off, with Waitrose and Whole Food's among her stockists.
Russell turn over reached more than £1 million in the last  financial year.
Levi Roots
Levi Roots, AKA Keith Valentine Graham, is an entrepreneur who gained widespread fame when he appeared on the fourth series of Dragons' Den in 2007. He is the founder of the Reggae Reggae Sauce Brand which is stocked in Sainsbury's stores across Britain – Levi's sauce is the chain's fastest ever selling product. Levi's Net worth is £35m.
Warren Cass
Warren Cass is one of those rare speakers that inspires, entertains and informs.
An entrepreneur with 25 years of running his own businesses, he has experienced huge success and tasted the bitter pill of failure. All of these lessons and stories are shared when he speaks…. Always from the heart!
Warren is straight talking with a no nonsense presentation style. His passion for business shows, especially when he talks about relationships, influence & marketing.
All of his talks contains 'real life' examples so his audiences can relate to the ideas that he shares and wherever possible he gets them involved with the content.
At heart Warren is a geek, someone who loves to figure out why and how things work, he firmly believes we live in times of significant change, and to stay ahead of the curve, we need to understand the game.
About Arthur Hamilton
At Arthur Hamilton Accountancy we believe in growing businesses, because a growing business has the power to change live and society. Think about it, a growing business produces employment, employment enables people to put food on their tables…. and for the entrepreneur a growing business enables you to pay off your mortgage early, retire early, set up starter homes for your kids.
The purpose of the business growth conference is to invite people who are thought leaders on business growth as well as those who have personally experience growth and come and share their experience that will educate and inspire others.
Note: Being a non industry specific conference, business from all backgrounds find new, inventive ways to help their business grow. Discover new suppliers, reduce cost and gain industry knowledge from our expert speakers.
#TimCampbell
#ChikaRussel
#LeviRoots
#WarrenCass
#ArthurHamiltion
#Business
#entrepreneur
#passion