The Hidden Science of Black Music
July 20, 2019 @ 12:00 pm

-

8:00 pm
Event Navigation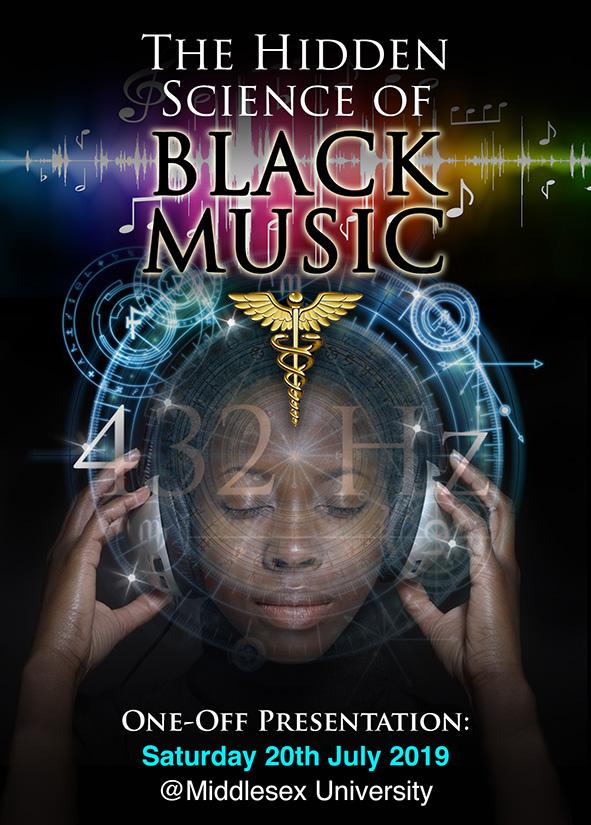 THE HIDDEN SCIENCE OF BLACK MUSIC
How powerful is black music? Is it true that rock & roll, gospel, blues, jazz, country and even classical music originated with black people? How has black music influenced fashion, films, dance, language and youth culture worldwide? Why has reggae in particular, had a huge impact on all popular music genres in the UK?
What is it about black music in general, that brings everyone together; no matter what race, creed or colour? Is there a science behind this phenomena? And did the greats (like Bob Marley, Marvin Gaye, Whitney Houston, Prince and James Brown) know this science?
In this mind-blowing presentation we will delve deep into the hidden secrets of what makes us feel so good when we hear our favourite songs. Come and see what is actually going on in the brain when music is being played. Explore with us why drums were used to communicate in early Africa. And learn about the mathematical language of music. Join us for a celebration of black culture and identity. THIS EVENT IS NOT TO BE MISSED!!!
Topics that will be discussed include:
The History of Black Music

The Universal Power of Black Music 

African Drums Used For Communication 

Reggae's Influence on UK Culture

Cultural Appropriation

The Love Frequency in Music 

The Healing Rhythm of Nature

High Vibrational Foods

How Music Affects Water

The Link Between Music and Maths

How Music Affects Brainwaves

How Melanin Absorbs Sound Waves
PLUS MUCH MORE! African Market On-Site

Keynote Speakers include:
ANDREW MUHAMMAD – The Investigator
ROBIN WALKER – The Black History Man
LEON MARSHALL – The Scientist
SHAKARA – The Host
Plus MANY Special Guests including:
RASPECT FYAHBINGHI
DATE: Saturday 20th July 2019
TIME: 12pm – 8pm
VENUE: Middlesex University, The Burroughs, London NW4 4BT
BOOK: http://bit.ly/blackmusicscience
NOTE: Under 16's = £6 on the door OR purchase a ticket for them in advance to avoid any disappointment… !!THIS EVENT WILL SELL OUT!! Please arrive EARLY as seats WILL NOT be allocated and once all seats are taken there will be limited spaces to stand.
DON'T MISS OUT… BOOK NOW!
This unmissable event is organised by The Hidden Science Academy. For more information about the Academy (incl. courses, future events and membership deals) please visit our website and join our mailing list: THEHIDDENSCIENCEACADEMY.COM
Please note that this event will be filmed and photographed by gotKush TV for historical record and uploaded to the World Wide Web. By attending and participating in this event, you are giving your consent to be filmed and waiving any and all claims regarding the use of your image.
For stalls or more info please email thehiddenscienceacademy@gmail.com or whatsapp 07507 535 830
Related Events