The Show – Peter Terry's 50+ Birthday Celebration
March 18 @ 9:00 pm

-

March 19 @ 9:00 pm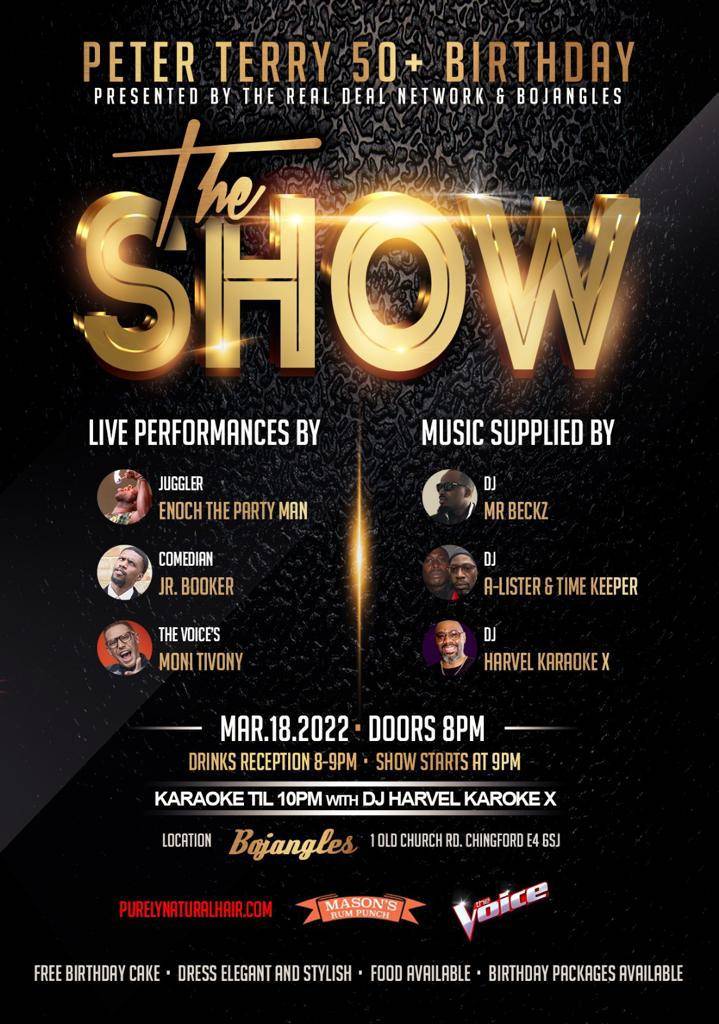 It's Peter Terry's birthday and we are all celebrating at Bojangles this March!
The Show – Peter Terry's 50+ Birthday Celebration
The Real Deal Network in collaboration with Bojangles presents the ultimate night out in CHingford this March featuring live performances and an after party to kill for! "The Show " is a night in celebration of the amazing Mr. Peter Terry on the 18th of March starting at 8PM featuring a juggler, comedian, musicians and more. We've also got karaoke by DJ Harvel on the night till 10PM along with an after party run by the best DJs London has to offer.
The Live Performers
Juggler – Enoch the Party Man
Comedian Jr. Booker
The Voice's Moni Tivony
Music by DJ Mr Beckz, DJ A Lister & Time Keeper, DJ Harvel Karaoke X
Djs for the After Party Desi G & Barry White, Legs, Company Soul Sounds, Chairman of the Board, CASS Manhattan, & Tony Gee
On the 18th of March 2022
Doors Open at 8PM
Drinks Reception 8-9PM
Show at 9PM
Karaoke till 10PM with DJ Harvel Karaoke X
After party from 12PM to 4AM
So Ladies it's time to slip into your little black dresses, Gents it's time to grab your sport coats. Bojangles is ready to keep you up all night long this March with the biggest and most refined exclusive club night in Chingford. And to keep you company at this club night in Chingford we're serving the finest Caribbean eats you can find in London coupled with a wide-array of drinks designed especially for you by our talented bartenders.
Our tickets are priced at £12.50 for the first 50 buyers and £15 per person thereafter.(£20 at the door)
#clubnight #clubbing #clubnightinchingford #clubbinginchingford #chingford #chingfordclubbing #chingfordnights #chingfordnightsout #nightsout #clubbingnight #clubbingnightout #nightsinchingford #dance #music #djs #party #partynightinchingford #chingforddancing #clubbingnight #octobernight #octoberclubbing #clubbinginoctober #danceinoctober #clubbinginchingfordinoctober #clubsopeninoctober #caribbean #caribbeancuisine #caribbeandelicacy #caribbeanfood #caribbeanfooditems #caribbeanmeanu #soulfood #soulmusic #soulsound #streetmusic #club #exclusive #exclusiveentry #chingfordfood #dininginchingford #fun #thankgoditsfriday #tgif #saturdaynight #saturdayfunday #saturday #saturdayparty #saturdaydance #saturdaymusic #saturdaydancing #dancinginchignford #saturdaychingford #saturdaynights #saturdaynightsinchignford #chairmanotb #companysoulsound #company #soul #sound #gal #flex #galflex #djsinchingford #clubnightswithdj #ckubbingdj #dancingdj #party #cocktail #freeflow #happyhour #booze #alcohol #beer #wine #finewine #dining #diningexperience #dinner #dineininchingford #dinnerinchingford #chingfordfood #whiskey #prosecco
So grab your friends, grab your colleagues and head on over to Bojangles this Friday the 18th of March, cause we've got the sweetest drinks, the most scrumptious food, and the best tunes ready to keep you up all. night. long.
Related Events