Trevor Nelson Presents: Classics at Ministry of Sound
August 26, 2018 @ 10:00 pm

-

August 27, 2018 @ 4:00 am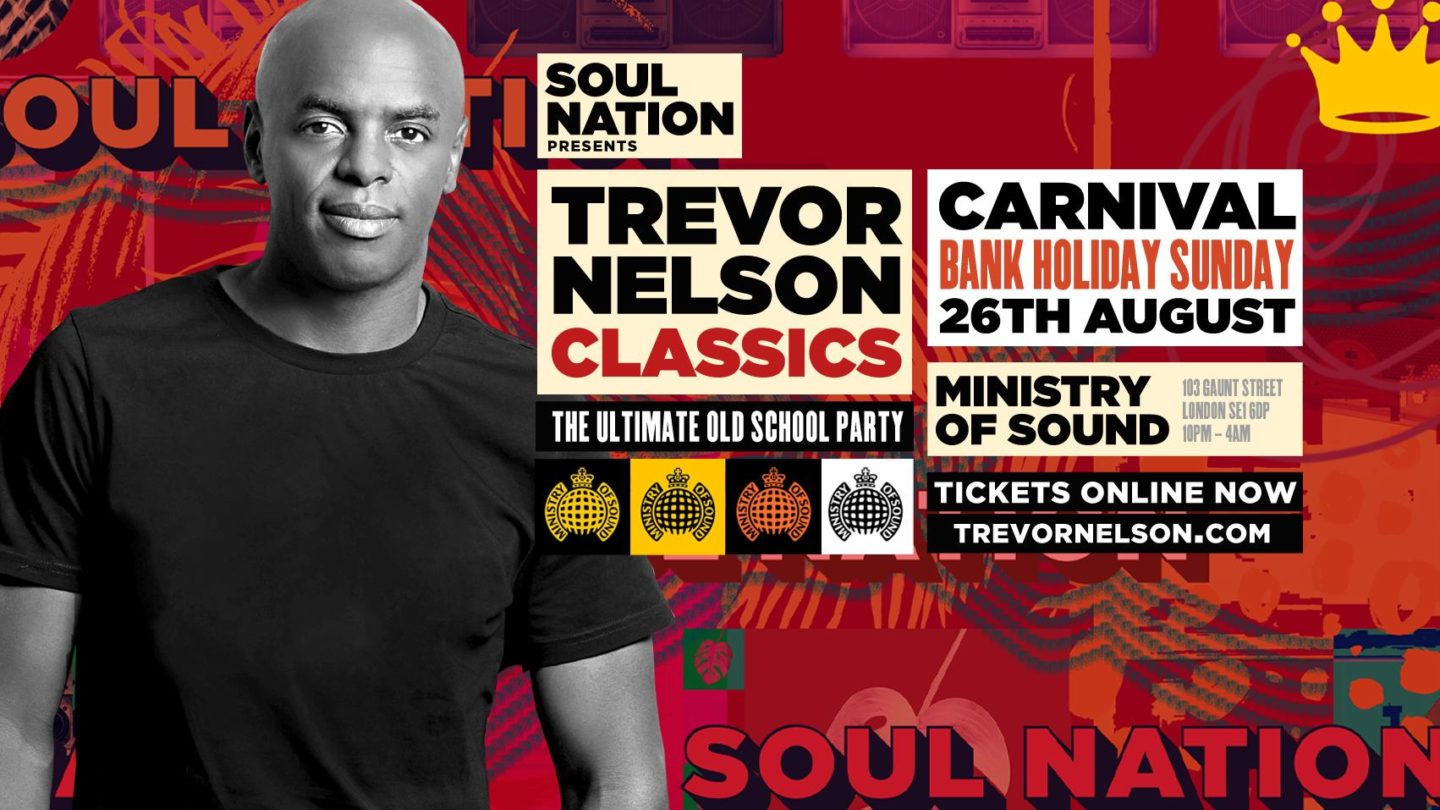 Trevor Nelson & Soul Nation Presents:
#Classics; live from Ministry of Sound
Bank Holiday Sunday, August 26th
All Things Old School from 80's to 00's!
Click Here For All Updates: https://www.facebook.com/events/202664386958787/
Last year Trevor Hosted his first party in the world famous Ministry of Sound Club for the first time since the early 00's, and due to the phenomenal response, Soul Nation is bringing #CLASSICS back to Ministry of Sound on Bank Holiday Sunday, August 26th 2018.
Covering every avenue of old school & split across 4 arenas at one of the worlds most recognised night spots, expect yet again an historic party this Carnival Weekend.
The Award winning nightclub Ministry of Sound is the quintessential destination for ravers alike, a venue which Trevor held his HUGE New Years Eve Parties at back in the early 00's & 90's. With 4 arenas, a huge luxury VIP, Ibiza Style Outdoor Area & the worlds most advance Lighting/Sound-system, we're excited to be back here once again!
CLASSICS is set to unite lovers of old school, from 80's Soul & Boogie boppers to the 90's & 00's HipHop & RnB Addicts; all curated by Trevor Nelson himself.
Here is Trevor's break down of how the 4 arenas will shape up:
ARENA 1 – late 90s and 00s RNB & HIP HOP (think MTV LICK show and parties, or my Friday night residency at Funk at Sound Republic in Leicester Square)
Featuring: Trevor Nelson, Pirate Radio Legend Frisky DJ, EVE's Tour DJ Martin 2 Smoove and more to be announced.
ARENA 2 – 80s and early 90s soul boogie NJS etc (who remembers Club Yo Yo on Saturday nights at Villa Stefano's in Holborn? Well this room will definitely hit the spot for you)
Featuring legend Ronnie Herel & JP!
ARENA 3 – dancehall / reggae | Classic dancehall tunes all night provided some of my original sound system pals, perfect for all our carnival ravers this weekend. Hosted by Reggie Styles DJ & friends
ARENA 4 – disco / soulful house | Can't ignore the power and impact that disco and house has had on my musical journey so I'm bringing together some of my favourite selectors to play those hedonistic dance floor classics. This will be hosted by The Legendary Paul Trouble Anderson, Collin Williams, Chewy & Guests
——-
If you're a lover of the old school, pick up your tickets now!
Super Early Bird Tickets = £10 On Sale Now
Early Bird Tickets = £12 On Sale Now
Standard Tickets = Out Now From £15
VIP Tickets First Release = £25 and will increase
VIP Tickets include queue jump access via Guest-list Queue, private VIP room access with balconies overlooking both main rooms. The VIP room also has an exclusive premium VIP Bar with service.
Keep up to date with Trevor across all socials:
www.instagram.com/DjTrevornelson
FB = Trevor Nelson // Soul Nation
E: Soulnation@trevornelson.com
T: 07590834117
Venue: Ministry of Sound, 103 Gaunt Street, SE1 6DP, London
Closest Stations = Borough, Elephant & Castle, London Bridge, Southwark
Nearest Hotels = Travel Lodge Waterloo (from £39)  – Hotel H10 **** (From £99) 
( ( Tickets are non-refundable, ID will be required, last entry will be 00:30, Tickets are non-transferable, Dress Code is Smart Casual only, Please do not purchase from ticketswap ) )
Related Events