UK's Biggest Natural Hair Event – CurlyTreats Festival 2019
July 27, 2019 @ 12:00 pm

-

7:00 pm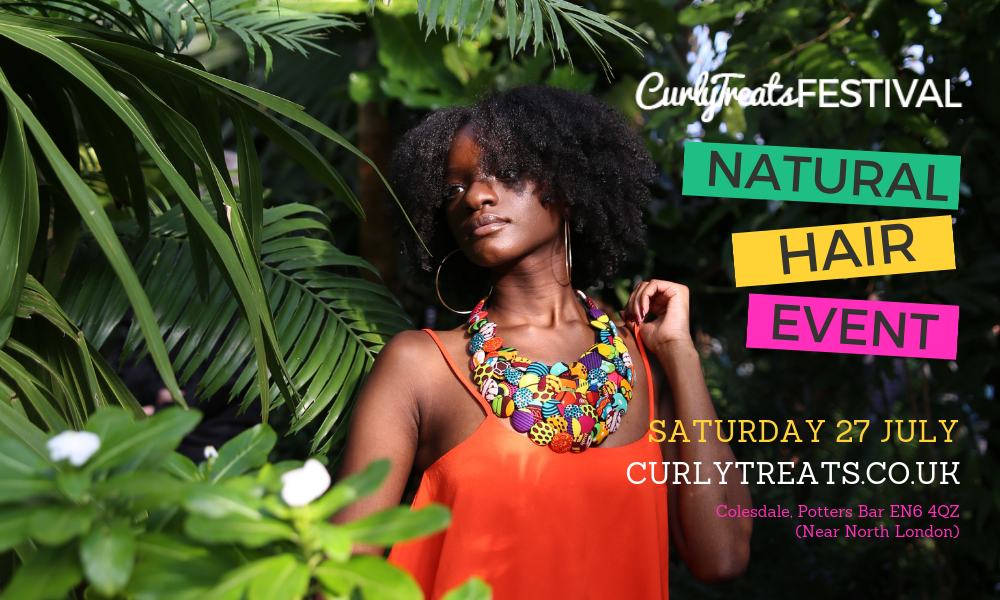 A CELEBRATION OF EMPOWERMENT, SELF LOVE & THE BEAUTY OF NATURAL HAIR
---
Hey, Shirvina here…
I'm a entrepreneur from London, UK. In 2018, I won the 'Influencer of the year' award at the Black Beauty & Fashion Awards. Also, I was nominated for the 'Social Impact' Award at World Afro Day. Here is my story…
Never did I imagine, helping thousands of people connect, celebrate, and create meaningful experiences  since 2013. What I've learnt is that it's important to be around people who can embrace, empower, educate and elevate you. It's our aim to challenge traditional beauty standards and redefine what beauty means.
Get ready for a new experience!

What's a word that comes to mind when you think about festivals? Music? Dancing? Food, maybe? CurlyTreats is not your typical festival.

Our mission is to create a transformational experience that inspires positivity, joy and actions for community building. Our commitment to creating annual gatherings that uplifts and strengthens the community is priority. The festival is much more than a positive celebration of curls, fros, kinks, and locs in its natural glory. We believe in celebrating creative expression, healthy habits, personal growth and social responsibility.
Introducing CurlyTreats Natural Hair & Wellness Festival 2019
Back by popular demand, this year's edition of the festival will take place outside at the Colesdale Farm. As the biggest outdoor curly hair festival in Europe on July 27th. Surround yourself by the many men and women who embrace their natural textures and improvement of wellness. Children under 12 years old attend for free. We've created a dedicated space to uplift and help build the confidence of young children at the festival.

So, are you ready for a meaningful experience?
Within CurlyTreats Fest where you venture off as an individual. You'll come to discover new passions, form new friendships, as generations bond. CurlyTreats is more than a natural hair festival. It's a motion of perception.

"Together we celebrate, together we empower"

Get inspired, as you join us all at this year's CurlyTreats Festival. 
When:  Saturday 27 July 2018, 12 noon to 7 p.m
Where: Colesdale Farm, Northaw Rd W, Enfield EN6 4QZ
What You'll Experience
A positive celebration of curls, fros, kinks, and locs in its natural glory
Connect with haircare specialists who can help restore your hair back to a healthier state.
Join in on our newest addition "The Place of Wellbeing". Here you'll be able to channel the many avenues of developing, empowering, a greater state of mind.
Get a whole day's worth of discounted beauty, fashion, natural hair, and wellness products from over 40 pop-up brands.
Gain access to the exuberant live performances, panelists, and much more.
HOP IN! And enjoy the large variety of outdoor activities, share hair stories, visit the braid bar, connect with influencers, junction of cultural foods, dancing, and making new friends with like minded individuals.
FREE admission for children under 12 with the accompany of an adult with a purchased ticket.
Inspiring you to express yourself with optimism, passion and strength.
DON'T JUST TRUST ME! – THIS IS WHAT PEOPLE ARE SAYING