United in Worship and Praise Gospel Concert – Feat Min M Mahendere & Prophet Keke
October 7, 2017 @ 5:00 pm

-

10:00 pm
Event Navigation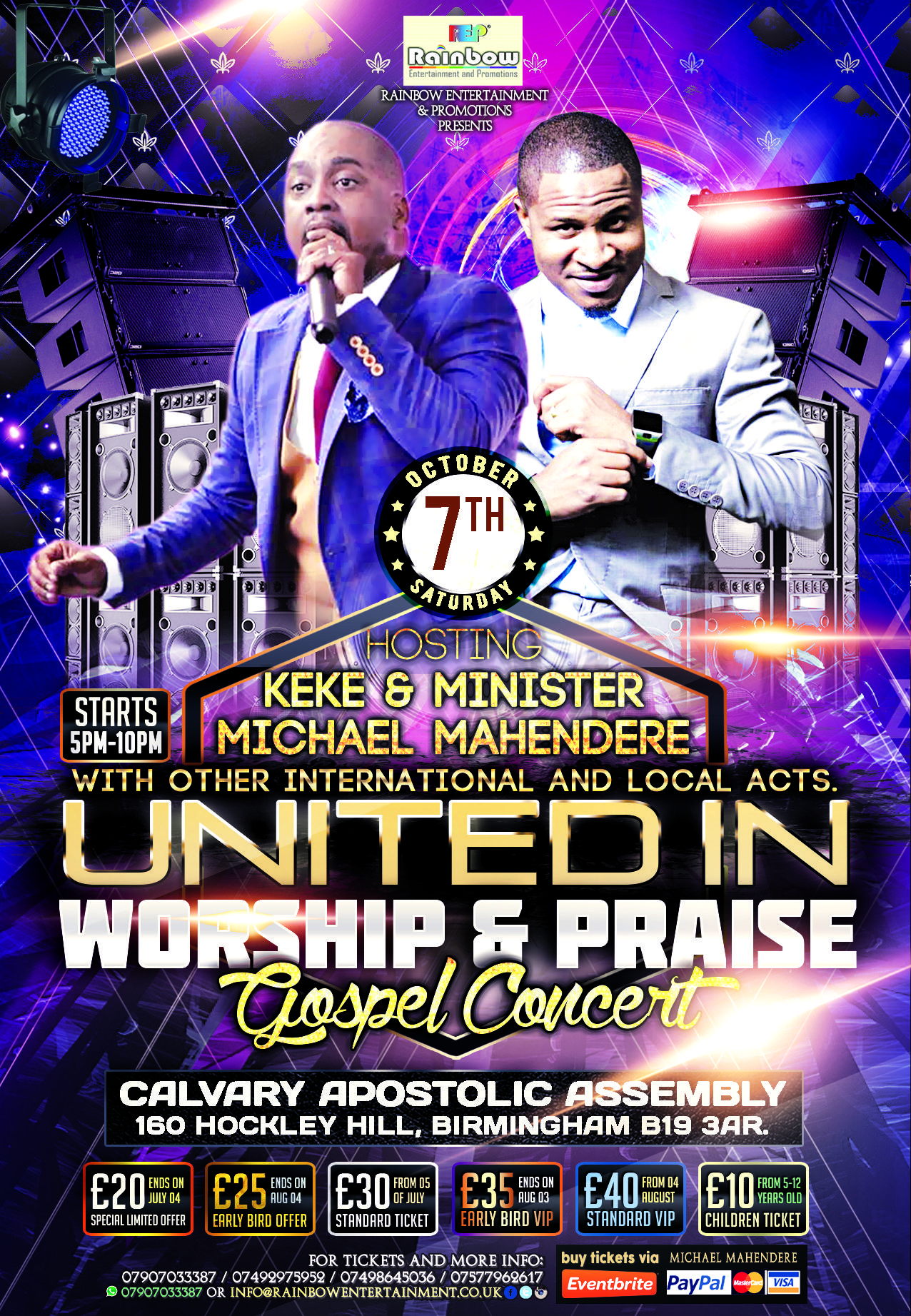 United in Worship and Praise is a #gospel event that brings people together from different places to worship,praise God and enjoy #gospel music from very talented,prominent,recording and award winning gospel artists.
Everyone is welcome to attend including families.
We have various artists local and international performing. You will not be disappointed.
International Artist. Profile
Michael Mahendere is a Zimbabwean pastor and musician. He was part of the group #PaxAfro and gospel outfit #Mahendere brothers. #Mahendere is a pastor at United Family International Church. He has had a successful solo career with his album Getting Personal With God II producing hits such as #Makanaka Jesu and #Mumoyo. Mahendere is the fourth born in a family of seven children and has brothers #Akim #Misheck and #Amos.[1] He was born on 28 May 1983 and was married to Vimbai Mahendere in December 2011.[2]
#Awards.
#Permican2016 Awards
Video of the Year: Kune Mponesi – feat Janet Manyowa
#Permican2015 Awards
Best Album of the year for Getting Personal with God – November 2015
Best Male Artist
Albums.
Getting Personal With God 3
Getting Personal With God (Live Worship DVD) – GPWG 2
Worship Classics (Prayer for the Nation)
Classics Singles
Profile For Prophet #KEKE
Keke Phofoolo, was born in Pimville-Soweto 38 years ago
He is the second last born in a family of for three
With a passion to be in the military, but music took precedence, captured and took an accelerating gear.
This exceptional desire was birthed  when he was invited by Oupa Montshiwagae in 1994 to join a music group called "Zoë Gospel Singers" as a backing vocalist and as a result competed at the "Shell Road to Fame" in Sun City 1997 as a soloist. Keke never limited himself. In 1998 he found a place in the Kwaito industry with the group KOM-KOM. He then got the opportunity to go on a tour with BENJAMIN DUBE in 1999 before joining "JOYOUS CELEBRATION 5" in 2000-2001 as one of the choir's lead singers.
Doing the lead on the song 'JO KE MOHLOLO-HLOLO' also gave him the opportunity to work with the male group REDEEMED.
KEKE's break as a solo artist was 2007…Album Restoration (studio album) this Second project was live in the Vaal…Revival… CD and DVD. 2009 prior to that success in 2008 he founded Shekinah Glory Worship tabernacle and I was accompanied by a release of a Living Testimony DVD 2009.
Keke also toured with jazz legends Bheki Mseleku and Winston 'ngozi' Mankunku, this led to a call from the Queen of Swaziland to run and produce a "live" recording of #REDEMPTION CHOIR 2001-2004 giving him the chance to produce and direct more projects in the neighboring country including Spirit of Praise.
An opportunity to perform in the hit show #UMOJA was the break that he needed to expand his talent in the theatre before he decided to express what God had placed on his heart with his debut album 'RESTORATION'.

The success of Restoration paved the way for his second album 'REVIVAL' which was a 'Live' DVD recording at the "VAAL UNIVERSITY OF TECHNOLOGY" – His third album "LIVING TESTIMONY" a DVD recording at Vaal, and "HOLY OF HOLIES" DVD recording at the Lyric Theatre. As an independent artist he did a Live DVD recording of "SPIRIT UNLIMITED" and Devine Victory at Grace Bible Church in Soweto.
All in all, besides collaborations and directing Spirit of Praise Volume 1 and Volume 2, Keke has recorded six 'Live' DVD albums with the latest, called Devine Victory. Keke is a TV personality and was a presenter on ETV Keke is also a presenter on One Gospel and Prophetic Channel-Sunday Gospel.
Keke is unknown for his stormy authenticity and far reaching care to groom potential talent, he also has unique insights gained from his life experiences to inspire change
He is married to Grace Paulina Phoofolo who is an Executive in Environmental Health industry and has a B- Tech degree and a National Diploma both in Environmental Health as well as a course in Project Management, She has also embarked on completing a Master's Degree in Environmental Management with all the related course work completed and the mini-dissertation underway. Grace who lives a life of an extreme multitasker has a wealth of knowledge for more than 13 years in the following: Development planning & sustainability, Environmental Economics.
Social and economic sustainability, Impact mapping Applying Safety, Health and Environmental and Project Management in Environmental Management, with an extensive knowledge of environmental legislation including various Environmental Health related Acts, Municipal Structures Act.
Grace who has been established in her reputation together with her husband Keke in their couples personalised programs motivation and uplifting speaking, behaviour change ,helping people to live purposed and meaningful lives.
Grace's genuine care for people, been orderly, putting processes in place and strategic workflow plan with extreme unique attention to detail also functions as her husband Keke's Executive Development Manager.
Grace is articulate, an excellent, negotiator, crisis analytical eye and calm in her nature, energetic yet forever young vibe personality is also an image consultant by appearance, she just has a way of putting it all together.
Grace and Keke are joyfully married with children and the power couple has become an everyday inspiration to others.
Please visit our website www.rainbowentertainment.co.uk for terms and condtions.