Vibrantly african lifestyle and wellness day
September 28, 2019
Event Navigation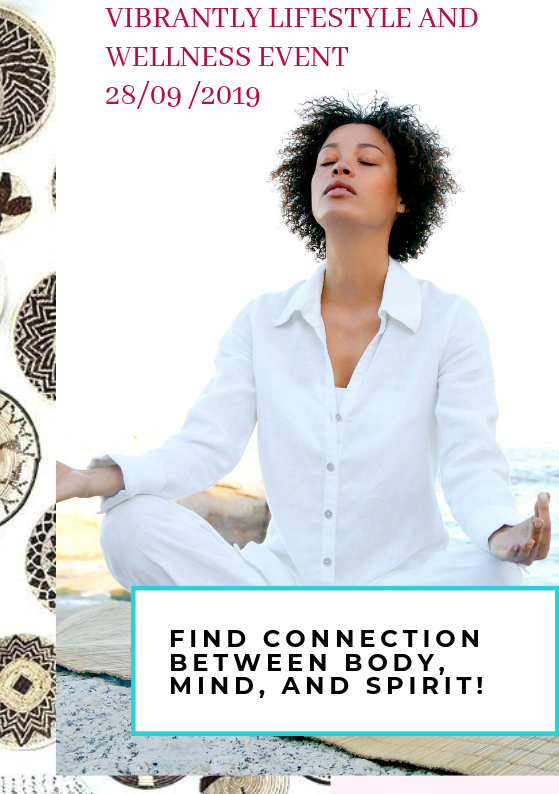 VIBRANTLY AFRICAN LIFESTYLE AND WELLNESS EVENT
​
​
Finding The Connection Between
Mind, Body & Spirit
DATE 28 SEPTEMBER 2019 UNITED KINGDOM – LONDON
PRICE BRONZE £20 SILVER £35
TIME FROM 11:A.M TO 22:00 P.M
​
ADDRESS – KENSINGTON TOWN HALL,  HORNTON STREET LONDON, W8 7NX
HiGH KENSINGTON STREET
​
Hello there Vibrant people
​
We are on the move again, hosting a packed programme of Well being,  beauty, fashion, lifestyle, art and graft, travelling and food. Plus inspiration and advice talks along with fun and provocative interactive debates and interviews with expert speakers and celebrities.
​
Attendees can take part in various workshops and activities such as yoga, pottery, storytelling  African dance, mindfulness, henna, and etc.
Visitors can expect to find a range of lifestyle exhibitors,
Ranging from well-being & wellness treatments holistic therapists, such as therapeutic massage, chair massage, Reiki, reflexology, facials, manicure & pedicure, natural skin care products, makeup, & face painting for children. Space for kids to play, sound therapy, herbalism – yoga, meditation,  herbal tea and resting area, life readers, astrology, numerology, tarot readings, crystals, talismans and Angel workers, entertainment such Zulu dance, Ethiopian dancers, traditional African Theatre, African drums, classical choreography dances,
The fashion show, storytelling, poetry live music performance, comedy., travel, wine tasting, gala dinner and more
Relationship, business,  emotion coaching, women and men health workshops motivational speakers,  African art and craft catering space, plus natural juice area.