Virtual Workshop: Moving from Unconscious Bias to Active Allyship
August 6, 2020 @ 12:15 pm

-

2:45 pm
Event Navigation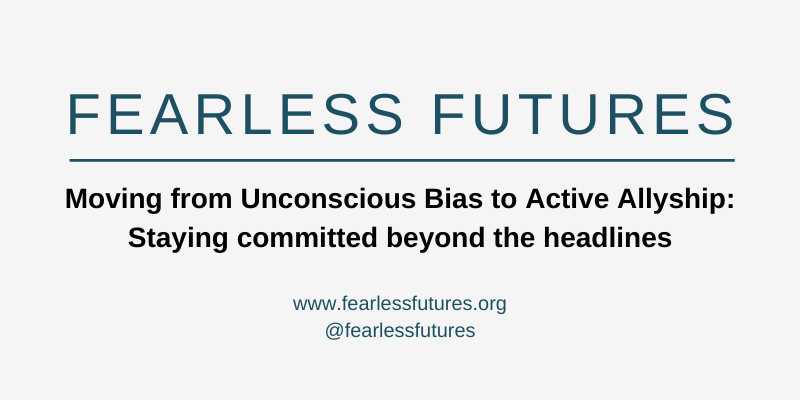 For folks who are ready + determined to do the work for anti-racism beyond the headlines
In response to the severity of racism due to the murders of George Floyd, Breonna Taylor, there has been an increase in individuals and organisations turning to activism, allyship and learning . We're seeing an increased appetite for inclusive practices and allyship. Folks are responding in all sorts of ways from posts on social media, protests, monetary donations, reading, annual leave for Juneteenth and training. But, for white and other non-black allies – will these actions continue beyond the headlines? How do we ensure that allyship is a core part of our practice going forward, rather than a moment in time?
As equity and inclusion practitioners we recognize the value in education but also understand true long lasting and impactful allyship doesn't begin with unconscious bias training for it incorrectly diagnoses the root causes of systemic inequities thus any solutions born of this thinking will often do very little to building a more inclusive workplace.
For all those who are non-black and committed to do the work, we want to encourage folks in their quest to do better and become more knowledgeable about systemic racism to recognise active allyship requires folks to move beyond unconscious bias. We can't be true allies if our action rests in acknowledging bias and nothing more.
This introductory workshop will give participants a robust understanding of systemic racism and what active allyship means at the interpersonal and system levels, to show up for your Black colleagues beyond the headlines.
By the end of this workshop:
Participants will have awareness and understanding of systemic racism
Participants will understand what active allyship requires
Participants engage in application of their learning so the work continues after the news cycle ends.
Please note that this is not a webinar. Our workshop is experiential and involves active participation and dialogue. If you feel uncomfortable having your camera on, or do not have video capabilities, that is fine – you will need a microphone/audio features or be able to type to ensure a fulsome learning experience.
For further information related to the accessibility of this virtual workshop, please review this document.
FAQs
How many tickets am I able to purchase for my organisation?
The maximum amount of tickets per organisation is 3 people.
How can I contact the organiser with any questions?
Please email events@fearlessfutures.org
What's the refund policy?
Tickets are non-refundable
I cannot afford to attend. Can you help?
We will do our best. We are sorry to inconvenience you but could you please email events@fearlessfutures.org referencing this and we will respond as quickly as we can. Thank you.
Related Events