Womanist Dialogue: "SayHerName: Reading & Preaching Scripture for Freedom"
July 6, 2020 @ 4:00 pm

-

6:00 pm
Event Navigation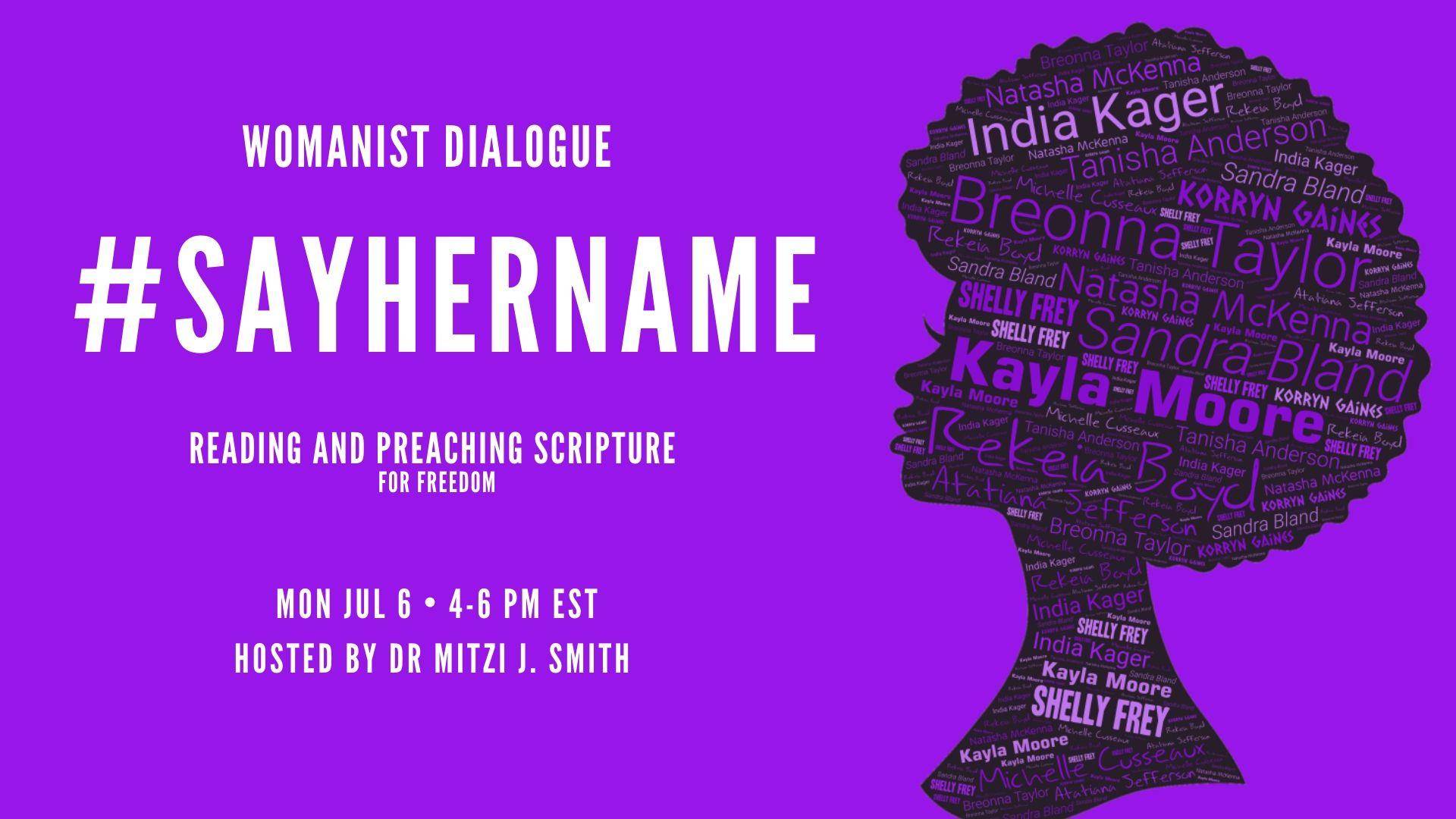 Womanist Dialogue: Black Women Preachers/Scholars #SayHerName
This Womanist Zoom event features a panel of Black women preachers/scholars in critical dialogue about #SayHerName: reading, and preaching Scripture for freedom. Each will present for 8-10 minutes after which we will engage in Q&A and dialogue.
The panelists are:
Rev. Yvette R. Blair is a womanist theologian, elder in The Methodist Church, and serves as the Senior Pastor at First CME in Dallas, Texas. She is a Doctor of Ministry student at Memphis Theological Seminary where her work focuses on the intersection of faith, food security, and displacement of Black, Brown, and Indigenous peoples.
Dr. Teresa L. Fry Brown is an ordained Itinerant Elder in the AME Church and the Bandy Professor of Preaching at Candler School of Theology at Emory University in Atlanta. A womanist scholar, she has published five books and forty plus articles on homiletics, particularly focussing on the importance of Black women's transformative voices.
Rev. Dr. Genetta Y. Hatcher (DMin) is an itinerant Preacher, Pastor by calling, Lecturer, and a Training and Leadership Development Professional. She most recently served as a seminary Vice President.
Rev. Eva Melton (MDiv) is the founder and pastor of The Firm Foundation Church in Birmingham, AL.
Rev. Dr. Yolanda Norton, Ph.D. (Hebrew Bible, Vanderbilt) is the curator & founder of the Beyonce Mass.
Rev. Dr. Shively T. J. Smith is Assistant Professor of New Testament at Boston University School of Theology (Boston, MA). She completed her PhD in New Testament Studies at Emory University, publishing her first book called, Strangers to Family: Diaspora and First Peter's Invention of God's Household with Baylor University Press.
Rev. Dr. Renita J. Weems, Ph.D. is a biblical scholar, author, academic administrator, public intellectual, ordained elder in the AME Church, and the first African American woman to earn a doctorate in OT Studies (Princeton Univ, '89). Weems is a former Associate Prof at Vanderbilt Divinity School, Visiting Prof at Spelman College, and Academic Dean at American Baptist College.