Yellow Wednesdays: 'Crumbs' + Afrofuturism
October 18, 2017 @ 6:30 pm

-

9:30 pm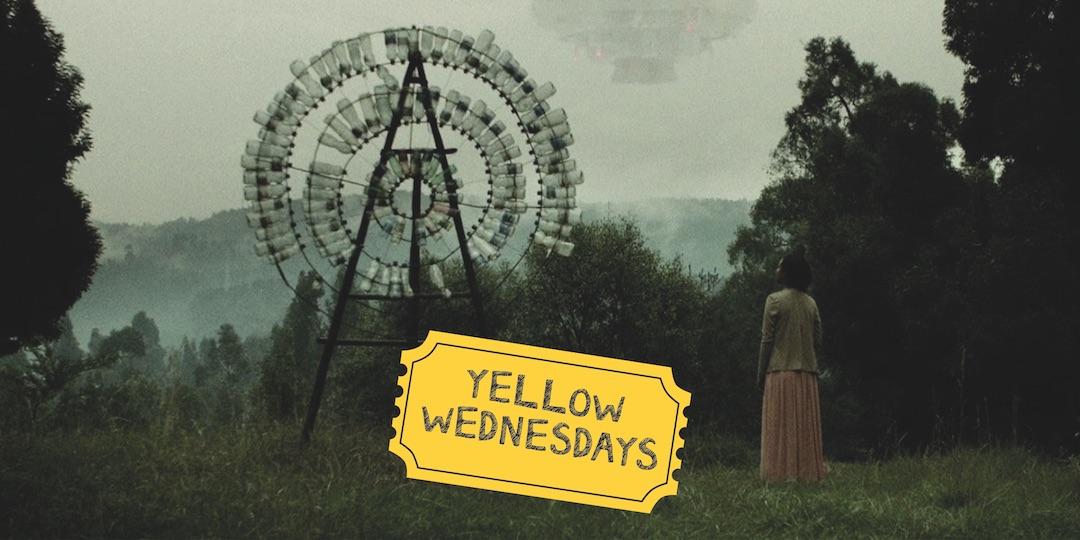 Crumbs: 
Join us on 18th October to dive into Afrofuturism, with an incredible film and an equally incredible panel (names to be announced).
"Afrofuturism is a cultural aesthetic, philosophy of science, and philosophy of history that combines elements of science fiction, historical fiction, fantasy, Afrocentrism, and magic realism with non-Western cosmologies in order to critique not only the present-day dilemmas of black people, but also to revise, interrogate, and re-examine the historical events of the past."
Crumbs is a Spanish/Ethiopian Post-Apocolyptic Science Fiction film that premiered at Rotterdam Film Festival in 2015.
"Tired of picking up the crumbs of gone-by civilizations, Candy dreams his life away when not living in a state of perpetual fear. When the spaceship in the sky begins to turn on and after a series of freak incidents, our miniature-sized hero will be forced to embark on a surreal epic journey that will lead him through the post-apocalyptic Ethiopian landscape as he confronts himself, his fears and witches, Santa Claus and second generation Nazis: only to discover that was he had long believed is not what he expected." 
DIRECTOR'S STATEMENT:
In October 2013 my audio recorder captured the following words during an interview to the first Ethiopian graduate in nuclear engineering – the elderly professor Seifu Yohannes – now emeritus physics professor in the University of Harar:
"All your dreams of wealth and unlimited power, all your dreams of disproportionate ambition; the satisfaction of feeling analogous to the gods, all your sexual impulses which you deem infinite; all these pharaonic dreams will be reduced to a series of cheap plastic figurines floating in the stratosphere once everything has finally exploded.
The American dream will soon enough end up devastating you. Then you will return to your village with your tail between your legs. And you will wish that your old boyfriend or girlfriend – whose breath always reeked of garlic – will once again cover you in kisses and eternally care for your welfare."
When I finished transcribing these words, CRUMBS was born.
Articles and Reviews: 
https://www.rottentomatoes.com/m/crumbs/
https://www.theverge.com/tldr/2015/2/11/8020227/crumbs-movie-ethiopia
http://www.hollywoodreporter.com/review/crumbs-rotterdam-review-769555
Post film panel:
Juice Aleem is long acknowledged as one of the finest and distinctive MCs the UK has ever produced. This Birmingham native has been responsible for laying some of the scene's foundations whilst continuing to create music which pushes the art form light years ahead of the curve. Rocking stages since the early 90s, Juice first came to public attention as the original MC to sign to legendary UK hip hop imprint Big Dada, cutting the Luke Vibert produced 12" Misanthropic in 1997 under the moniker Alpha Prhyme.
Over the next ten years this would be followed by a string of LPs released on the label including the album Permanament (2000) with the group Gamma as well as Equilibrium (1999), Understanding (2002) and Universally Dirty (2006) with the group New Flesh. Boasting collaborations with Roots Manuva, Beans of Anti Pop Consortium and Gift of Gab from Blackalicious, New Flesh would achieve high critical acclaim for the unique blend of Hip Hop, Dance hall, Soca and 2 step infused in their experimental sonic voyages.
Alongside all this Juice continued to collaborate in the studio under a range of pseudonyms with a pantheon of world renowned producers (including Hexstatic, Evil 9, Dj Kentaro, Kraddy and Adam Freeland to name but a few) whilst also holding down live mic duties for electro godfathers Coldcut, dazzling crowds from Spain to Australia.
Having crafted a vast canon of genre defying work, displaying both a cultivated knowledge of hip hop's history and a far reaching view of the future, Juice Aleem decided it was time to go solo which was followed by his debut album entitled "Jerusalaam Come" released once again via Big Dada in 2009." 
"it's this kind of assertion of cultural identity that gives Aleem his sting. Unlike many rappers, he knows exactly what he stands for…" – Andy Gill for The Independent
Florence Okoye is a User Experience Designer, writer, programmer and non-stop creative. Since 2015 she has curated the annual AfroFutures_UK conference, exploring AfroFuturism and the intersection of race and technology, with a particular focus on how technology can impact the reimagining of the black identity. She is currently a fellow at BOM where she is working on a project involving the masquerade as a form of political resistance and digital intermediary.
She currently works at the Natural History Museum and is interested in all things related to Open Access, computational modelling and philosophy of technology.'
You can follow Flo on twitter via @AfroFutures_UK
Reuben Sherriffe describes himself as an afrofuturist, which is essentially someone who uses science fiction, historical fiction, afrocentrism, and magic realism, among other things, to critique consumer culture, to politicise the present day themes and problems of the African diaspora, and to envision alternate black futures.
He is currently working on a design fiction that challenges ideas about the role objects play in everyday life, and working towards the larger goal of being recognised professionally as a commercial artist, and experimental jazz musician.