2020 9th Annual Liberated Minds Black Homeschool &
June 26, 2020 @ 8:00 am

-

June 28, 2020 @ 9:00 pm
Event Navigation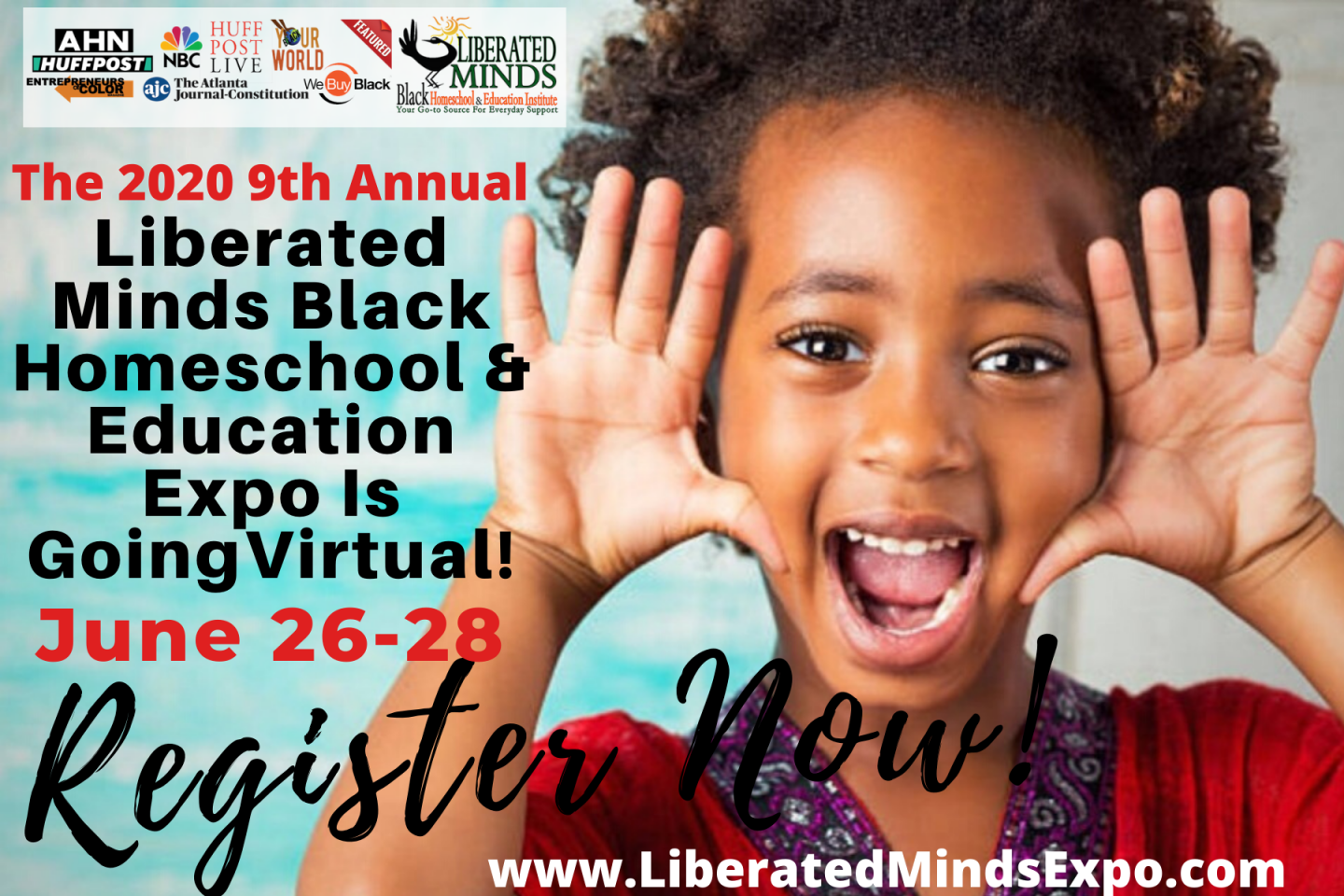 A place where Black homeschoolers, educators, and parents have exclusive access to culturally relevant training, resources, and support!
Liberated Minds would like to personally invite you to be a part of this 3-day historic event of unified greatness with Black families, homeschoolers, parents, educators, and children from across the country and throughout the Afrikan diaspora. We are excited to connect with families who are actively seeking to learn, share, and collectively engage in an authentic community with the common goal of creating a reality where every Black child has the opportunity to experience the quality of education they deserve. An education that affirms a positive self-identity, challenges socio-political belief systems, promotes deep learning, and generates innovative pathways to intergenerational wealth in every area of life. If you are clear that your children deserve a meaningful education that assures a future of prosperity, power, and upward mobility, then THIS is the event for you!"
The Liberated Minds Black Homeschool & Education Expo was born in 2012 in Atlanta, Georgia to meet the booming need. It was created with a vision to transform, empower, and assist Black homeschoolers, parents, and educators in becoming more competent and confident in cultivating the natural genius in our children and provide them with the knowledge, wisdom, and the winning mindset that it takes to preserve our culture and ignite a prosperous future of success.
The Liberated Minds Expo offers training workshops taught by extraordinary parents and educators, as well as top Black scholars from the likes of Dr. Runoko Rashidi, Dr. Marimba Ani, Dr. Chike Akua, Mwalimu Baruti, Dr. Claud Anderson, Dr. Samori Camara and more, all whom have instructed various years at The Liberated Minds Expo.
2020 is our first year offering this long awaited virtual option, which has been in popular demand. We are super excited to be able to reach even more people throughout the diaspora. We are proud to announce that The 2020 9th Annual Liberated Minds Expo "One Million Liberated Minds will be monumental with it's impact on millions around the world providing critical answers during this transformational time of the pandemic and beyond. This gathering of serious parents and educators is a 3-day solution-based, Black homeschool and educational expo for homeschoolers, educators, parents, and children alike. It has been proven, by the thousands who have attended, that it will not just inspire, but also educate and offer the important resources for success such as an abundance of books & curriculum materials, over 40 masterclass intensives for parents, educators, and children alike, as well as the formation of life-changing relationships with families from all over the country and around the globe. I am certain that the Liberated Minds Expo will give you the certified support and knowledge that will truly empower you in the way you view education itself having a positive affect for generations to come. This is the place where you will obtain the comprehensive skills needed to assist our children in truly activating their greatest potential in becoming everything that exudes Blacknificence, such as being confident, competent and self-motivated in their divine purpose, wholistically well-balanced, economically prosperous with good character, supremely self-disciplined, and exceptional innovators and thinkers that are full of joy, peace, power, and prosperity.
We look forward to you being a part of another BLACKNIFICENT year! Be sure to register the whole family! There is something for everyone!
www.LiberatedMindsExpo.ocm