Pandemic and Protests: An Online Town Hall for Black Teens
June 26, 2020 @ 3:00 pm

-

4:30 pm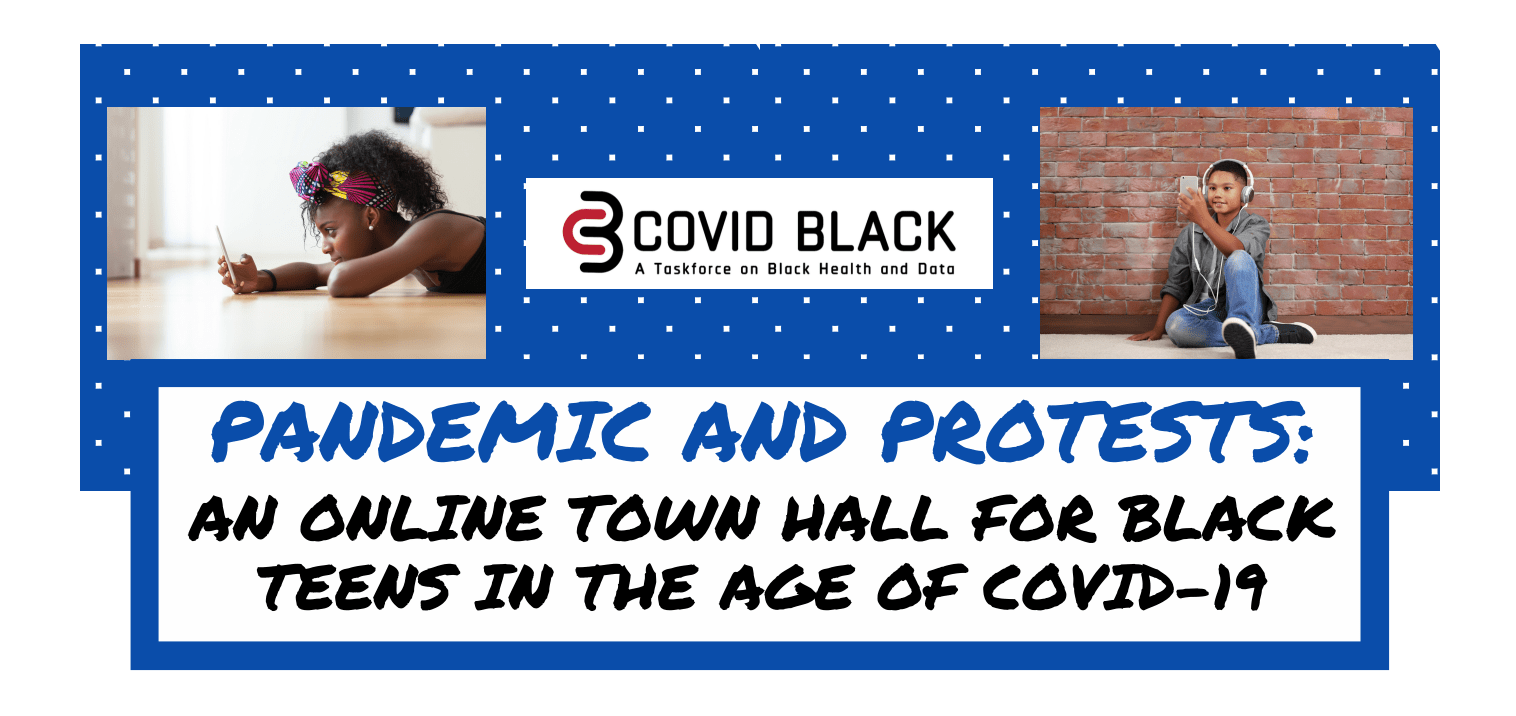 Pandemic and Protests: An Online Town Hall for Black Teens in the Age of COVID-19
In this moment, to be Black and a teenager means processing the lethal effects of systemic racism. A once-in-a-lifetime pandemic is ripping across the United States, causing disproportionate harm to Black people and Black communities. Simultaneously, protesters galvanized by the killings of Ahmaud Arbery, Breonna Taylor, George Floyd, Rayshard Brooks and countless other Black men and women are pushing for a nation-wide reckoning with systemic racism and violent policing.
While discourse is taking place online and at home, the places where Black teenagers are normally able to work through racism's complicated atrocities (such as classrooms, after-school activities, and in-person social spaces) are inaccessible due to the COVID-19 pandemic. This means that young Black people may turn to social media or other insufficient platforms for proper healing in the face of national crisis and uprising. Reflecting on this reality, the COVID Black team seeks to cut through the isolation imposed both by systemic racism and social distancing guidelines to connect Black teens with one another in conversation, healing, and action.
COVID Black has created "Pandemic and Protests" to offer a safe space for young Black people to jumpstart this healing process surrounded by their peers and professionals. Connecting Black teens from across the nation, this town hall will function as a social space for Black teens to connect over identity-based issues, share experiences, and ask questions about the systemic racism that they are witnessing both on the national scale and in their personal lives. Black mental health professionals Dr. Riana Elyse Anderson (University of Michigan) and Dr. Shawn C.T. Jones (Virginia Commonwealth University) will also provide tools to help manage the complicated feelings that arise from COVID-19 and police brutality. The COVID Black team will share resources on how to mobilize these feelings into action and how to manage discussions about race beyond the virtual town hall.
Once you reserve your ticket, you will be entered into our giveaway! The first 25 participants will receive a copy of This Book is Anti-Racist by Tiffany Jewell and 5 select participants will receive a subscription to Sesi Magazine! A link to the webinar will also be sent following sign-up.
This event is sponsored by:
COVID Black
Youth M.O.V.E. Detroit
Youth United
Sesi Magazine
Children, Youth and Families Office, American Psychological Association
Purdue School of Interdisciplinary Studies
Purdue African American Studies and Research Center
Purdue Center for Research on Diversity and Inclusion
Black Caucus of the Society for Research in Child Development