P&P Live! Wes Moore | FIVE DAYS in conversation with Michele Norris
June 26, 2020 @ 7:00 pm

-

8:00 pm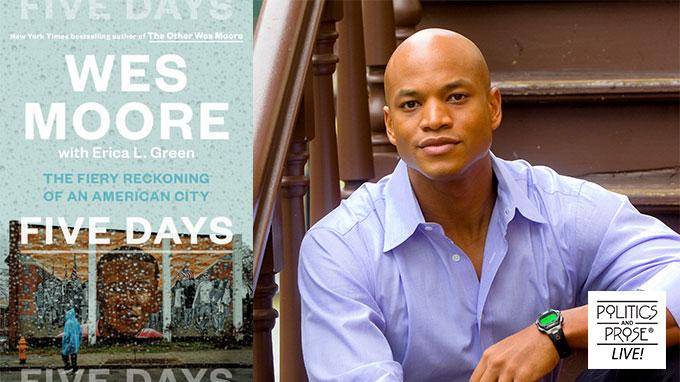 Anti-poverty activist and author Wes Moore discusses his newest book with journalist Michele Norris.
When Freddie Gray was arrested for possessing an "illegal knife" in April 2015, he was, by eyewitness accounts that video evidence later confirmed, treated "roughly" as police loaded him into a vehicle. By the end of his trip in the police van, Gray was in a coma from which he would never recover.In the wake of a long history of police abuse in Baltimore, this killing felt like the final straw–it led to a week of protests, then five days described alternately as a riot or an uprising that set the entire city on edge and caught the nation's attention.
Wes Moore is the CEO of the Robin Hood Foundation, one of the largest antipoverty organizations in the country. His first book, The Other Wes Moore, was a New York Times and Wall Street Journal bestseller; his second book, The Work, was also a bestseller and was featured on Oprah Winfrey's SuperSoul Sunday. Moore appears regularly as a commentator on NBC News.
Michele L. Norris is a journalist, currently working as an opinion columnist with The Washington Post. From 2002 until 2011, she was co-host of the National Public Radio evening news program All Things Considered.
—
Instead of a set ticket price, we ask that you contribute what you can to support  Politics and Prose Bookstore and  our virtual event series. We know that everyone has been affected in these trying times, and we will continue to make our programming accessible to all. That said, a suggested contribution of $5, $10, whatever you can afford, will go a long way to keep our programming—and our bookstore—afloat as we are forced to adapt to new ways of business. 
The other way you can support us is always by purchasing a copy of the book from our website.
We are so grateful to be surrounded by such a loyal and engaged community and we thank you for your support, now and always.